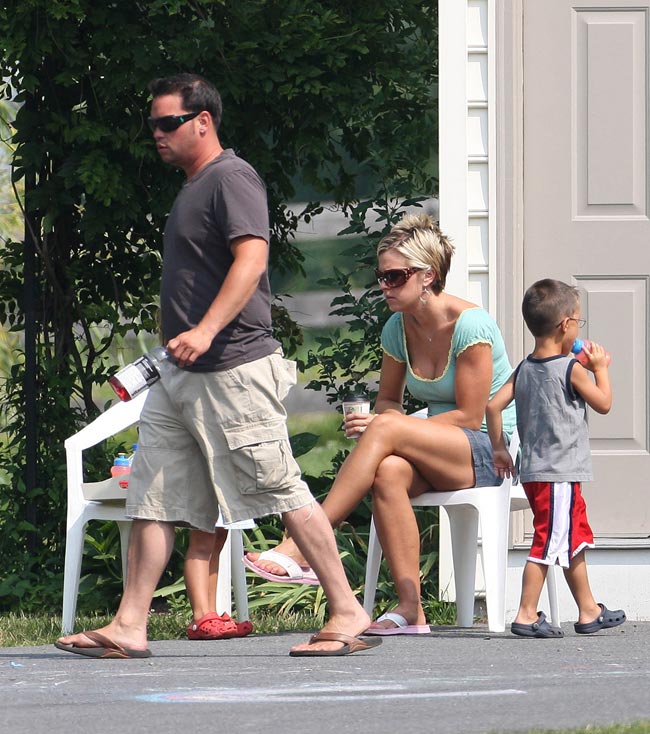 According to this week's National Enquirer, Jon Gosselin and 22 year-old Hailey Glassman are planning on moving in together soon, and are currently looking for a place in New York where they can cohabitate. This could just be based on the known news that Jon is apartment hunting in NY, but I bet it's true. At least they're probably not engaged, but moving in together is a huge step, especially when Jon is going through a divorce and was also dating someone else until just recently. You would think that Jon would take his time jumping into another relationship. He wants to show the world that he's a big boy moving on with someone who he "can confide in and trust and who accepts" him. He's just showing that he can't cope without a girlfriend.
"Jon and Hailey are very much in love and looking to start a life together," revealed a source close to Jon, 32. "They have been looking for a place to live together in New York City."

[Jon] is already behaving like a doting husband to Hailey.

The source said he's using his Hollywood connections to help Hailey, a college dropout, into the fashion industry.
[From The National Enquirer, print edition, July 27, 2009]
We saw some relatively tame but still revealing photos of Hailey that were taken from her now-removed Facebook profile earlier this week. She was drinking, getting her boobs grabbed, and posing with friends. Now the inevitable pot smoking and more drunken photos have surfaced. In Touch has a whole spread, and they're pretty much what you would expect. Hailey and her tiny scrawled line eyebrows are shown exhaling after taking a bong hit, taking a hit off a pipe, doing shots, kissing a girl, posing near a girl's bare ass, holding what's hopefully a prop gun to someone's temple, and passed out on the floor. We heard from an ex girlfriend of hers yesterday that she was bad news and would use Jon for fame and cash.
What's more is that In Touch's source reports that she once auditioned for the Real World. Her "college friend" says "Hailey is fame-hungry. She once auditioned for The Real World. I'm not surprised she's with someone who's in the public eye…
"She had multiple partners of both sexes. She would do anything.
"She was a mooch… She would brag about extravagant dates she was taken on by men where they would spend tons of cash on her. She loved dating men with money."
Good luck with that one, Jon. Your wife may be a nag but you're about to get taken for a crazy ride by this girl. Enjoy it while it lasts.
Jon and Kate Gosselin are shown in the front yard of their PA home yesterday on 7/16/09. Credit: INFPhoto.com