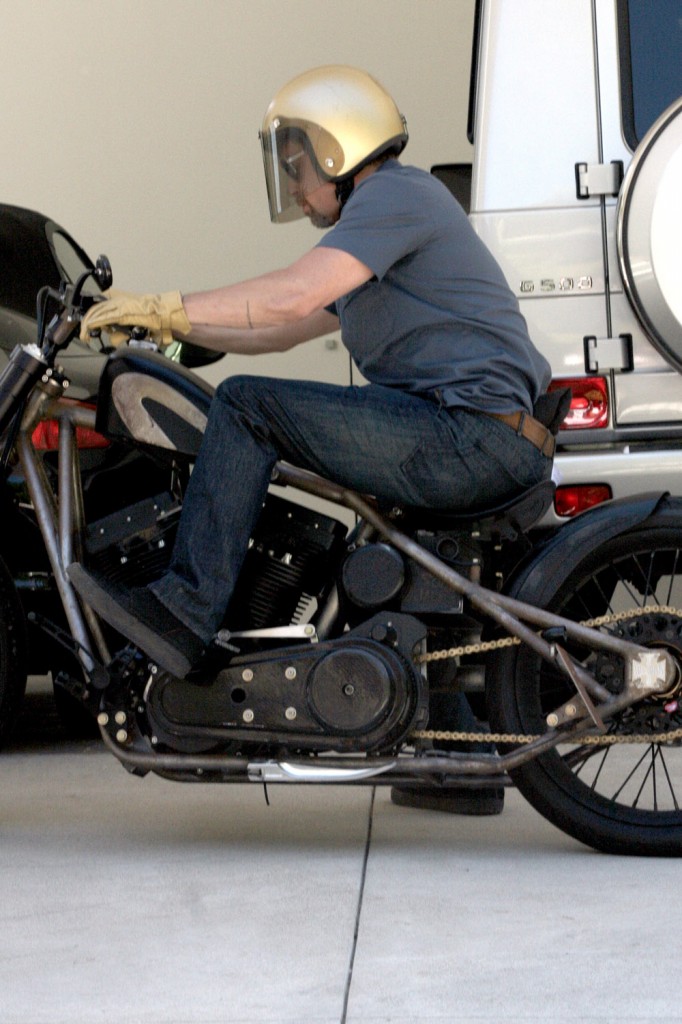 As far as addictions go, Brad Pitt has several pricey ones. First, he's addicted to expensive babies (it's a joke!). Secondly, he's addicted to modern and contemporary art, the more expensive, the better. Third, he's addicted to beautiful real estate, architecture, and renovations. I'm not even sure the extent of Brad's current real estate holdings – I know for sure he has that modern house on the Malibu cliff that he was renovating for two years. I know he has a beach-front property in Santa Barbara. I think he owns like three or four other properties within or around Los Angeles. He also bought that historic house in New Orleans. I think Brad also owns (not rents) property in Germany, Missouri, and maybe New York. The French chateau and the Long Island estates were/are rentals.
So does real estate qualify as an addiction? What I really think is going on is that Brad is the kind of guy who likes to have a "project" to occupy that part of him, and real estate fills that void. Because Brad never just buys a property – the inevitable renovations always take forever, and Brad's taste… well, he could find the most historic, gothic home and Brad could turn it into a cold, unforgiving, glass-and-cement box in two years with a $10 million budget. I appreciate Brad's strong aesthetic – but I'm glad I don't have to live with his taste.
Star is reporting that Brad has his eye on a two bedroom "bachelor pad" in Big Sur, California, a six-hour drive from Los Angeles. He's buying this place because he and Angelina are fighting, and he needs a place to get away, according to Star. I totally buy that Brad would take his real estate addiction to Big Sur – I Googled some Big Sur images, and it's just gorgeous. Here's the funny part of the report – they're making the "bachelor pad" sound all rustic, and they actually say it's "a secluded place in the woods". Because Brad Pitt is the Unabomber. Here's the thing – this is what quality real estate looks like in Big Sur. It's gorgeous! And if that's not enough, Brad has plans "to upgrade the home with everything." So, yeah. Two years from now we'll be hearing that Brad is taking Angelina and the kids to the now eight-bedroom palatial, modernist estate in Big Sur:
Brad Pitt has found a place of solitude he can use to flee his increasingly tumultuous love life. Star has learned that the actor is buying a two bedroom bachelor pad in beautiful Big Sur, California – and he plans to use it as an escape from Angelina!

"Brad wanted a retreat there for years, ever since he and Jen started visiting the area when they were married," a friend tells Star. "It's a good time to buy, and I'm not just talking about the economy. The pressure he's feeling now with Angelina is reason enough."

"Angie just doesn't like Big Sur… It's too quiet for her tastes. And the house is a tiny fixer-upper, so there's no room for her and all the kids anyway."

Sources say Brad intends to upgrade the home with everything from new plumbing to stylish furniture while keeping the original floor plan intact. "He likes the idea of having a secluded place in the woods that's his little secret," says a friend. It's a six hour drive along the coast from LA.

No matter what happens between Brad and Angelina, he plans to take his two older sons, Maddox and Pax, to his hideaway, where the men can all rough it together.

But for now, it will be his private sanctuary as he and Angelina drift further apart.

"Brad's been really restless lately… He was always like that with Jennifer, but this is a new feeling with Angelina. It's like he's growing bored with her."

"Angelina decided to deal with Brad's growing restlessness by letting him go… it hurts her that he doesn't want to be around her more often when they first met, he wouldn't leave her alone! These days, he likes to drift."

But Angelina believes the bachelor pad may be just what Brad needs. "She wants him to be the lover and soul mate he once promised he'd always be… So she thinks maybe it's better if Brad goes off and does his own thing. She's hoping it will make him miss her and what they used to have together."
[From Star Magazine, print edition, July 27 2009]
Angelina doesn't like places that are rustic? That must be why she bought thousands of acres of secluded Cambodian property and turned it into a nature reserve. So I totally believe that Brad probably is looking at more property, and that he might be doing it to scratch his itch. Angelina probably told him, "Jesus, Brad, you're getting on my nerves! Why don't you go buy something and renovate the hell out of it because you are pissing me off." If that fails, they could just go for another expensive baby.
Here's a link to an article about one of Brad's "modernist masterpieces" in Elle Decoration Magazine.
Here's Brad Pitt on his motorcycle outside a residence in West Hollywood on Wednesday. Images thanks to WENN.com .