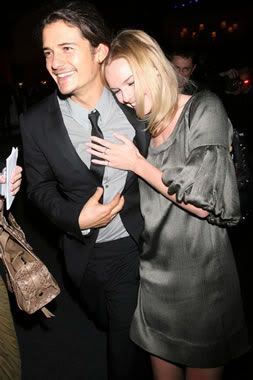 People speculated that Orlando Bloom and Kate Bosworth were broken up based on a blind item in the NY Post that seemed to suggest that Bosworth split with Bloom when she found out he had herpes. The two have not been photographed together in some time, suggesting that the rumor was true.
It seems that their relationship is fine, because Katie and Orlando were spotted in Geneva last night attending one of the jet-set parties taking place in the Swiss city:
After enduring months apart from on-off love Kate during the filming of Pirates Of The Caribbean 3 last summer, it's clear that Orlando was reluctant to let her out of his sight.
The Hollywood lovebirds were wrapped round each other all evening, chatting intimately and laughing at a glamorous Forties-inspired bash thrown by Swiss watchmakers IWC at an aircraft hangar in the city's airport.
Other stars in Geneva include Cate Blanchett, Johnny Depp, Vanessa Paradis, and the evil Naomi Campbell, as mentioned below.
Here's Orlando out in London recently.
Pictures [via]