Jennifer Lopez's list of requirements before she stays in a hotel room are much more detailed and demanding than Mandy Moore's concert rider. (Although I make more demands on my husband in an average day than Moore asks for on tour.) Lopez wants everything just so before she'll stay in a hotel and The Daily Mail is there with the details.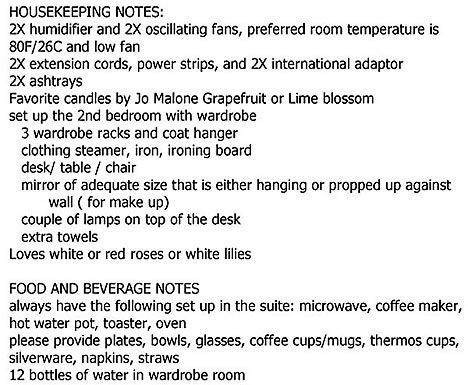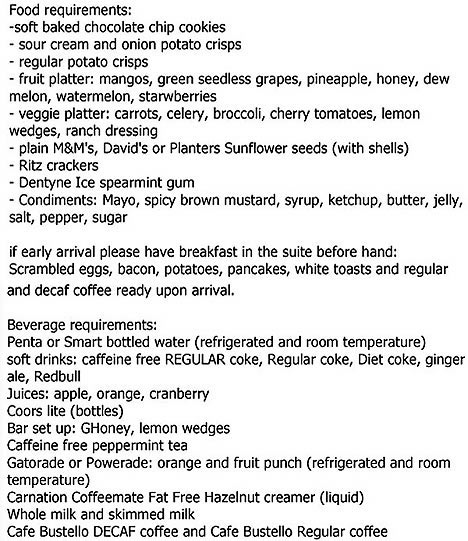 [From The Daily Mail]
Now that I read this list I think I know where that non baby-bump came from. (She is not fat at all, in fact I'm about the same size as she is, I just dislike her and wanted to be snarky.)
Coors lite? Who drinks that swill? I guess J.Lo or one of her people must. That's some crappy beer.
I also want to know why she needs a toaster and condiments when she's not even asking for bread or meat. Is she going to supply her own bread and meat when she's making all those other demands? They're perishables, but she's asking for fruit and as long as she's listing requirements she may as well cover everything.
There's also another story about J.Lo's mom, Guadalupe, saying that her daughter never tells her anything and that she has no idea if she's pregnant or not(I never would have covered this stupid hotel rider story if there wasn't something else to report about J.Lo today.) The NY Daily News sent a reporter to her mom's house, and she was pretty upfront about not talking to her daughter:
This week, when In Touch Weekly reported that Jennifer and hubby Marc Anthony were expecting, the Daily News' Ethan Rouen traveled to Guadalupe's home in Westchester to check the story with her.

The couple has been trying for years to give her a grandchild – but Guadalupe sounded almost indifferent to the prospect.

"I didn't hear about it," she said coolly." You know more than I do. I don't talk to her very often. I don't see her often."

Guadalupe said she is "very busy here taking care of my sister," who was at Guadalupe's house at the time." [Jennifer is] very busy doing what she does."
[From The NY Daily News]
Maybe she's just one of those blunt people. I know plenty of moms who would talk smack about their busy daughters if they didn't hear from them for a while. It might not mean that their relationship is bad, just that her mother is mad that she's not more in touch.
The Daily News quotes J.Lo as saying in a 2005 interview "My mum's tough. I don't want to get into that because it's a little personal and she gets angry with me when I say things. But, you know, she loves me a lot, so no one's good enough."
They speculate that Guadalupe might not like Lopez's current husband, Marc Anthony, but it could go deeper than that.
Really, with Lopez travelling around the world keeping everything at 80 degrees and just perfect, how could she have time for her mom?
Lopez and Marc Anthony are shown in London yesterday. Thanks to PRPhotos for these pictures.