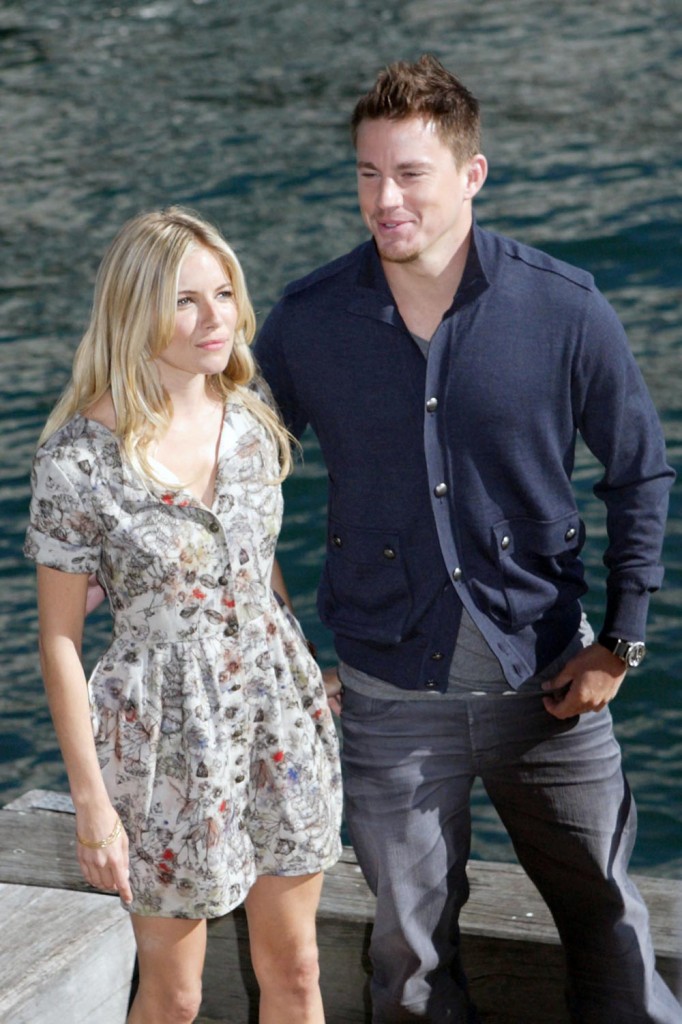 Sienna Miller, Channing Tatus, Marlon Wayans and Rachel Nichols have just begun the press tour for G.I. Joe in Australia. As you can imagine, Sienna is getting most of the press from the photo call and press conference. Maybe I'm just inured to Sienna now, but I found her quotes and her outfit very blah. She wore a simple printed dress from Poltock & Walsh with "a pair of suede/leather Chloe ankle boots" that make her legs look like sticks. Sienna has a nice figure, and this outfit doesn't do anything for her. But she looks comfortable, so perhaps that was the point. I actually like the dress, but it looks like an old 1950s "housedress".
Channing Tatum is looking great though. He's such a cutie, and I like the goatee stubble he's got going. He looks sexy. Mm… he might look better half-naked, but he still can wear the hell out of casual gear. Anyway, during the press conference, Channing was the one who said the interesting stuff. He talked about how he and his new wife Jenna Dewan are postponing their honeymoon until the G.I. Joe press is done. He also talks military families and the war. Meanwhile, Sienna's only interesting quote is "'No plans to get married, no. No-one to marry!" Uh… that's because the guy you're dating is already married, jackass.
In what would have been the most bizarre on set accident yet, actress Sienna Miller revealed she nearly burnt her breasts making new movie G.I. Joe: The Rise of Cobra.

Speaking at an event in Sydney, Australia, to promote the film, the 28-year-old star, who plays femme fatal The Baroness in the film, said she nearly suffered the rather undignified occurrence when an explosion got too close for comfort. But thankfully it was just a rather close call.

She said a press conference in Sydney: 'Luckily it wasn't my breasts, it was the bit in-between. It got a bit burnt when an explosion got a bit close.'

And she also revealed she wasn't too impressed with her character's black leather cat suit: 'I won't be wearing one again. Squeezing myself into that with the aid of talcum powder every day for five months was more than enough. I could barely move in it anyway.'

The actress looked informal in a print dress from Brit designers Poltock & Walsh Autumn/Winter 2009 collection, accessorised with a pair of suede/leather Chloe ankle boots.

Sienna who has enjoyed an on/off relationship with father-of-four Balthazar Getty, brushed off questions that she had plans to walk down the aisle.

She said: 'No plans to get married, no. No-one to marry!'.

But co-star Channing Tatum, 29, was actually on his honeymoon. Channing, 29, who married Step Up co-star Jenna Dewan on July 11, had to delay his honeymoon because he will be promoting the new $170 million movie for two weeks.

He said: 'I am on honeymoon but not at the moment. We'll pick that up after the promotion work is done.'

The star, who plays the film's hero, Duke, said: 'When I was first approached about the role I thought, 'Aww man, how are you going to make a movie about G.I. Joe in a time of war? Then I read the script and it was nothing to do with the military at all. 'I'm a big supporter of the soldiers and the military and I don't have a view on the war at all, I'm not a political person.'

'But this is a fantasy film, it is an escape from everything that is going on.'

Also at the event were co stars Marlon Wayans and Rachel Nichols who arrived at Sydney's historic harbour with Sienna and Channing in a customised speedboat.
[From Daily Mail]
I kind of hate that Marlon Wayans is the also-ran on this press tour… he's by far the superior actor, and it sucks that Sienna takes up all the oxygen in the room. But since we're talking Sienna, the poster for her play After Miss Julie is out. Sienna and Jonny Lee Miller draped all over each other… damn. He looks really hot too. God, I really hope Sienna doesn't stick her claws into him – he's married with a new baby, Buster. After Miss Julie starts in October. So, what are we thinking? By November, Jonny Lee Miller's marriage could be over.
Photo credit: WENN.com