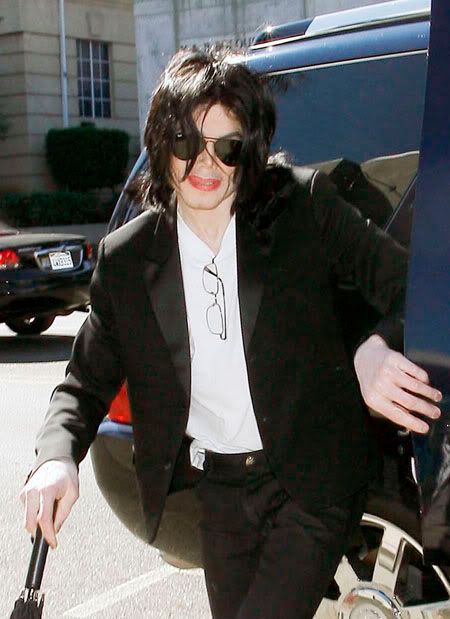 Vanity Fair has a really interesting story about the photographer who took the last photo of Michael Jackson – the infamous ambulance shot. Michael had a very interesting relationship with his fans, one that was surprisingly close. According to the paparazzo, Christopher Weiss, Jackson would occasionally deliver handwritten letters to the (mostly) young women who followed him around and camped out outside his home.
And sometimes Michael would come out and say hello. One time he handed out five handwritten letters that said things like 'I can feel your energy through the walls. You inspire me so much. I love you all. Thank you for being there. Thank you for being my friend. Thank you for loving me. With all the love in my heart, Michael Jackson.' I was always impressed by that, how deeply he seemed to care for these girls. When he hugged one of them, he would put one hand on her neck, behind her head, that extra-comforting move like you would do to a person you know. The writing in those letters had a style that was personal, deep, flowery, ornate. It was not 'Thanks guys. Have a good night. I hope you like the music.'"
[From Vanity Fair]
Vanity Fair also notes that "every member of the core group of Jackson fans that I met had, at some point, been invited into his house to have dinner or to watch movies and hang out." That's obviously not something you get with 99.99% of celebrities. As they also point out, if you camped outside of Bruce Willis' house screaming about how you loved him, you'd probably be arrested. Do it long enough to prove you mean it and Michael Jackson would invite you in for dinner and some Xbox.
The article talks a lot about the complex relationship between the paparazzi and celebrities. Weiss and the agency he worked for, National Photo Group, were the most dedicated to covering the Jackson beat. They took photos back when no one was really interested. Weiss had only been covering Jackson for about six months, but noted that sometimes he'd chat with the paparazzi a bit and seemed genuinely kind.
Christopher Weiss and his boss Ben Evenstad gave some interesting thoughts on the ethical quagmire associated with the now-infamous photo.
How does it feel, knowing that Jackson might well have been dead when the picture was taken? Weiss struggles to formulate an answer, then says, "I am glad, if somebody had to take that photo, that it was me. But I would rather it not have happened. I'd rather have a photo of him carrying his kids piggyback in the park, which is something that's never been shot and I used to hope for. I understand the magnitude of the photo and that it has a kind of place in history. But it sucks. It just sucks."

This ambivalence was eating at both of the photographers the day after Jackson died. Evenstad, who didn't sleep that night, says, "I'm not a morbid person. I don't want to celebrate someone's death because I'm making money. I wish Michael wasn't dead. And I would do better, business-wise, if he were still alive. But given that he died, I am not sorry that we got the last photo. That's something that the world wants to see. It took skill and effort to get that photo, and for that I'm proud. But we are in mourning."
[From Vanity Fair]
It does seem sort of fitting that if someone had to take that shot, at least it was a photographer who'd followed him and learned about him and become a genuine fan. The whole article is really interesting in reading the photographers' accounting of what happened that day. Ben Weiss used to be a paramedic, and he talked about zooming in on some of the displays inside the ambulance, which told him the situation was serious. The agency will probably end up netting somewhere around a million dollars for the photo, with Weiss getting a six figure bonus.
It's clear to hear Weiss speak about Michael that he really was a fan and found his work unexpectedly interesting. Both he and Ben Evenstad made it clear they're saddened about Michael's passing, and would have made a lot more money over time if he'd stayed alive. But as they kept saying it is what it is, and they did their jobs and made the best of the situation.
You can see the infamous photo here.
Michael Jackson is shown out in Beverly Hills on 10/23/08. Credit: Fame