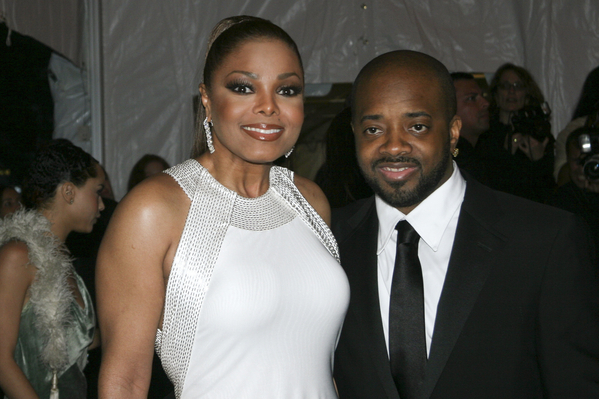 Last Friday it was reported thatJanet Jackson and Jermaine Dupri had split after seven years of dating. The timing seemed weird, considering Janet seems to be deep in mourning for her brother, as well as being one of the candidates to take over guardianship of Michael's children. In US Weekly piece, a source claimed Jermaine Dupri hadn't attended Michael's public memorial for two reasons: he and Janet were already pretty much over, and because Jermaine "doesn't attend funerals". That struck me as cold on Jermaine's part, but some disagreed, so whatever. Now Fox News (Pop Tarts) is putting a better spin on the whole split story by making it sound like they're just "cooling off". The cause for the "cooling off" was that Janet was bugging Jermaine about having kids. Pop Tarts also has a bunch of quotes from insiders basically saying that it's not over, and that they still really love each other, and they'll probably get back together soon:
In the wake of Michael Jackson's death, why on earth has Janet Jackson's longtime lover Jermaine Dupri been? Last week reports surfaced that the music masterminds had broken up, however Pop Tarts has learned that there is still a chance for reconciliation between the two.

"Jermaine has decided to take a step back and cool things off but they aren't totally broken up," said an insider, adding that keeping his distance from the press and Jackson family is his way of dealing with death and tragedy.

We're told Jackson and Dupri's romance turned rocky last September when Janet's album "Discipline" (produced by her beau) flopped and she was then released from her contract with label Island Def Jam per her request. To make matters worse, at the time Dupri was President of the label's Urban Music division, although he stepped down in January of this year.

But despite the hiccups, the music moguls worked through it and just a few weeks prior to Michael's death they even enjoyed a getaway together in Monaco along with Jermaine Jackson and his partner Halima Rashid.

"They will be back together in full force very soon," said a source.

Janet told Pop Tarts last year that although Dupri was "the one" she had no intention of tying-the-knot.

"In this day and age, I feel we don't need that piece of paper. For myself I don't need that to validate what I have with someone," she said. "It's about a spiritual commitment and finding your soul mate and not really exchanging vows with one another, that's enough for me at least."

Another source close to Dupri said that about a month before MJ died he made the decision to "take a break" as they wanted different things.

"Janet wanted to start a family but that's not what Jermaine wanted," said the pal. "But everyone is confident they will work it out."

A rep for the pair did not respond for comment.
[From Fox News Pop Tarts]
I tend to believe that Janet and Jermaine are cooling off, and that they may get back together, but I'm not sure if I buy that Janet was all about having kids. That being said, I do think Janet would be a great mom, and I hope she takes over guardianship of Michael's kids. It's starting to look like that's what Janet wants too, according to a new report from CBS (story via the National Enquirer):
Reportedly, Janet Jackson has offered to raise the Jacko kids. According to CBS News, the superstar, recently split from Jermaine Dupri, has offered to lift the burden of brother Michael Jackson's family, Prince Michael I, Paris and Blanket.

'I'll step forward and I will raise them if this is what they want," Janet told a media outlet.

The children are currently staying with MJ's mom Katherine in the Jackson family home in Encino as dictated by the will.

This weekend the children attended a Jehovah's Witness services with the family and are adjusting to life in the public eye sans masks.

"They believe that they're going to see Dad again when he's awakened from his sleep, that is, when he is resurrected from the dead," Firpo Carr, Michael's friend, told CBS.
[From National Enquirer]
I like that Janet said "if this is what they want" – putting the emphasis on the kids' wants and needs, letting them have a say in who raises them. Can you imagine having a cool aunt like Janet Jackson? I would want to live with her too. So… in a perfect world, would Janet take over custody of the kids, then she and Jermaine would get back together and they would raise the kids like that? That might work.
Janet and Jermaine are shown on 5/5/08 and 2/14/08. Credit: PRPhotos