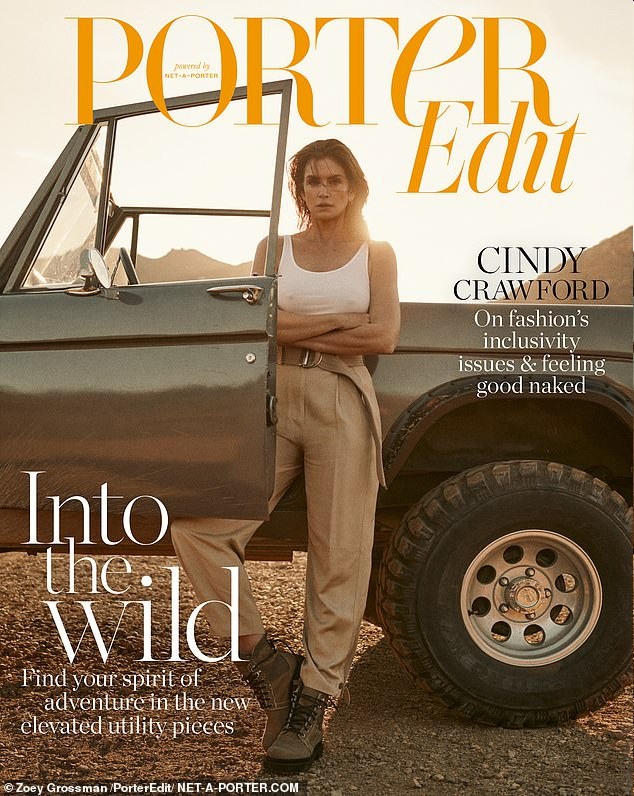 Cindy Crawford covers last week's issue of Porter Edit, with a sort of rustic-themed editorial. I hate to admit this, but Cindy really leaves me cold these days. I used to like her so much, but all of the crazy stuff she's doing to her face bugs me, and I don't like how she's pushed her kids into modeling at all. Those are the two subjects Cindy talks about in this piece: her children's modeling careers and how she views herself and her current place in the modeling/fashion food chain. You can read the full piece here. Some highlights:
How she's remained relevant as a celebrity/model: "You would hope that some of your body of work over 30 years has some kind of staying power. But I keep wanting to do new stuff just to keep myself interested. It's less inspiring when you're trying to re-do old pictures of yourself. I just want to be around interesting people. That's worth it for me."

She never thought she'd be modeling into her 50s: "I remember thinking at 20 that I'd model for five years, then go back to school and get a real job. Then at 25 I thought it could last five more years. Then at 30, it was the same thing…. I think there was this perception that I wasn't modeling for a while. I was working, but, not for, you know, Victoria's Secret. What I think I was good at was seeing myself as a brand, or understanding what 'Cindy Crawford' the brand was. It's all-American, sexy but approachable, and so choosing different jobs that fit that image was one of the first things I was good at."

On Kaia's career: "It was a good thing that she couldn't work on the runway until she was 16. There are laws about that. After that I couldn't really hold her back. You hope that all of the advice and guidance and role modeling that you did sticks. That's the stage of parenting when you think, "Ok, hope you can fly!" Kaia had some advantages. She is my daughter and people know that. But when people say that I bought her a cover of a magazine, I think, if I was going to buy a cover for someone, it would be me! If I could get someone into a fashion show, I would be getting it for myself."

The biggest difference with modeling today: "The thing that's different is that social media is part of the job. We weren't constantly being photographed in what we were wearing to the show. There is more pressure to produce content every day. It's like a hungry little beast, an animal that wants more and more. It's never like, 'OK, you're good.'"

There's still a market for models past the age of 40: "Women my age want to feel like [designers] are making clothes for us. I've gone to stores where I'm a large. I'm the largest size in the store! Especially here in LA – a lot of designers don't make anything larger than a 42 or a 44. So the brands that can capture that audience and really give them fashion, not just pay lip service to it, are doing the work. Rihanna's brand Fenty really embraced that idea. There's a lot to be done in that area, and not just to throw in a token larger woman, or a token older woman. They need to integrate it more."
Give credit where it's due: Cindy was always really great at branding herself and for having the self-awareness to understand what she represented and what she was selling. Linda Evangelista was the avant-garde one, the one who could do any look. Naomi was "the diva/vamp." Cindy was always wholesome-sexy, athletic-normal. Women looked at Cindy and they felt like she was approachable-pretty and men loved her look too. And yes, that vibe and her understanding of that vibe is what gave her career longevity.
As for what she says about how she didn't "buy" Kaia a magazine cover or buy her daughter's career…. I mean, that's not really the criticism lodged at Kaia and Cindy. The argument that I've made is that Cindy absolutely pushed Kaia into modeling and Cindy absolutely softened Kaia's entrance through posing on magazine covers together and introducing Kaia to all of the right people, a particular kind of nepotism and privilege. The reaction to Kaia from fashion professionals has been something though – Kaia has been heralded as the greatest young model in a generation, and really… she's a teenage girl who looks crazy-young, and she hasn't really developed her look yet. Kaia's career was built on hype, and Cindy was a big part of that.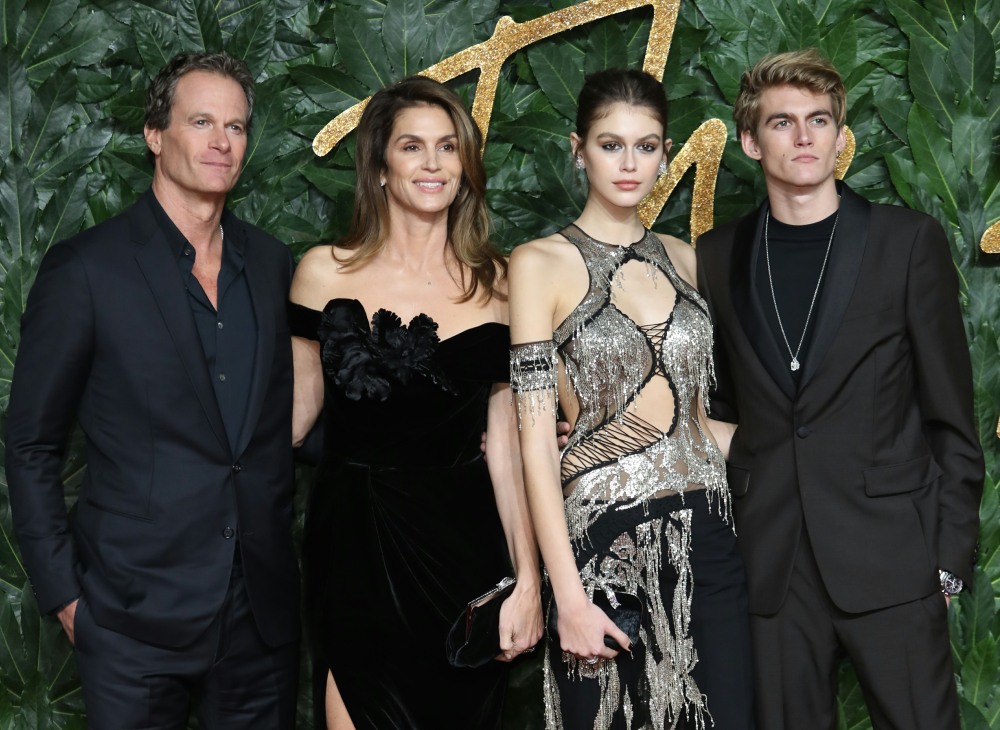 Photos courtesy of WENN, cover courtesy of PorterEdit.