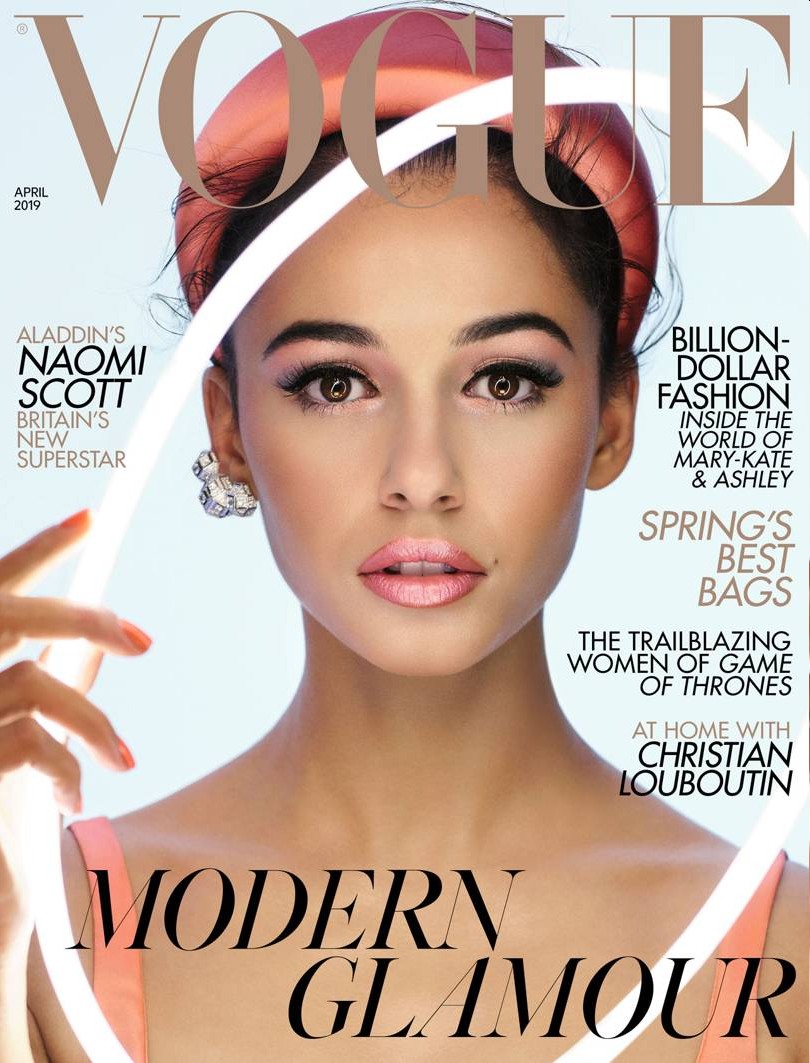 Naomi Scott covers the April issue of British Vogue. She promoting the live-action Aladdin, which comes out in May. This is a pretty standard introduction to a 25-year-old actress who just scored the role of Jasmine, the role with which she'll likely be identified for the rest of her career. It reminds me a bit of Daisy Ridley's introduction as Rey in the Star Wars movies. Obviously, Disney has the machinery in place to "introduce" these ingenues and their rollouts are going to feel similar. Naomi is 25 years old and this is how British Vogue described her: "A young Gujarati Indian-Brit from Essex, she is a committed Christian who married at 21, and is balancing a booming career with a set of personal priorities that many unsung women today share." A British-Indian woman who is a committed Christian? And she's playing a character who is generally thought of as Arab? That still bugs me. I mean, I appreciate the fact that Disney didn't cast a Fanning sister as Jasmine, but still – there's a f–king difference between Gujarati Indian and fantasy-Arab. Some highlights from Naomi's interview:
She was the Nearly Girl: "I remember thinking in auditions, 'OK, this is it, this is the one.' And then not getting it. And then the next time thinking, "OK, this is the one." And not getting it again. I was the "Nearly Girl" for a long time."

Auditioning for Jasmine: "I saw her as a young woman, not a teenager. With a mature strength that can cut you down. So I said to them, "Just to let you know, I want to play her strong, and if that's not what you're looking for, that's OK, but it's not for me."'

Whether she considers herself an English Rose: "'Oh, let me put this out there, I am not an English rose. And when I was 17, it felt like there was no other way of being a British actress. Growing up, my favourite movie was Bend It Like Beckham – I even played football in that same park as a kid. That was me."

Getting the part in the rebooted Charlie's Angels: "[This film is] about women at work. You don't see much about their personal lives or who they're dating. It's about the agency going global, getting into intelligence and tech, whistleblowing. You don't see bikini shots of their bums.'
[From British Vogue via The Daily Mail]
Well… this feels unnecessarily shady? "You don't see bikini shots of their bums." The Drew Barrymore-Charlie's Angels movies were silly and dumb and they made tons of money because the women had fun and they embraced being sexy. Which was very much like the TV show too. I guess everything needs a "dark" and "gritty" reboot – the Christopher Nolan-ifcation of the Charlie's Angels franchise. If this Charlie's Angels isn't going to be about bouncy hair and sexy-dumb fun, what is going to be? Dark heroines in sackcloth, sitting at their computers.
As for the English Rose conversation… it's similar to the "girl next door" and "America's sweetheart" labels we apply to ONLY white women here in America. Like, only white British actresses get called English Roses. I don't blame Naomi for shrugging that off, but it's worth having that conversation at some point in the future.
Photos courtesy of British Vogue and WENN.