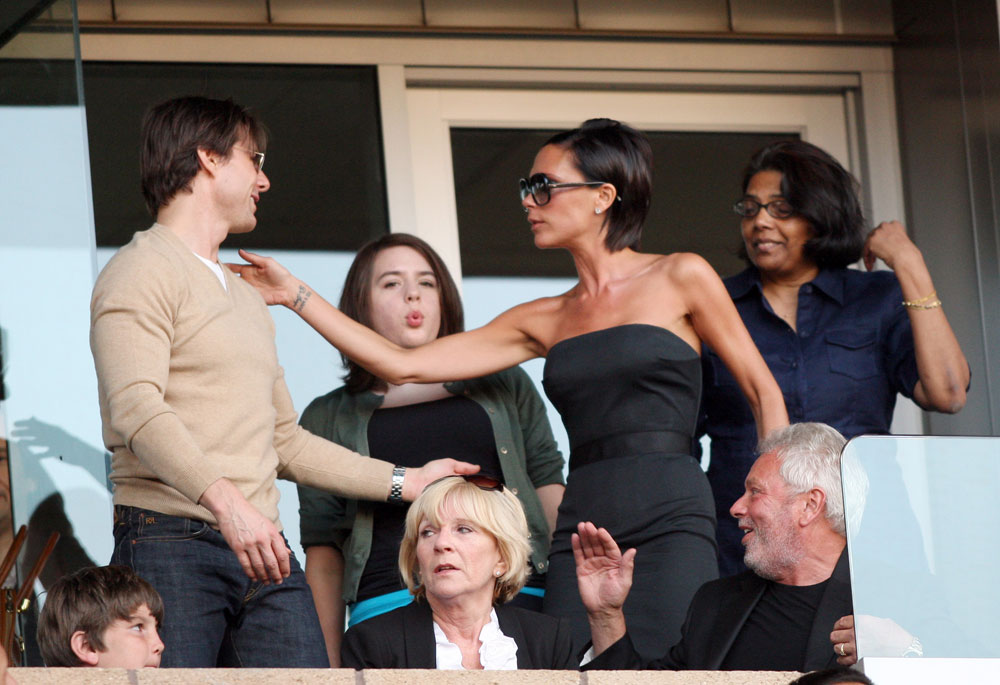 David and Victoria Beckham recently celebrated their tenth anniversary – a wonderful achievement facilitated by several compromises within their marriage. Posh and Becks have a mutually beneficial relationship, all about celebrity and money and fame. But at the heart of it, I do think they love each other and they obviously adore their sons. Still, after ten years together, I tend to think Posh has to put up with a lot from Becks. She has to put up with Tom Cruise constantly ogling her husband, for one thing. She also has to put up with Becks ogling everything in a skirt. Unfortunately for Posh, those two compromises came to a head on Sunday night, when she, Becks and Tom Cruise went out to a bar after David played a home game in L.A.:
What did David Beckham do after being booed at his first home game with the Los Angeles Galaxy Sunday? He partied with wife Victoria and celeb pal Tom Cruise at L.A.'s swanky hotspot Hyde –and when Posh got snooty, Becks grabbed some booty.

Seriously!

Our spies tell RadarOnline.com exclusively that Tom and the Beckham's settled into a cozy table right near the entrance to Hyde after the game. Katie (aka Mrs. Tom Cruise) was nowhere to be seen. Guess she was at home doing mommy duty with Suri.

The ever-so-chic Victoria sat cross-legged on the couch the entire time while Tom and David rekindled their bromance and partied like frat boys. Our spies it was all fun-fun-fun until three girls wearing very skimpy dresses (and apparently feeling no pain) approached the soccer stud and asked to take pictures with him.

Posh looked peeved, but before she could shoo the trampy trio away, David blurted out "sure!" and grabbed two of the ladies and put his buff arms around them. Sources tell us the girls tumbled over Victoria in excitement and she came very, very angry!

Our spies say David was overly flirtatious with the girls, even grabbing the camera and taking photos of them as they pawed at each other for David's benefit, no doubt. That set Victoria over the edge! She moved to the other side of the couch and gave her hottie husband the cold shoulder.

Our spies say she wouldn't even look at him! David didn't seem to notice, or even care. He and Cruise then grabbed a body guard and pushed their way through the packed crowd to get to the bar to get some more cocktails. Our sources say that's when Becks grabbed a girl's behind! The girl looked at him in shock, but he kept walking.

Tom and David drank away, while Tom boogied down to Jackson 5 songs. It was definitely a boys' night out. Victoria must have felt like a third wheel!
[From Radar]
So Posh could handle it when Tom Cruise was all over her husband, but she couldn't handle it when her husband was all over some random drunk chicks. I can understand that. But do you think Tom was upset that David was ignoring him in favor of flirtations with random drunk girls? And where is Katie Holmes when all of this went down? Oh, right. She's in Australia filming a movie and taking care of Suri, all on her own. Meanwhile her husband is having a "boys night" with David and Victoria "Not Involved With Boy's Night" Beckham. Here's a question for all the married ladies out there – what would you do if Tom Cruise was all over your husband? Would you just take it as a compliment and ignore it? Or would it bother you?
Tom Cruise, Victoria Beckham, Connor and Isabella Cruise are shown watching David Beckham play for LA Galaxy on 7/19/09. Credit: WENN.com