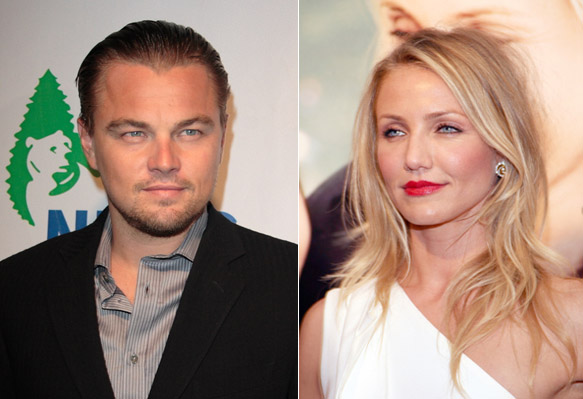 Yesterday, we talked about those hot rumors coming out of London that Cameron Diaz might get her hands on the long arm of the (Jude) Law. It seems Cameron truly believes in that old saying we had in college: "If it happens in another country, it doesn't count." Now it seems Cameron has temporarily ditched Jude to spend some serious alone time with Leonardo DiCaprio! Oh my God, yet another uncool Bermuda Triangle! This time involving Leo, Jude and Cameron. Lucky girl.
CAMERON DIAZ is at the centre of a fascinating A-list love triangle – with LEONARDO DiCAPRIO and JUDE LAW.

Leo and Jude have shared the screen with Cam over the years. But now the two Hollywood heart-throbs are trying their best to share a bed with her too.

Over the last week both actors have been on secret dates with Miss Diaz, vying for her attention. Last week Leo took his old Gangs Of New York co-star on a series of secret dates around London.

A source said: "Leo is back on the pull after he split from his long term girlfriend BAR RAFAELI."

Cameron has been showing a lot of interest while he is in London filming. She was back at his rented apartment in Knightsbridge, west London, a couple of times last week after a series of secret dates. They were joking with friends that they played chess together.

"Jude and Cameron have been good friends since they filmed The Holiday together a few years ago. Now they are both single, things are a bit different between them. Jude has been flirting with her and she has been playing along."

From what I hear, Jude was pulling out the full charm offensive at Boujis specially for Cameron's benefit.
[From The Sun]
The Daily Mirror has a similar story, only their version of the romantic timeline is different. They're saying Cameron and Leo have been secretly hanging out for a week or so, and that when Cameron went out without Leo on Sunday night, that's when she ran into Jude. It sounds like Leo is the real love connection, where Jude is, at best, just a fling or flirtation:
Leonardo and his Gangs of New York co-star Cameron were seen getting cosy at hip London club Maddox after earlier having dinner, on Saturday night. Leo recently split with Israeli model Bar Rafaeli after two years, while Cameron has just ended a year-long relationship with Essex model Paul Sculfor, 38.

Leo, 34 – who is in the capital filming his latest movie Inception – sat next to Cameron at Maddox nightclub as she planted kisses on his cheek. At one point he was seen whispering into her ear. And while his friends hit the dance floor, he and Cameron sat together in a private corner of the club, deep in conversation.

One fellow clubber tells us: "They were laughing a lot and very touchy-feely and they ignored everyone else. They seemed very close and comfortable with each other's company. Leo was pouring her glasses of champagne."

Earlier they had dined with pals at Shoreditch House member's club, before heading to the rooftop bar for drinks. Wearing a white top and jeans, Cameron pulled on a baseball cap as she left to try and hide her identity.

From there they headed to Maddox at 12.30 before the whole party left to go back to Leo's Knightsbridge apartment at 3am. Our spy says: "Everyone was having such a great time they didn't want the party to end. So Leo got all his pals, including Cameron, to go back to his pad to continue drinking."

Then Cameron, 36, was out partying again on Sunday, while Leonardo stayed in to learn his lines.

She went clubbing at Royal hangout Boujis where she bumped into Jude Law – her co-star in The Holiday – in the VIP area. They were seen chatting before they left via separate exits.

Our source adds: "Leo wanted to go out but had a lot of work to do. He hopes to meet up with Cameron again soon. They got on very well."
[From Daily Mirror]
It sounds like Leonardo really enjoys Cameron's company while she and Jude are just buddies. Still, if I had my choice, I think I might choose Jude over Leo. I don't dislike Leo – I actually think he's grown into a good actor, and every interview I see with him or read with him, he seems like a genuinely nice guy. But I always wonder how Leo is with his girlfriends. It seems like he could be a little douchey… and he's definitely a modelizer. Jude seems more passionate and romantic, the kind of guy who follows his heart. Tough choices, Cameron.
Cameron Diaz is shown on 6/24/09. Leonardo DiCaprio is shown on 4/25/09. Credit: PRPhotos