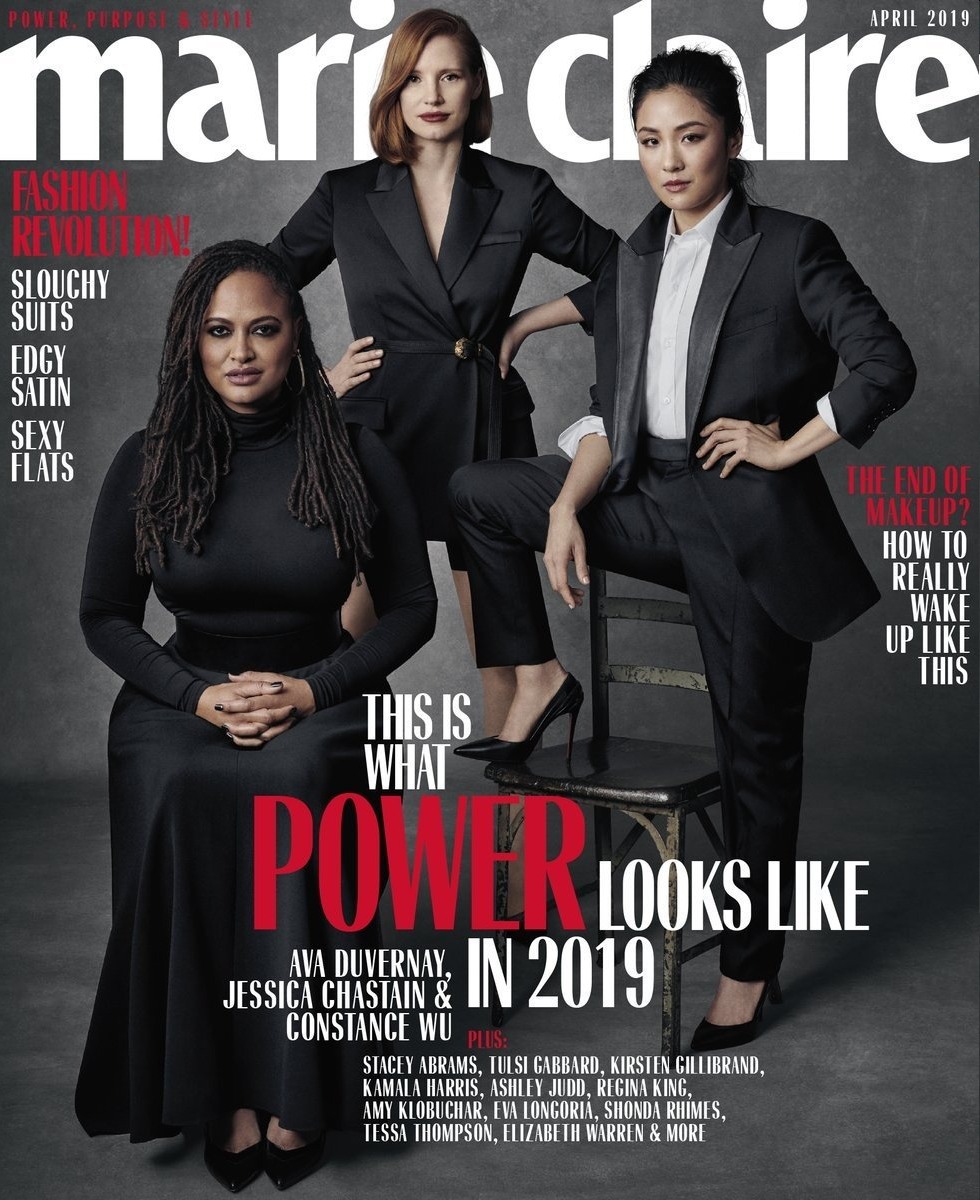 Marie Claire's April cover story is devoted to Time's Up, and the "changemakers" inside the entertainment industry. It feels odd to use Jessica Chastain as the vehicle we're using to discuss the cover story, but that's my choice, because Chastain is possibly the biggest name involved. Other women profiled/included in this piece are: Ava DuVernay, Constance Wu, Tessa Thompson, Angela Robinson, Naomi Scott, Andrea Riseborough, Mira Sorvino and lots more. You can see MC's full cover package here. I like that they're trying to draw attention to the women – many of them women of color – trying to affect change behind the scenes. Here's some of what Jessica Chastain had to say:
Jessica Chastain isn't afraid to speak her mind — but it wasn't always easy for the actress. The 41-year-old Oscar nominated actress opened up about regretting standing up for herself when a male executive flirted with her.

"For months, I tried to make it light, laugh it off," Chastain said, not identifying the man, in Marie Claire's April "Change Makers" issue. "Now I wish I had just told him to f— off."

Chastain has been outspoken about her experiences in Hollywood as a woman. That outspoken quality, however, has caused her to experience some backlash.

"I've had people tell me, 'You need to be a little more quiet with all this woman talk,'" Chastain revealed. Despite experiencing pushback, the actress said she won't stop speaking out about pay equality and equal opportunities for women as there are for men in the movie industry.

"I agree there are not as many women as men that have the same experience, but that's because, in the past, women have been actively discriminated against," Chastain explained. She continued, "Male directors who had their first film in Sundance, their next offer is a huge action movie. Women haven't been given those opportunities, and we need to ask why."
I go back and forth on Chastain some days. Like, I think that she's a smart, interesting, politically-minded woman. She listens and learns and tries to be woke… and sometimes fails, but gets back up and tries again. It's the conundrum of "why do we need to use a privileged white woman of the face of these conversations" though, and obviously, I'm guilty of it too. I don't have one overarching point here – I think the conversations are happening and Jessica is a part of those conversations, and even she would probably admit that she shouldn't be the face of Time's Up or whatever, but she's going along with it to get the cause more attention.
Photos courtesy of Marie Claire.