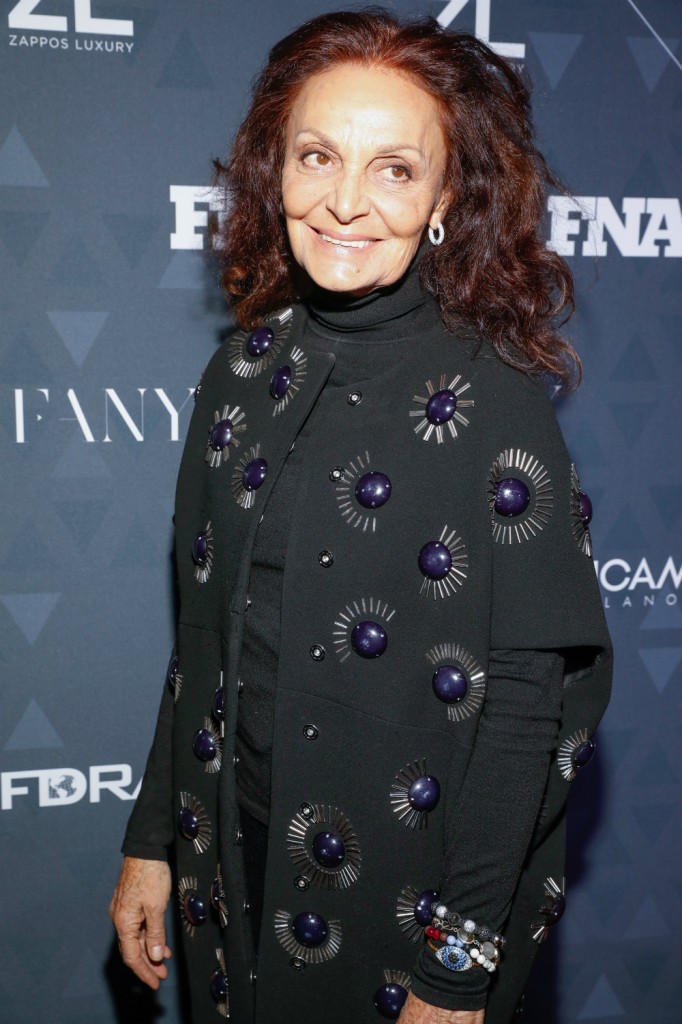 Her Fashioness, Diane Von Furstenberg, appeared on Watch What Happens Live with Andy Cohen along with Julianne Moore. Apparently Cohen and DVF go way back but that didn't stop Cohen from fan-boying out in her presence. And I can't blame him because no matter how casually she said it, what she said was fabulous. During a segment called DVF or WTF, the announcer, Paul, read off random facts about DVF and Cohen and Julianne guessed whether they were accurate or not. Most people want to talk about the fact that DVF f—ked (her words) Richard Gere but we, the Celebitchy Three, want to talk about 72-year-old DVF swimming for two f—cking (my words) hours with ease! Thanks to DListed for the story.
Back in the day, DVF had a brief love affair with Richard Gere

AC: Julianne, I'm going to say this is true. I think DVF has had some wonderful love affairs in her life and I'm going to say it's true.
JM: Uh-uh. I'm going to go with WTF
DVF: Well, it was a f—k

DVF can swim for two hours straight

AC: I know this answer to this. I've seen her do it. She could swim for two and a half hours – in the open ocean.
JM: I believe that. Yes
DVF: (nods)
I mean, yes, it's sexy that DVF had a fling with Gere but come on, 'back in the day' who didn't have a fling with Gere? You don't get sex-hoaxes made up about you for living a monastic lifestyle (although Cohen and Julianne's reactions to that answer are well worth watching the clip). So, we all landed on the swimming answer because swimming is a really hard work out. Both Kaiser and I used the word "die" in describing how our swimming workouts culminated. I likened it to jump-roping: you start doing it thinking – how hard can it be? And then one of your lungs explodes and you wish you'd just stayed in the hot tub. Obviously, it is less difficult for those who do it consistently, like DVF. I was on the swim team in high school and maintained a swimming schedule well into college and I survived. Over a decade later, I tried doing laps at the Y while my kids were in the Family Pool. I had to fake a kid crisis to save face when I couldn't complete five laps. Something in Cohen's awe as he answered the question tells me DVF doesn't switch over to a resting stroke – like breast – during her swim either.
The other true fact in the clip is about DVF keeping herring in every refrigerator in her home. Cohen and Julianne both guessed WTF but come on. As she said, she's Belgian, I'll bet she has some pickled in a jar in her pantry as backup.
I'm including this clip below because a caller asked for both ladies' thoughts on Karl Lagerfeld. I don't know DVF well, but I find the reserve in her her response interesting.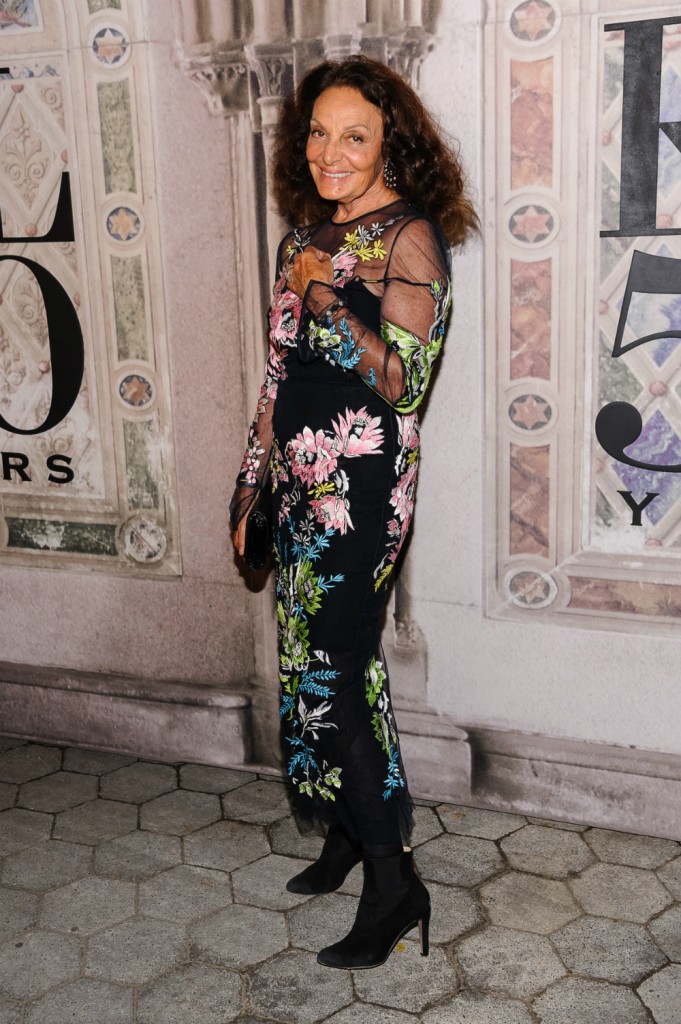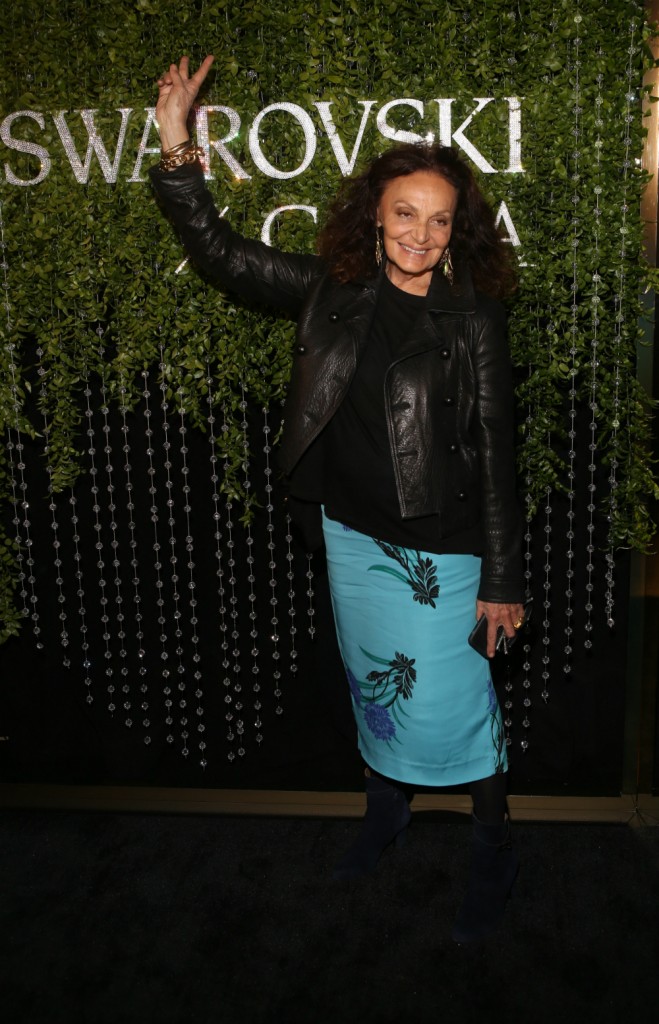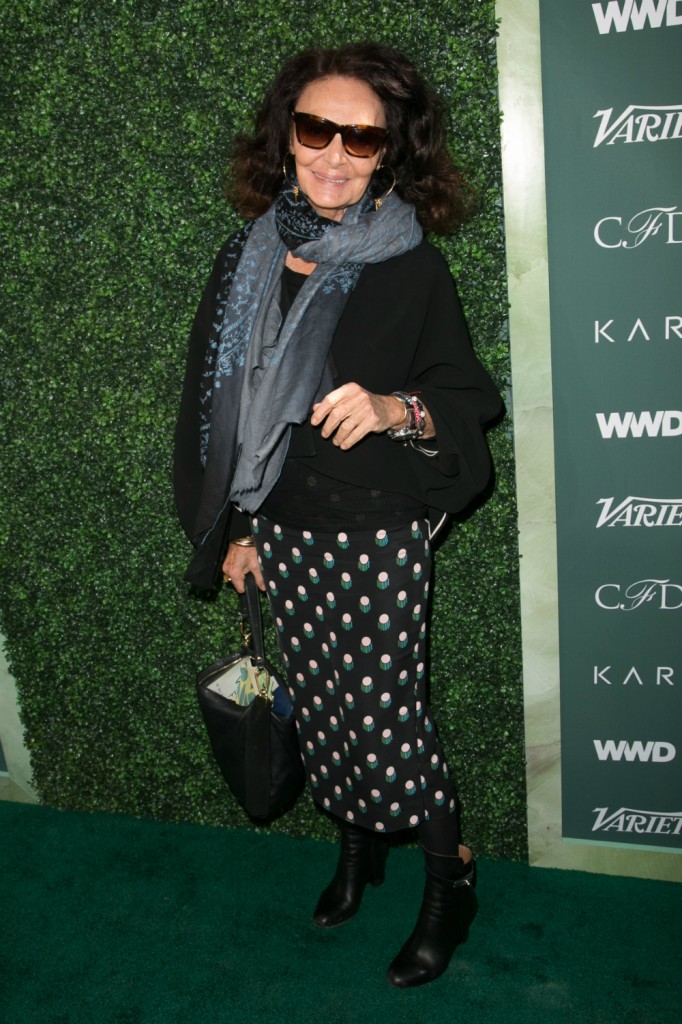 Photo credit: WENN Photos and YouTube