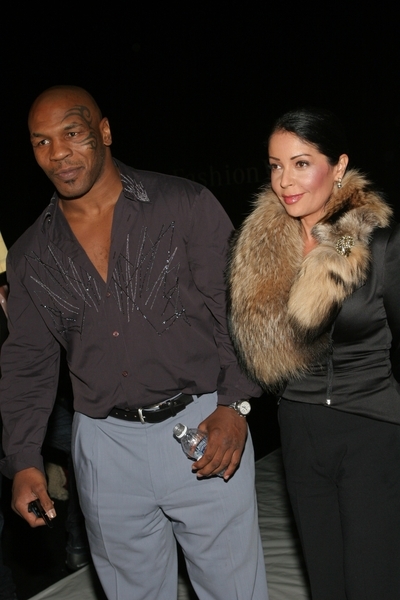 Have we talked about how I think Mike Tyson is a big ball of sexy? Mike Tyson is a big ball of sexy. Who can resist a face tattoo? Nothing makes panties drop faster. In fact, as a general rule of thumb, you should always be sure not to wear a skirt around Mike Tyson, or you'll find your panties on the sidewalk and you're halfway down the block. Same things applies to kilts, gentlemen. That's probably what happened to Britney's and Paris' underwear. They came across Mike Tyson and suddenly found themselves flashing their lady bits.
Being the winner that he is, Tyson hasn't been able to settle for just being a convicted rapist, domestic abuser, and ear biter. He's one of those all or nothing types, and decided to tack a little DUI and drug possession onto his record for good measure. Got to stay in the tabloids and all.
"Former heavyweight champion Mike Tyson pleaded guilty Monday to charges of drug possession and driving under the influence stemming from a traffic stop last year as he was leaving a nightclub. Tyson quietly acknowledged to a judge that he had cocaine and was impaired when he was stopped for driving erratically in Scottsdale on Dec. 29. He pleaded guilty to a single felony count of cocaine possession and a misdemeanour DUI count and faces up to four years and three months in prison when he is sentenced Nov. 19. A felony charge of possession of drug paraphernalia and a second misdemeanor DUI charge were dropped, according to the terms of a plea agreement. Defense lawyer David Chesnoff said Tyson has been clean and sober for eight months.

"'It's obvious this was a crime he was committing against himself,' Chesnoff said.

"Police stopped Tyson after the boxer had spent the evening at Scottsdale's Pussycat Lounge. An officer said he saw Tyson wiping a white substance off the dashboard of his black BMW, and that his speech was slurred. Authorities said they found bags of cocaine in Tyson's pocket and in his car.

"Tyson told officers later that he used cocaine 'whenever I can get my hands on it,' and that he preferred to smoke it in Marlboro cigarettes with the tobacco pulled out, according to court documents. He also told police that he used marijuana that day and was taking the antidepressant Zoloft, the documents state."
[From the Chronicle Journal]
I know I've been critical of Tyson in the past, but who among us can really say they don't enjoy the occasional snort of cocaine when it's offered? Isn't it rude to refuse? And then you have to get home, so why would you ask someone for a ride, or pay someone since you're stinking rich, when you can just drive yourself when you're hopped up on cocaine. Or whatever you get on cocaine. Cracked out? Up? I feel as though celebrity morons are getting their comeuppance of late, and it makes me very happy. But only because I get to say comeuppance.