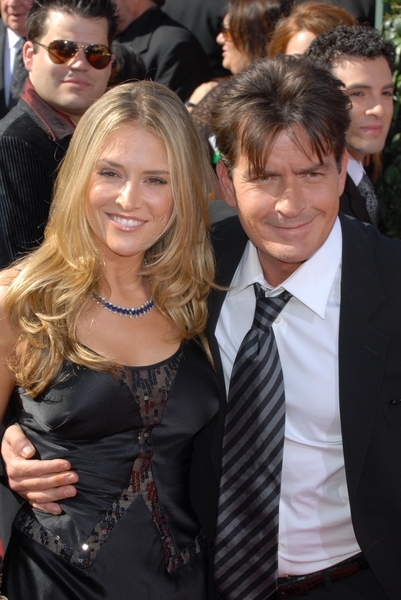 I'm starting to think Denise Richards is a whole lotta psycho. Not that she ever seemed anything less than dumb and kinda crazy, but I think she may be talking it up a notch or twelve. The problem is that the guy she's doing it against is Charlie Sheen, and historically he hasn't been known for being a pillar of morality or normalcy either. So the biggest part of the challenge is to sort out who's psycho and who's just crazy. And I've decided my money is on Richards for the psycho trophy. (In case you're wondering, it looks like the Emmy statuette but it holds a little golden knife). Sheen responds to Richard's accusations of sexual impropriety in a pretty long letter in which he states that he won't dignify the majority of the complaints with a response… and then does just that. I don't normally like to quote long diatribes in their entirety, but to really make my point I'm going to let Sheen's 'tribe speak for itself. Yes I just coined a new word. 'tribe, as in "diatribe." Tell your friends.
"I will not dignify the majority of these allegations set forth by Denise Richards with any measure of response. On its best day it remains laughable and inane. For the record, as well as for the scales of morality, the following must be clarified: Two years ago, when this circus first arrived, I chose a high road position and remained quiet and dignified. Yet, based on the resurfacing of certain specific claims, made in a severe and grievous manner, illustrating Ms. Richards poor judgment on every possible front, I must counter with these FACTS.

"The FBI was aware of these issues. I provided them with every computer I owned. The computers were returned two weeks later. Haven't heard from them since. Period. The end. During the 18 months before my request to select my own child care provider, not a single complaint was made or received regarding the welfare of the children while under the care of myself and/or Brooke. I repeat – NOT A SINGLE COMPLAINT by either Ms. Richards herself, or her representatives and nanny.

"All of this, keep in mind, is because I asked the court to grant me the legal and God-given freedom of choice to hire my own child care provider. I have asked that the Court eliminate Ms. Richards ability to abuse and harass us any longer. One can only imagine what we've withstood thus far.

"Brooke and I remain committed to the task at hand. These unlawful and diabolical accusations will not distract us from the focus of our resolve. Shortly before unleashing her attack Mr. Richards asked for another baby via a sperm donation, after her divisive attempts at a reconciliation behind Brooke's back failed. She was flat out rejected.

"I am making every possible effort to assure that the courts focus on my children and their welfare. My refusal to dignify garbage needs to be understood in the context of the history of this case and Denise's need and desire to make it about issues that do not involve anything other than her emotions."
[From Extra]
I remember when my parents went through an especially acrimonious divorce several years ago, and they wrote a lot of angry letters to each other. They chose to send theirs to "Access Hollywood" instead of "Extra," feeling at the time that it was a little classier today. Of course these days "Extra" is the classier of the two, and I like to think that, if they were to divorce again, my parents would be as classy as Charlie Sheen and go that route.
This all bodes really well for Sheen and Richard's two daughters. Because nothing says love like vaguely veiled hints that your father may, at any time, molest you, while your mother sits in the corner pulling the hairs off the cat one by one.
Note by Jaybird: Here's Charlie and fiancé Brooke Mueller at the Emmys. Images thanks to PR Photos.