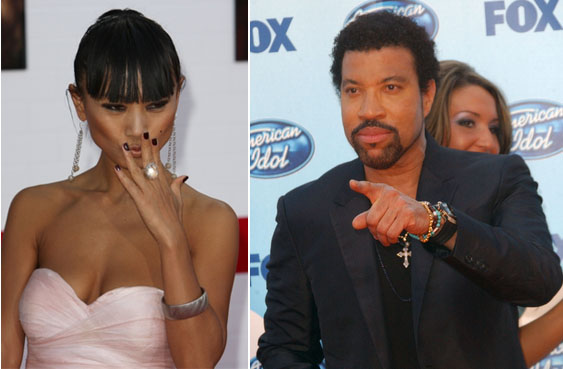 This is random. Lionel Richie and Bai Ling were spotted on a "romantic date" last Thursday in Santa Monica. According to Fox News Pop Tarts, they "laughed and flirted throughout their meal." Lionel is 60 years old and has been divorced twice – his second marriage ended in 2004, when he and Diane Alexander split after nearly nine years of marriage. Bai Ling is 42 years old, and totally strange. In the past, Ling has been romantically connected (in the press) to Chris Isaak, Nick Carter and Mickey Rourke. Ling hasn't been in the press for a while, so I can see why she might want to be connected with some famous guy. But Lionel should know better:
It seems as far as far can be from the perfect match, but hey opposites do attract — so could it be that crazy actress Bai Ling and music legend Lionel Richie have something going on?

The unlikely duo was spotted on what appeared to be a romantic date last Thursday at Whist at Viceroy Santa Monica. According to an eye witness, Ling and Richie kept a low-profile and laughed and flirted throughout their meal.

The actress (who tells people she hails "from the moon" and has a habit of crashing Hollywood parties and dirty dancing for hours by herself) was most recently linked to Mickey Rourke with whom she put on quite the PDA with at the Chateau Marmont earlier this year.
[From Fox News]
Bai Ling has been quoted as saying that she would like to make an album, or that she's at work on an album, so it's perfectly possible that Ling and Lionel were having some kind of professional relationship based on his work as a producer or songwriter, perhaps. But I doubt it. The only thing sketchier than Lionel Richie being connected to Bai Ling romantically is him being connected to her professionally. If they were having dinner, my guess is that there was something sexual going on. Which is weird, because Bai Ling has never struck me as the kind of woman a man would actually have to take out to dinner. She just seems like the kind of girl you would pick up at a club, hook up with, and then deny you've ever met.
By the way, I had so much fun reading about Lionel Richie on his Wikipedia page. That man has sold more than 100 million records and he's totally beloved in the Middle East. His only grandchild (as yet) is baby Harlow, daughter of Nicole Richie.
Lionel Richie is shown on 6/7/09 and 5/20/09. Bai Ling is shown in the header on 6/4/09. There are also a ton of photos of Bai out at various events in May, June and July. Credit: PRPhotos