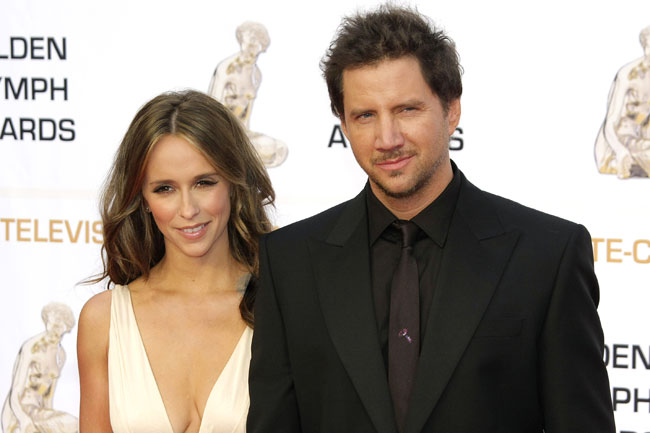 Jennifer Love Hewitt seems like a relatively harmless person, so we should feel something in vicinity of "vague happiness" when hearing the latest JLH news – she's engaged. Again. For like the millionth time. This time to Jamie Kennedy, that poor bastard. Don't feel too bad for him though – it's not like they're ever going to walk down the aisle. Jennifer Love doesn't get married. She just likes being engaged. Besides that, the whole proposal might have just been a bit for Jamie's stand-up act:
Congrats to Jennifer Love Hewitt and Jamie Kennedy. The lovebirds got spontaneously engaged on stage at the Laugh Factory in Long Beach, Calif., Saturday night.

Kennedy was entertaining the crowd for over two hours before he pulled Hewitt up to tell jokes and sing. A witness relates that an audience member yelled out, "Marry her!" — and Kennedy "got down on one knee and asked her to marry him."

The glowing actress said yes even though he didn't have a ring. "It was a standing ovation," said our source. Let's just hope it was the one line of the night that wasn't a joke.
[From Page Six]
I would f-cking kill a guy if he proposed to me during his set at the Laugh Factory. What am I saying? Jamie Kennedy is the victim here! Poor Jamie. No, no. I'm sure they're quite happy together. Poor bastard.
Anyway, that's not the only funny Jennifer Love Hewitt story we have today! It seems Jennifer Love was invited to be apart of Monaco's TV festival, and she got to attend a formal dinner with Prince Albert II of Monaco, who is like "the king" but Monaco just calls their king "prince". Anyhoodle, Jennifer Love decided to make a fool of herself by trying to convince the people around her to wear fake vampire fangs as she took pictures of them. What is she, five years old? When she tried to convince Prince Albert to do this, he shot her a "die please" look and denied her:
At a Monaco TV festival, JENNIFER LOVE HEWITT got a snooty royal snub from Prince Albert II of Monaco – who practically bared his teeth in refusing her addle-brained plea to pose for a photo wearing vampire fangs she'd fashioned from wisps of white paper!

Turns out the "Ghost Whisperer" star gets a bloody kick out of persuading celeb pals like KATE WALSH, MATTHEW FOX, KIM KARDASHIAN, etc., to pose for her personal vampire photo collection of goofballs willing to sport sculpted paper fangs that clip onto the choppers for that oh-so-trendy "Twilight" look.

And speaking of nasty LOOKS…Prince Al, a good-natured guy back when I knew him in his Hollywood playboy days, shot Jennifer a royal stare that turned her cheeks blood-red.

In a voice to chill a vampire, the Prince purred: "I don't want to be shown in that light."
[From National Enquirer]
Meh, they both seem like a-holes, don't they? It's not like Prince Albert is some paragon of virtue and propriety. He's got illegitimate kids all over the world, and he doesn't seem to be in any rush to provide a legitimate heir to the Monaco throne. So, most likely, Prince Albert's nephew Andrea Casiraghi (son of Princess Caroline) will likely take the throne when Albert passes. Considering Jennifer Love doesn't want to be anything other than be engaged, and Prince Albert doesn't want to legitimize anyone or anything, the two of them would have been a perfect match. Too bad they hate each other now. This is what fake vampire teeth hath wrought.
UPDATE: People is reporting that Jennifer and Jamie's reps are denying the engagement story in total. As for the story that they're both idiots… well, I guess that has not been confrimed or denied.
Jennifer Love Hewitt and Jamie Kennedy are shown on 6/11/09, 4/7/09 and 4/5/09. Credit: WENN.com