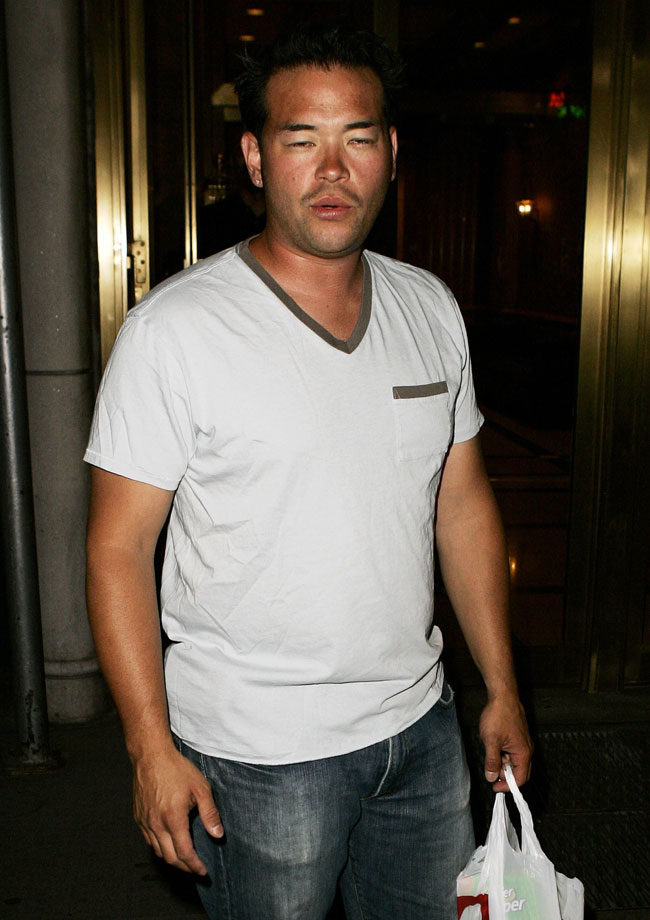 Jon Gosselin wants everyone to know that his "business dinner" with a tabloid reporter from Star wasn't a date and that he's still with his second girlfriend since his split. Gosselin and 22 year-old hard-partying college dropout Hailey Glassman were photographed kissing at Harriman State Park in NY yesterday. The two put on quite a show, which was surely meant to quiet those pesky rumors about the other woman Jon was seen with on Saturday night. It wasn't a particularly sensitive move to make, considering that his children might see the photos and feel upset that their absent daddy is moving on with yet another new girlfriend.
We don't have the rights to those photos, but you can see them on RadarOnline.
Radar also has plenty of photos of Hailey partying, along with a newly-posted video of her smoking pot. Radar's partying photos are completely different from the ones that were published in In Touch last week, which means that there's a huge cache of photos of this girl smoking up, getting drunk, and generally acting the fool. The photos on her now-removed facebook were quite tame in comparison.
Yesterday there was a transparent story on People from a "source close to Jon Gosselin" that claimed he didn't start dating at all until Kate filed for divorce and that he was not having an affair with the woman he was photographed out with multiple times in May, Deanna Hummel. Many assumed that it was damage control by Jon, who now seems like the irresponsible party who is more than willing to ignore his eight kids for a good time.
PopEater recently conducted a poll that shows that more people are on Kate Gosselin's side in the divorce, about 58%, as opposed to earlier in their split when the tabloids were making her out to be the evil party. It's hard to choose between the two, but people are seeing who is staying home and taking care of the kids, albeit with plenty of help, and who is more than willing to be photographed out partying with their new, much-younger partner. Add in a bunch of photos and videos of the new girlfriend doing drugs, however tame, and the guy looks like that much more of a douche for parading her around.
Jon Gosselin is shown out buying a swiffer at a Duane Reed in NY on 7/20/09. Credit: CWNY/Fame Pictures. Kate Gosselin is shown out running errands in PA on 7/20/09. Credit: Splash News.