Christina Hendricks has been open about the fact that she's not a natural redhead. In 2011 she explained that she was "obsessed with Anne of Green Gables" as a child and that her mom helped her put a rinse in her blonde hair to achieve that look. In a new interview with Busy Philipps, Christina talked a little more about being a redhead. She said it helps her stand out and that she picked a category and went with it. Christina was wearing a really fug pink and red ruffle gown with sequin hearts on it, including two big hearts over her boobs. It looked like something Busy would wear and of course Busy loved it. Apparently Christina is a big fan of Busy's show and of her experimental fashion. They also know each other from working together on the 2011 movie I Don't Know How She Does It. Here's what she said about her hair and marriage.
You are one of the world's most famous redheads. You're not a redhead you're a blonde.
It's true. I'm like orange is the new black of haircolors. I want to pick the category that's going to work for me. There's a lot less redheads so I'm just going to be a redhead.

I remember you on ER. You were blonde.
Yes I was blonde back then. You remember that? I was really young.

Can you believe you're coming up on 10 years of being married?
I can't believe. It does fly by. We always celebrate [our anniversary].

What month did you get married October? Maybe a Halloween theme.
You're speaking my language. I love a theme, a costume, any reason to get dressed up.

Do you go for sexy Halloween costumes?
Never. I'm always something terrifying. I was Nosferatu a couple of years ago. My friends had no idea it was me.

I read an interview years ago that you never wear sweatpants around your husband
It's true I'm a caftan girl. I have like 75 of Mr. Nightgown. I do it for me. At the end of the day I'm trying to be all fancy. Don't guys just like a simple shirt or their shirt?

Did you get hit on a lot when you were playing Joan on Mad Men?
No I think people were scared of Joan. She was a badass.
I love what she said about Halloween! I'm like that too, I try to look scary not sexy and I love dressing up. That must also be why Christina loves Busy's fashion. There's something so costumey about her outfits. As for being a redhead, as I've mentioned I'm not a natural redhead but I've been one in the past. It was fun and it does make you stand out, but now that I'm going gray it's too much to keep up.
In another video Christina said that she's only recently gotten into texting and that she takes it too seriously. She's not on Instagram or Twitter so Busy read her some nice tweets about her. They also did a cute segment with Christina's costar from Good Girls, Retta, where they decorated ski masks.
I watched the first couple episodes of Good Girls on Netflix and it was fun but not my style. I know it's really popular though. Corey who used to work with us was an extra in one of their Atlanta airport scenes!
I looked and I couldn't find any photos at our agencies of Christina Hendricks as a blonde from her ER era. She did go blonde for a minute in 2015 as part of her contract with Clairol. Here are some of those photos. The one at the bottom is of her at this year's Vanity Fair Oscar Party.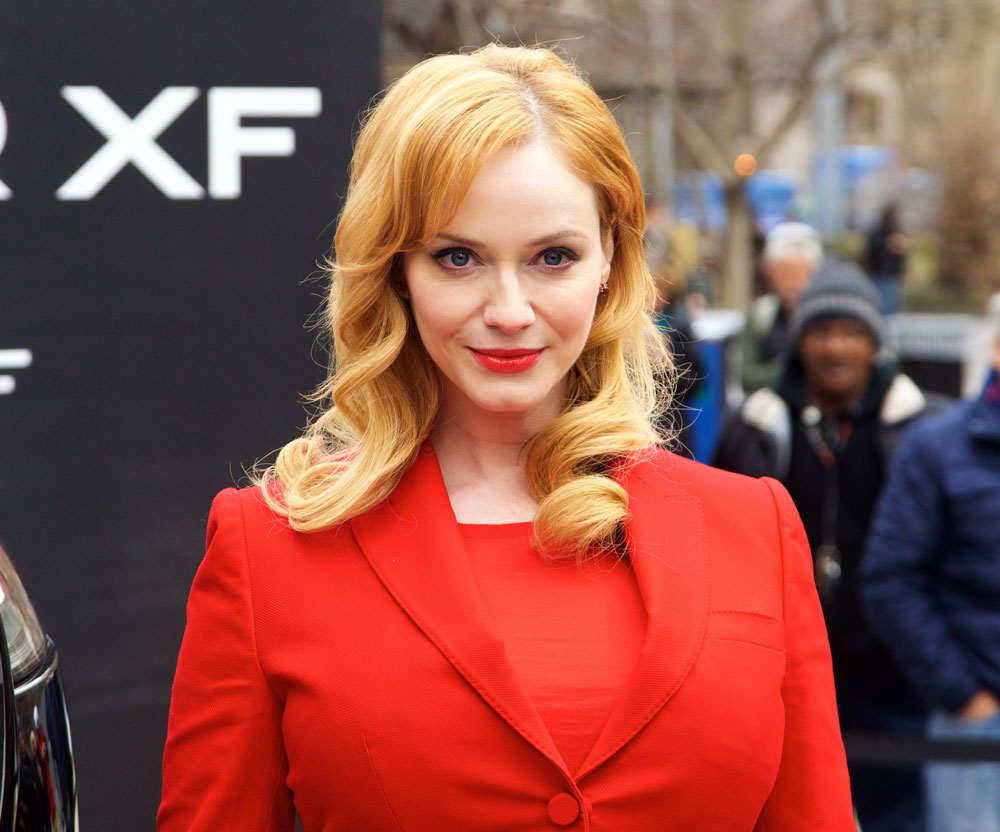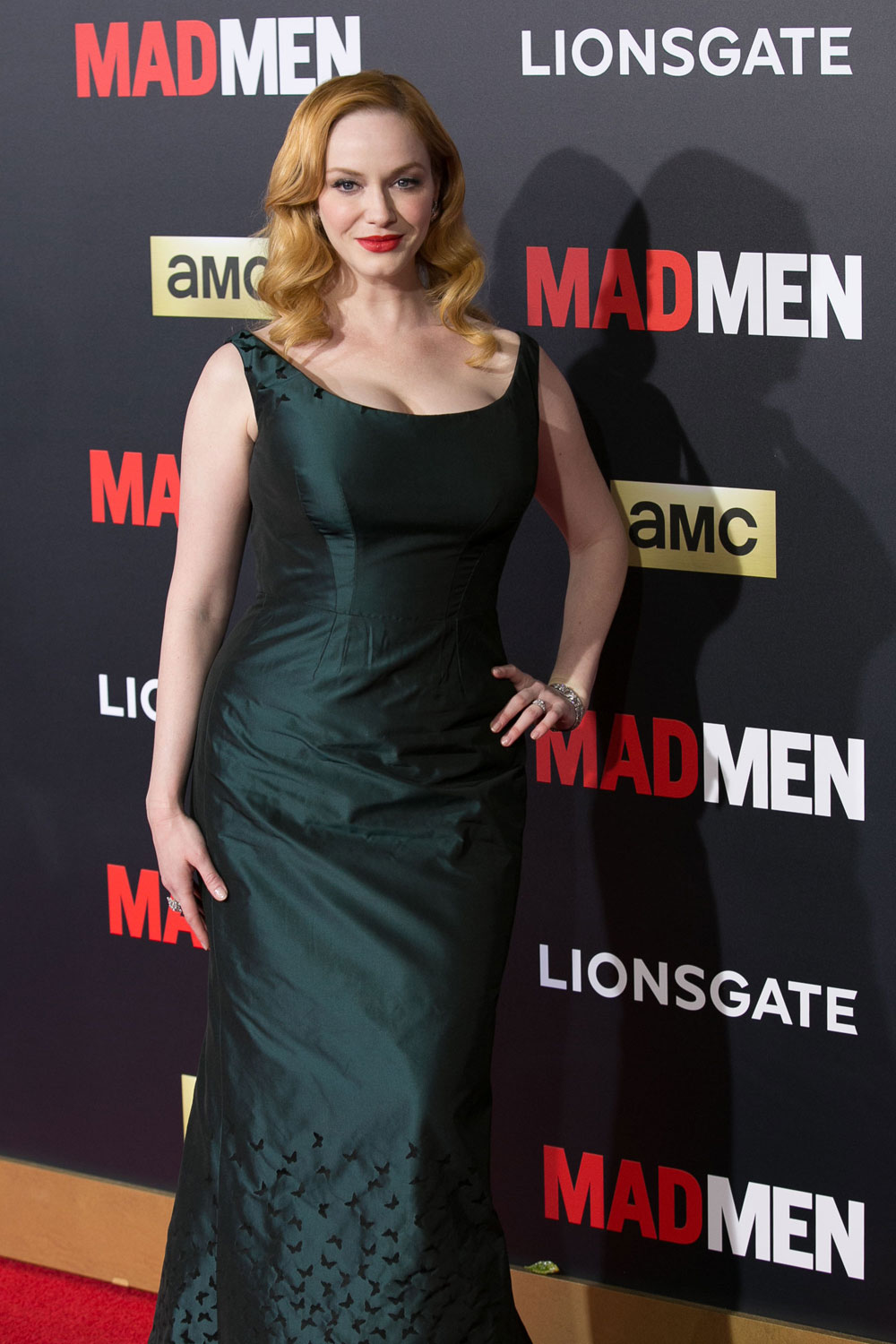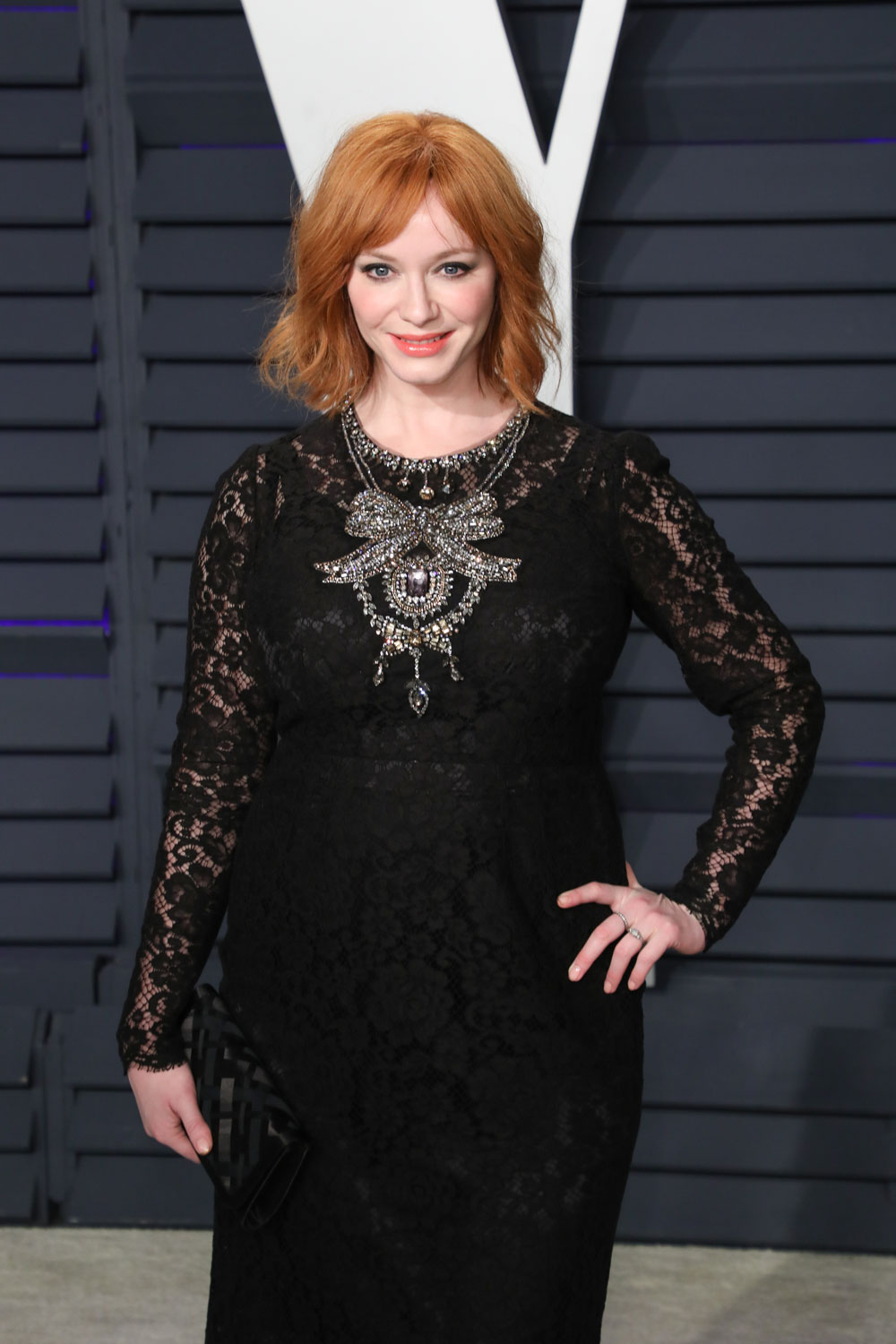 Here's the video!

photos credit: WENN