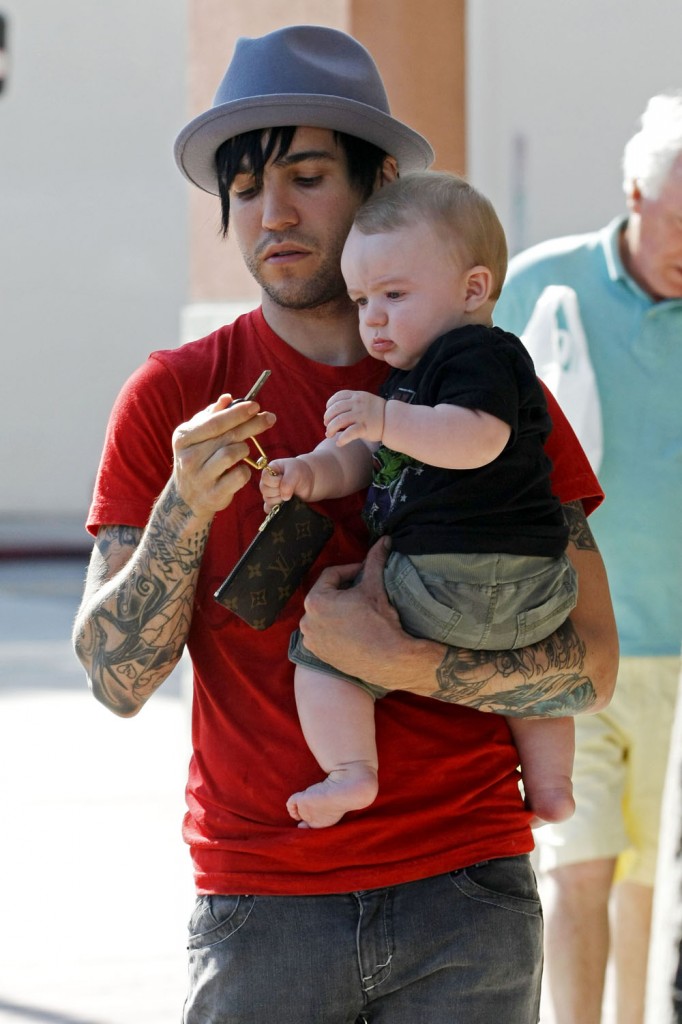 Oh, for goodness sake. The National Enquirer is reporting that Ashlee Simpson and Pete Wentz are locked in some kind of battle about if and when to have a second baby. Their son Bronx is only eight months old, and according to the Enquirer's source, Pete is hellbent on having another kid right now, so that they'll have two babies close in age. Meanwhile, Ashlee is all "hell, no" and "if you want a baby so badly, you get pregnant, genius" to Pete. She's trying to establish herself as some kind of television actress, and she worries about her weight a lot, according to these sources. So basically, they're saying she doesn't want to have another baby because of her career and her figure. And Pete just keeps whining about having a big family:
Hold on to your Pampers! Ashlee Simpson and Pete Wentz are locked in a bitter baby battle. The career-minded performer is putting off her Fall Out Boy husband's dream for baby No. 2 because she thinks a new pregnancy will interfere with new TV show, say insiders.

"Pete wants Ashlee pregnant NOW," a family friend told The ENQUIRER. "He wants a big family. And he's adamant that the children should be close in age."

"But Ashlee is consumed with making it as a serious actress. Each time Pete brings up the idea of a new baby, Ashlee groans, 'We just had one!'"

The two are thrilled with parenthood and Bronx Mowgli, their 8-month-old son, said the friend.

"While Ashlee does want more kids, she wants to wait a couple of years. It's Pete who is getting antsy – and the baby issue is starting to create conflict."

Ashlee's new show, Melrose Place, debuts on the CW this fall, and the 24-year-old singer-turned-actress is hoping it will establish her as a TV name.

"Ashlee worked hard to slim down and lose the baby weight after Bronx was born in November," said the friend. "She thinks another pregnancy now will slow her career momentum."

At 5-foot-6 and 110 pounds, the performer feels she's ready for the cameras.

"And the last thing she wants is to jeopardize this new television gig because of morning sickness and dealing with the physical toll of a pregnancy," said the pal.
[From National Enquirer]
I've read interviews with Pete Wentz where he's come across as very thoughtful and sweet. Of course, he's also got his fair share of douchey famewhoring behavior. So who's the real Pete? The nice guy who kept asking Ashlee out over the course of months until she said yes, or the douche nozzle who parties with strippers and orders his wife to get knocked up right now? If I can give these two crazy kids a bit of advice – having two kids close in age really isn't that important. Not important enough to fight over. Just chill out and enjoy the healthy baby boy you have.
Here's Pete and Bronx on July 10th in Los Angeles. Images thanks to INF Photo.