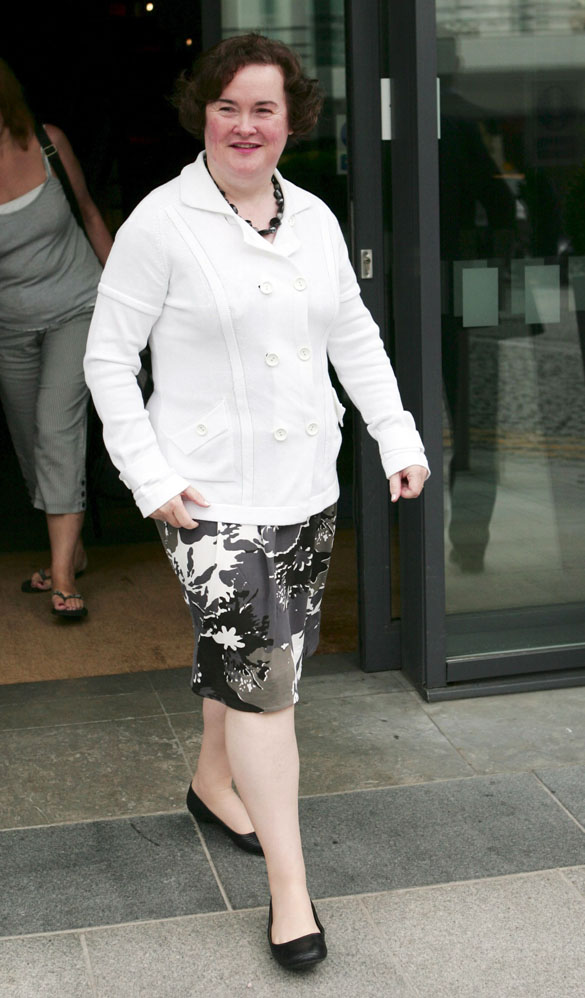 Susan Boyle's full "Today Show" interview aired this morning, and it's clear from watching it that, while she's doing better, she still seems overwhelmed by her fame. She describes it as being like a "giant demolition ball." Most of us probably spend a bit of time fantasizing about what it'd be like to suddenly become famous. Boyle knows what it's like to go from ordinary to world-renown in the blink of an eye – and from the way she describes it, I don't envy her.
She admitted it wasn't easy leaping into the cauldron of acclaim and fame after so many years of obscurity spent with memories of being mocked as a child. After she skipped several scheduled appearances immediately after her "Britain's Got Talent" run, there were questions about her health.

"Was that overwhelming for you, because, as you said before, you come from basic obscurity?" Vieira asked. "It is a dream you've wanted. But in a matter of days, because of the power of the Internet, people know your name. People are talking about you."

"It's a lot like a giant demolition ball," Boyle replied in a soft voice. "The impact — like a demolition ball. And anyone who has that kind of impact finds it really hard to get a head around it. I've got to be honest here. I guess I had to get my head around it, but through the guidance of a great team — and they are very good — I was able to see that in perspective and really turn that around a little."

Boyle also talked about having to deal with issues going back to her childhood.

"It wasn't easy for me as a little kid, no, because I got ridiculed in school. You always get that from your peers, anyway," she said. "I'm the type of person that just couldn't stand up for herself very well, but I got over it. I'm getting over it now."

"So was music then, for you, or singing for you sort of an outlet?" Vieira asked.

"I think it was a kind of, yeah, an emotional outlet," she replied.
[From the Today Show]
Even the way Susan talks about being bullied is humble. She doesn't try to make it sound like she's the only person who's ever been bullied and clearly keeps it in perspective. But that kind of stuff really can stick with you as an adult when you get it badly enough, and it seems like it's still with Boyle. Of course one would hope the world recognizing her phenomenal talent would help her self-esteem, and that's probably one of the contributing factors to her "getting over it now."
Susan ended the interview on a hopeful note, which made it clear that despite her struggles, she's elated with the changes in her life. "'I'm having a wonderful time… I don't want it to end. It's just incredible. It's indescribable, really.'"
Here's Susan Boyle spotted leaving her hotel in Birmingham, UK on July 3rd. Images thanks to INF Photo.