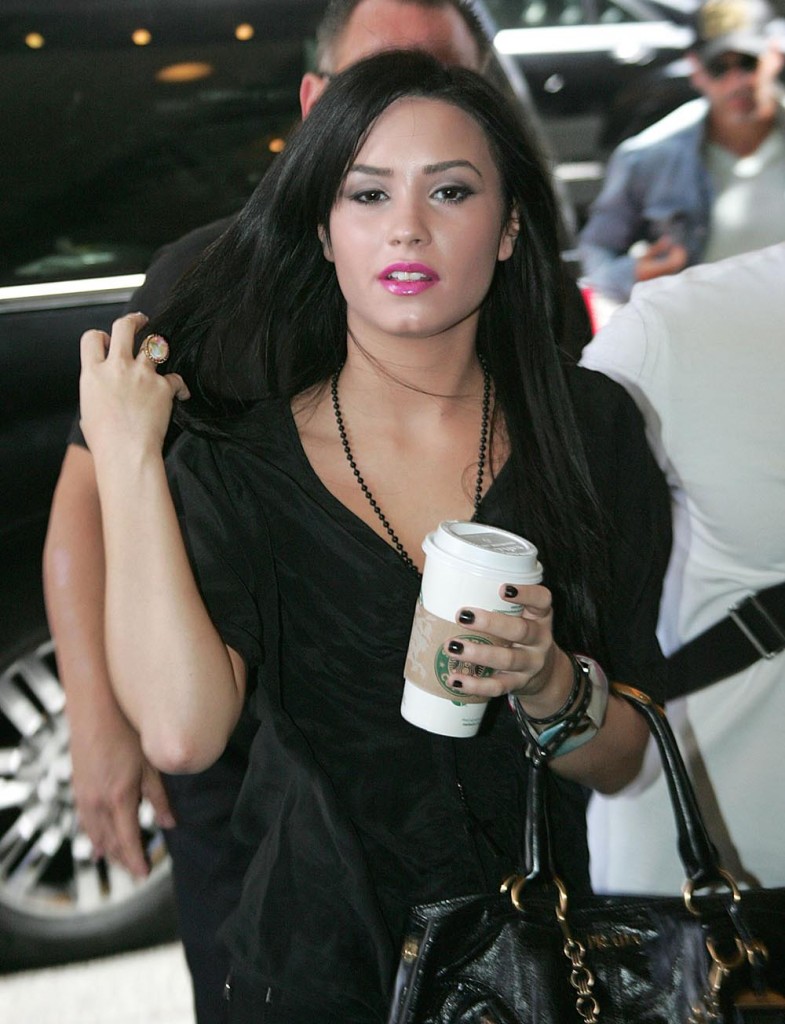 I have to admit this at the beginning – I barely know who any of these people are. Demi Lovato is a 16-year-old actress and singer of the Disney-fied Miley Cyrus variety, only without all of the sketchy photographs. Demi and Miley are around the same age, and apparently they're kind of friends, because Demi was dating Miley's older brother Trace. I just looked up pictures of Trace Cyrus, because I didn't believe the photo People Magazine had up. The kid looks like the love child of Joey Ramone and a goat. Trace is 20 years old, and from the sound of it, he seems to have been the one to do the dumping. Dude… she's 16 years old, and you're going to release a bitchy statement about "busy schedules" to People Magazine? Douche.
Age and distance put a strain on Demi Lovato's fledging romance with Trace Cyrus, and the couple has split, Cyrus tells PEOPLE exclusively.

"Demi is one of my good friends and I definitely became very, very close with her in the past few months, and it's something I really wanted to make work. But unfortunately, we both have very busy schedules – we're both on tour right now," says the Metro Station singer, who is also brother to Miley Cyrus. "I'm always on the other side of the world and so is she, so it just seemed like something that can't work out at this time."

Despite the split, there are no hard feelings between the two. "We gave it a shot and that's all you can do," says Cyrus. "Every time I hung out with that girl or talked on the phone with her, it was amazing. She's someone I can totally relate to.

"But she is a lot younger than me," Cyrus, 20, adds of Lovato, 16. "When someone is that much younger, you're looking for different things in relationships. Maybe when she's older and we've both matured, we'll be looking for the same thing and it can work out."

Even without Lovato in his life, Cyrus has plenty on his plate, as he kicks off a headlining tour in Texas with his band Metro Station. "Then right after that I jump on tour with my sister Miley," he says, "and we're going to be going all across the U.S. for a few months and then headed to Europe and the U.K."
[From People]
Demi has been in the news the past week because several media outlets/gossip sites claim that she's cutting herself again. The rumors about Demi's cutting started last year, when E! obtained photos of what looked like recent scarring on her wrists. Now Star Magazine has photos up that look similar – Demi with small, red X's or slashes on her wrist. If I didn't know there was a history of people claiming she was a cutter, I would have only suspected she was drawing on herself with a red pen:
Disney darling Demi Lovato is showing disturbing new signs of cutting — a secretive self-mutilation ritual girls sometimes use to deal with traumatic emotional issues. A little more than eight months after shocking pictures first revealed Demi's scarred wrists, new photos of the 16-year-old leaving MTV's NYC studios are even more alarming.

There now appear to be at least five nasty-looking slashes, where previously there were only a few.

"Demi has been really stressed out about her new show, Sonny with a Chance," a source tells Star. "She's not getting enough downtime because there is so much work involved, and she's always being pulled in different directions."

Unfortunately, that constant pressure may lead to destructive behavior. "Cutting is how she can let go of the stress that has built up inside — when she cuts herself, it's a way to cope," explains Dr. Jennifer Austin Leigh, a San Francisco–based psychologist who specializes in treating teenagers.

But there is hope, adds Dr. Leigh, who has not treated the actress. Besides counseling, Demi "needs to surround herself with family and friends who will have a positive impact on her."
[From Star Magazine]
In high school, I knew a girl with severe emotional problems who was an extreme cutter. Her forearms and thighs were heavily scarred from years of self-abuse. She later had to be taken out of public school and put into a facility where her problems could be dealt with. Cutting is as much a cry for help as a full-fledged suicide attempt, and should be dealt with as such. Maybe this recent report about Demi's alleged return to cutting has no merit, or maybe it has nothing to do with an older guy breaking her heart. But I suspect the two are connected. Poor girl… I hope there's someone in her life telling her that all of this is not her fault. Sometimes sh-t just happens, and there's no reason to internalize to the point of extreme self-abuse.
Here's Demi Lovato in NYC on June 24th. For pictures of her cutting scars, see the link to Star's article above. Credit: Fame Pictures . Trace Cyrus pictures from WENN.com