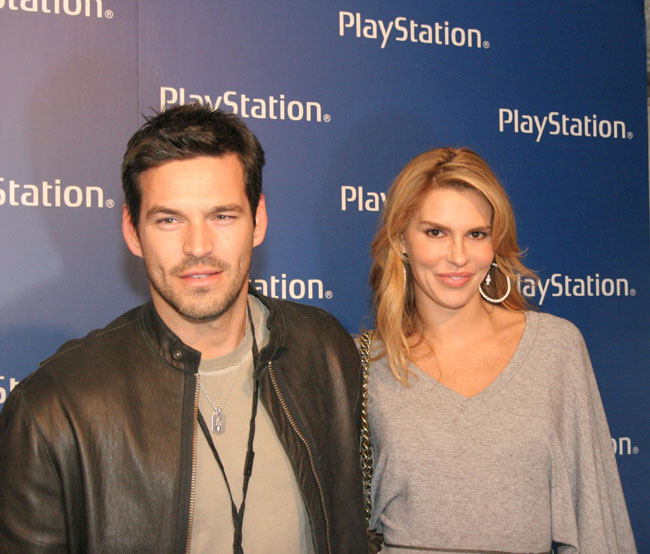 I began this story yesterday, when I read a statement from Eddie Cibrian's manager. It was a public statement about how Eddie wanted his privacy. Then, just hours later, Eddie's wife Brandi told US Weekly that she had left Eddie. Let me start at the beginning – after his two affairs became public, you'd think married Eddie Cibrian would just keep his head down and try not to get any press. That was actually what he was doing for the past few weeks – keeping his head down, and not getting any press. The last time we heard anything about Eddie, it was from Scheana Marie Jancon, his former mistress, letting her "friend" give a tell-all to In Touch Weekly. The details of Scheana and Eddie's affair were pretty graphic, and Scheana provided In Touch with enough photographic evidence to convince me. Technically, Scheana was his mistress chronologically before his affair with LeAnn began, then became spectacularly public.
So it is into this B-List scandal that on Tuesday morning, Eddie released a public statement, via his manager. I suppose this is the new trend, to release a public statement about how you want things to be private. The Gosselins did the same thing, under similar circumstances. Meaning that the Gosselins and Eddie Cibrian released their statements when their scandal-prone lives weren't getting the same headlines as they were just weeks before:
Eddie Cibrian, who is slated to join the "CSI: Miami" team this fall, continues defend the state of his marriage to wife Brandi Glanville.

"Apparently the press wishes to continue to play out Eddie Cibrian's domestic situation publicly with an unfair flair of tabloid fervor," Cibrian's manager said in a statement released to Access Hollywood.

"Eddie is a devoted and loving father first and foremost and the speed bump he and Brandi are experiencing needs to be worked out privately for everyone's benefit," the statement continued.

Shortly before Cibrian appeared in the Lifetime television movie "Northern Lights," alongside co-star LeAnn Rimes in March, reports surfaced in the tabloids that Cibrian was engaged in an affair with Rimes.

Both Cibrian and Rimes have denied the claims.
[From Access Hollywood]
Dude… stop whining. It's bad enough when you release a statement when you're not even getting any press any more, but to then use that statement to whine? Well, it looks like Brandi isn't going to wait for a third mistress to be revealed (and you know that woman is out there). Brandi tells US Weekly that Eddie and LeAnn Rimes "deserve each other". Oh, snap!
Eddie Cibrian's wife Brandi Glanville has left him, she confirms exclusively in the new issue of Us Weekly (on newsstands Wednesday).

"Eddie and I have decided to take some time apart," says Glanville, 36, mother of Mason, 6, and Jake, 2. "I want to do what is best for our children. Eddie and LeAnn [Rimes] deserve each other."

According to Us Weekly, the final straw came after Cibrian, 36, and Rimes, 26, were caught again together in the early afternoon of July 17 — four months after Usmagazine.com broke the news of their affair — outside the Malibu home of Jeff Berger, a longtime friend of the singer and her husband, Dean Sheremet. (News of Cibrian having another affair — with 24-year-old model Scheana Marie Jancan — also broke earlier this same month.)

Sources tell Us that Rimes' pal Berger has been facilitating similar meetings at his home for about a month and that Rimes and Cibrian also made use of a rental house on L.A.'s west side. (Berger denies he has been enabling an affair. Another source insists Cibrian and Rimes "hung out a bit, but that was it.")
[From US Weekly]
Good for Brandi. I was wondering when the other shoe would drop. I wonder at the timing though – Eddie releasing a now pre-emptory "leave me alone" statement just hours before his now estranged wife publicly confirms the split. Very weird. But right on for Brandi – I hope she continues to release bitchy statements about LeAnn. With the tragedy comes a little humor!
Eddie Cibrian and Brandi Glanville are shown out at various events in 2006. Credit: WENN.com