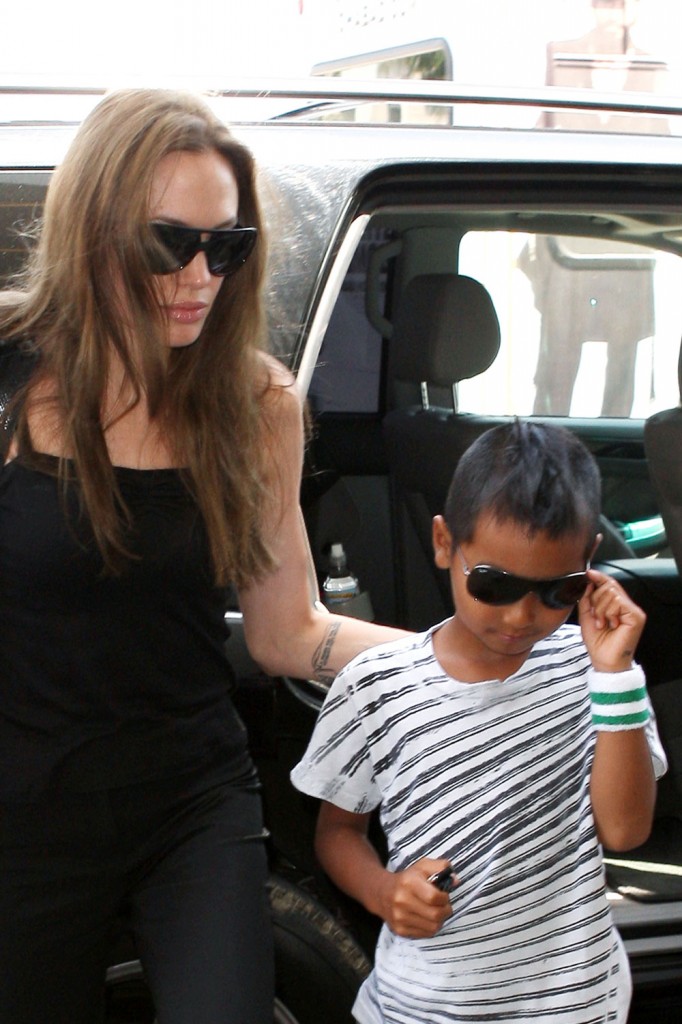 Angelina Jolie and her oldest child, son Maddox (who turns eight years old in August) were photographed at LAX on Tuesday. The two were traveling without Brad and without any of the other little Jolie-Pitts. Multiple sources confirm that Angelina and Maddox were flying commercial (as opposed to going for a trip in one of Angelina's little private planes). X17 claims Angelina and Maddox are headed to France. A little mother/son bonding trip, perhaps?
Lately Brad and Angelina have been splitting up their outings with the kids by gender – Angelina takes Shiloh and Zahara out, while Brad takes Maddox and Pax for doughnuts or whatever. It's been a while since I've seen Angelina do a solo trip with one of her boys. I wonder what's up? Will the tabloids spin it as "Angelina Takes Maddox From Brad: She Screams 'You'll Never See Us Again!'" Meh, whatever. Maddox looks cute in his little sunglasses and his track pants. As for Angelina's outfit… well, I'm sure it's comfortable. I think I have those sh-tkicker boots in brown, actually. And I'm filled with the urge to give Angelina a haircut. Her hair looks healthy and everything, but I think it would look fuller if she got a trim, perhaps. I just prefer her hair in a loose bun, I think it looks prettiest that way.
In other Angelina Jolie news, it looks like she's no longer attached to the would be film or miniseries version of Ayn Rand's Atlas Shrugged. Something about how she didn't want to do it anymore or the other crap came up for both her and the studio, something like that. In any case, it looks like the studio that owns Atlas Shrugged is now considering Charlize Theron for the role of the capitalist heroine Dagny Taggart. I could cite some Hollywood industry piece, but this announcement from the geeks over at The AV Club (at the Onion) had me barking with laughter. For the whole AV Club piece, go here. This is the basic gist:
Weep no more, bruised and battered libertarians: After 37 years of being shot down by rational people who see the book as a stilted and masturbatory work suitable only for college freshmen who haven't figured out that, if everyone did exactly what they wanted all the time, civilization would collapse on itself—and by the way, dudes, most ladies don't enjoy being raped into submission, even by rugged industrialists—your sticky dreams of turning Rand's rambling screed about the values of selfishness and laissez-fare capitalism into a brutally dull, unwatchable movie are about to become a reality!

We know: You've heard all this before. In fact, not long ago, self-avowed Rand fanatic Angelina Jolie was attached to the film, but someone must have gently taken her aside and explained that it's hard to be both an objectivist and staunch opponent of collectivism when you're also asking people to give all their money to Third World countries or working closely with those evil cooperation-lovers at the UN—which basically amounts to criminal activity amongst the book's more fervent fans.

Thankfully those acolytes have a brand new, Teutonically ideal actress to provide the integrity-filled bodice of economically principled sexpot Dagny Taggart in Charlize Theron, and all will soon be right with the world.
[From The Onion's AV Club]
The AV Club guy goes on to say that Charlize is hellbent on making Atlas a miniseries, because if they tried to make it into a three-hour film, it would loose it's nuances, "like the scene where the book's mythical hero of both engineering and "keeping it real" John Galt stands in a ditch and barfs out a 70-page speech about the awesomeness of objectivism". Chuckle. I love Ayn Rand humor. I was actually a big Ayn Rand person before I got into feminist theory and existentialism. And then that fell by the wayside, and now I'm all "whatever works, dude". I'm just so happy that Angelina is no longer attached to this turd of a film project. It would have taken forever to film, and it wouldn't have been worth that. It's all yours, Charlize!
Angelina and Maddox are shown at LAX on 7/21/09. Charlize Theron is shown at the Rose Bowl in Pasadena, yesterday, which featured Chelsea vs Inter Milan. Credit: WENN.com