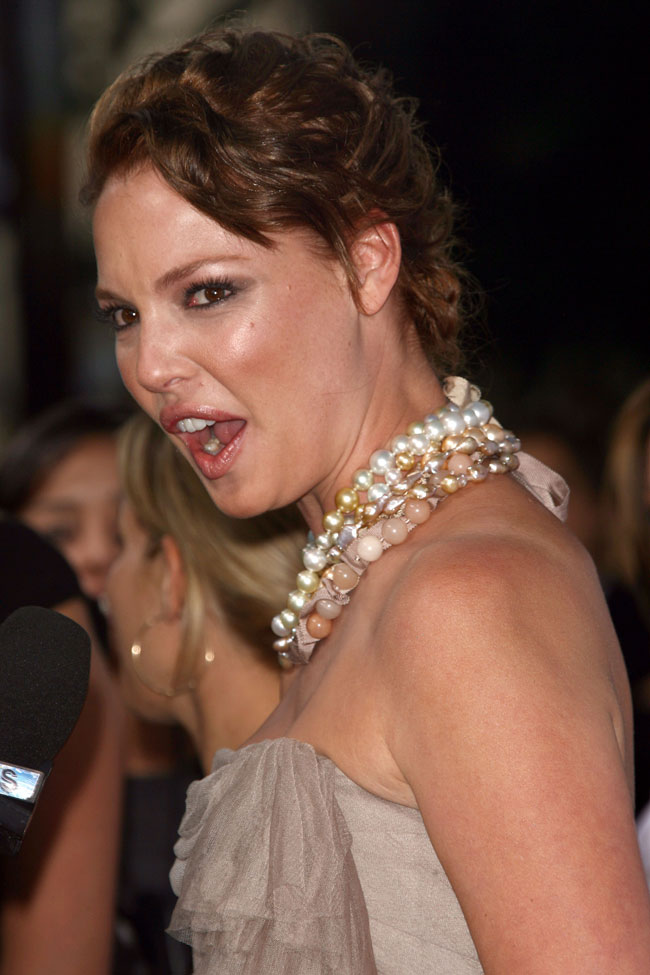 Katherine Heigl should count her lucky stars that she was asked to come back to "Grey's Anatomy" for another season, especially after she trash-talked the show's writing on at least two separate occasions last year. She even brashly took her name off the list of potential Emmy nominees in 2008, saying in an obnoxious statement that "I did not feel that I was given the material this season to warrant an Emmy nomination." That wasn't the first time Heigl dissed her employers and it won't be the last.
In a recent interview, Heigl defended her blunt and often rude comments, saying she's just stating her opinion and that she's finds it "preposterous" that "I can't be honest about how I feel about things because it's going to piss somebody off who feels differently."
People Magazine has the details of Heigl's appearance on "The Late Show" on Monday night, and she's predictably at it again. She calls it "cruel and mean" that she was on set for 17 hours on her first day back at Grey's. That does sound excessive, but I'm sure she spent a significant amount of downtime in her plush trailer, along with receiving catered meals and beverages delivered by an assistant.
Katherine Heigl may be back to work on the set of Grey's Anatomy, but according to the actress, it hasn't been a super-happy homecoming.

"Our first day back was Wednesday and it was — I'm going to keep saying this because I hope it embarrasses them — a 17-hour day," Heigl told David Letterman during a visit to the Late Show on Monday, "which I think is cruel and mean."

One reason for her lack of pep: her good pal T.R. Knight's departure from the show.

"It was actually kind of really great to be back," she said. "All my friends are there and at this point, they're sort of like family, but it was a little weird because [T.R.]'s not there anymore."

As open as she is about her feelings about the show, Heigl remained tight-lipped about the fate of her character, who was last seen in an ambiguous scene after undergoing surgery for a brain tumor. "You last saw Izzie, you know, flatlining," she told Letterman. "So, I won't give it away but, you know, I'm there so I'm either there as a ghost, on the other side or I survived a disease no one survives."

"I'm guessing if you're working 17 hours, that means you're not dead," Letterman observed.

Heigl's reply: "What if, however, Dave, I was in a bed in a coma for 17 hours, they could do that to me."

Despite the long days shooting the medical drama, Heigl said she hopes Grey's Anatomy, which returns to ABC on Sept. 24, will stick around for a while.

"We have another two years, I think, at least in the contract," she said. "Hopefully the show goes, you know, ER time, which would be cool."
[From People.com]
From what I understand, long hours on set are common for movies and television shows because it's difficult to coordinate cast, crew and equipment. They try to get in as much filming time as possible once everything is set up. How is this woman scoring roles on major motion pictures with this kind of attitude? At least she's not a drunken mess like a lot of starlets, but she seems so ungrateful and obnoxious about her charmed life. You know who regularly work 17 hour days – doctors in residency like her character on Greys. They don't get all the perks, breaks, or a fraction of the salary that she enjoys. Their job is stressful, demanding and requires difficult decisions that people's lives sometimes depend on. There are also plenty of menial jobs that require long, hard hours. The only person who should be embarrassed by Heigl's latest round of bitching is herself.
Katherine Heigl is shown at the premiere of The Ugly Truth on 6/21/09. Credit: Fame Pictures