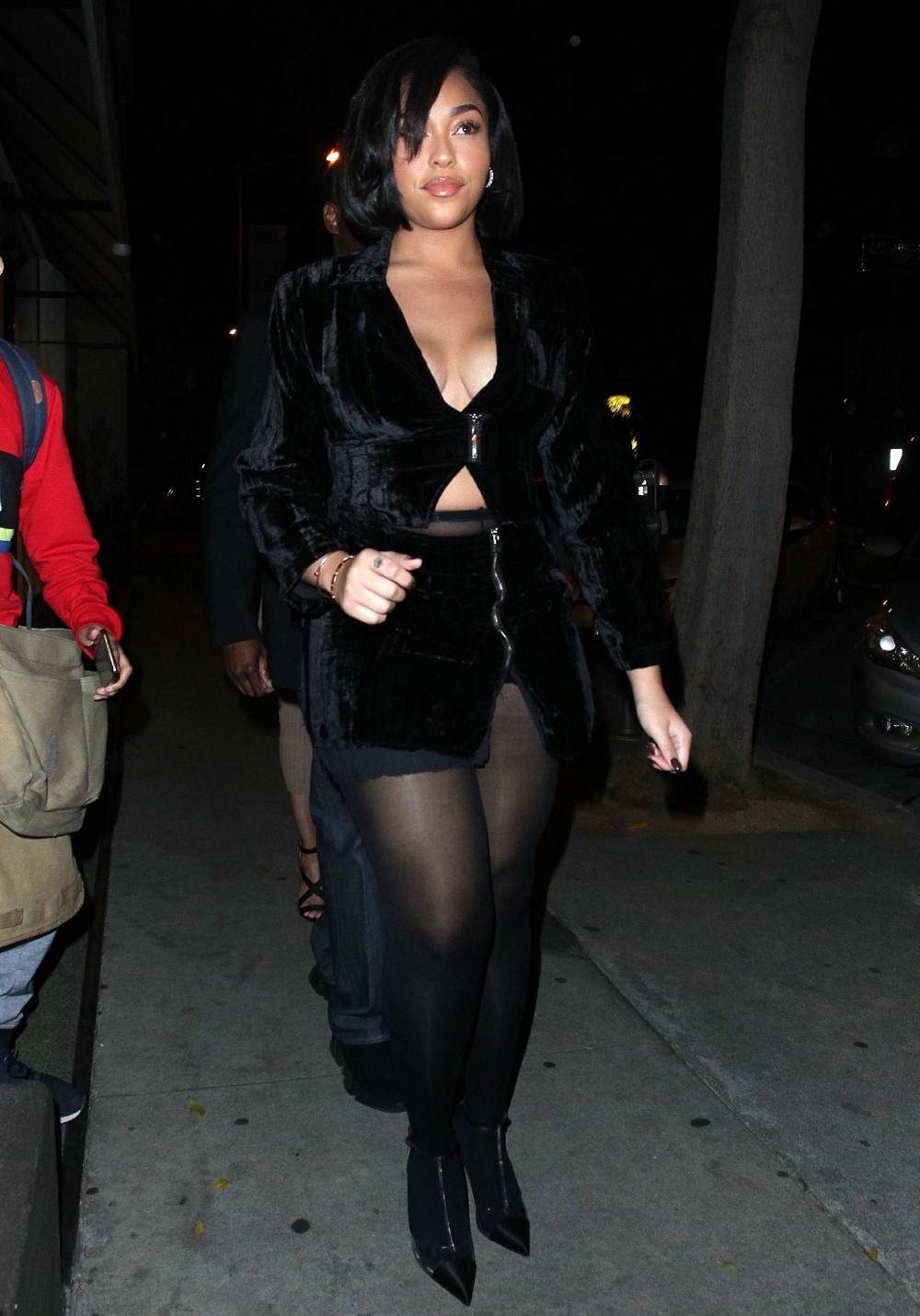 Here are some photos of Jordyn Woods – arguably one of the most famous "ex-friends" of the year – causing a major scene at Craig's on Friday night. Craig's is a paparazzi/C-list celebrity hotspot in LA, and there was some kind of massive swarm when Jordyn showed up. This was one of her first big public outings since she was excommunicated from the Church of Kardashian-Jenner last month. Jordyn is in better shape – PR-wise – right now than she was in the weeks just following the kiss/hookup with Tristan Thompson. By the end of the drama,Khloe Kardashian looked foolish, and Jordyn looks like a young woman who made a mistake and owned up to it.
All that being said, I've been trying to figure out Jordyn's outfit in these photos and I can't explain it? She's wearing pantyhose (which we can see the top of??) and velvet miniskirt (which is not flattering) and a velvet jacket which is at least one size too small. If you were going to do a victory lap pap stroll, would you choose this ensemble?? Still, I will say that Jordyn looks beautiful – she just looks so naturally pretty compared to the fake-ass Kardashian-Jenners. That's probably the point of the victory lap too, as is this:
Jordyn Woods is reveling in her newly-heightened celebrity … drawing a gaggle of paparazzi and loving every minute of it. Kylie Jenner's ex-bestie hit up Craig's in WeHo Friday night, and trust us … this was all clearly to grab the most attention anyone could get in one spot. There were at least 32 photogs at the restaurant and it was all about Jordyn. She was there to celebrate her upcoming music vid with YouTube star Justin Roberts … and she looked ridiculously hot and said nothing, which says everything.

She had a "What, me worry?" look on her face as she grinned for the cameras. Some of the unanswered questions: "Do you miss Kylie? Have you moved your stuff out? Have you seen Kylie and Travis are back together? When will we see you with Kylie? Have you spoken with Khloe? Do you regret doing Red Table Talk?"

As far as her brand goes, hooking up with Tristan Thompson at any level did her nothing but good. Sure, she pissed off Khloe, Kylie and for that matter the whole Kardashian brood, but that doesn't seem to matter to her anymore … she now has her own celebrity — not attached to Kylie — and her eyelash line — Eylure — has taken off. The Eylure line actually benefited by her tearful explanation of what went down with Tristan when she sat down with Jada Pinkett Smith on "Red Table Talk." She cried and cried, but her lashes stayed on, and viewers noticed.
Well, TMZ is definitely on the Jordyn Woods train. They're helping her promote her projects, like this video she made with Justin Roberts called "Way Too Much," and her sponsorship with Eylure, which is just a false eyelash company. I was worried about Jordyn's finances and future earnings now that she's been excommunicated, but it looks like she'll be fine. She's still making deals, she's still finding revenue streams. And there seems to be a lot of interest in her.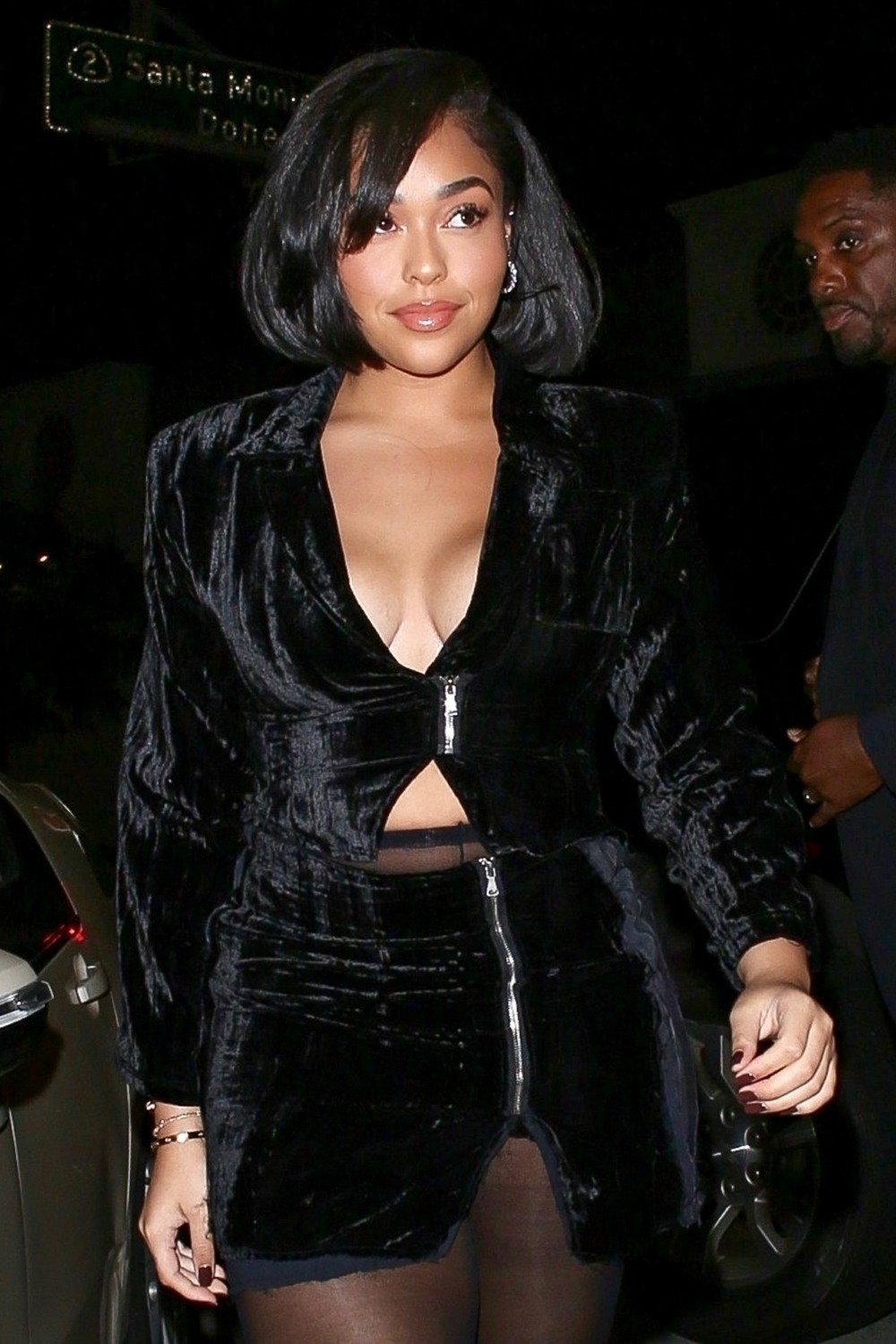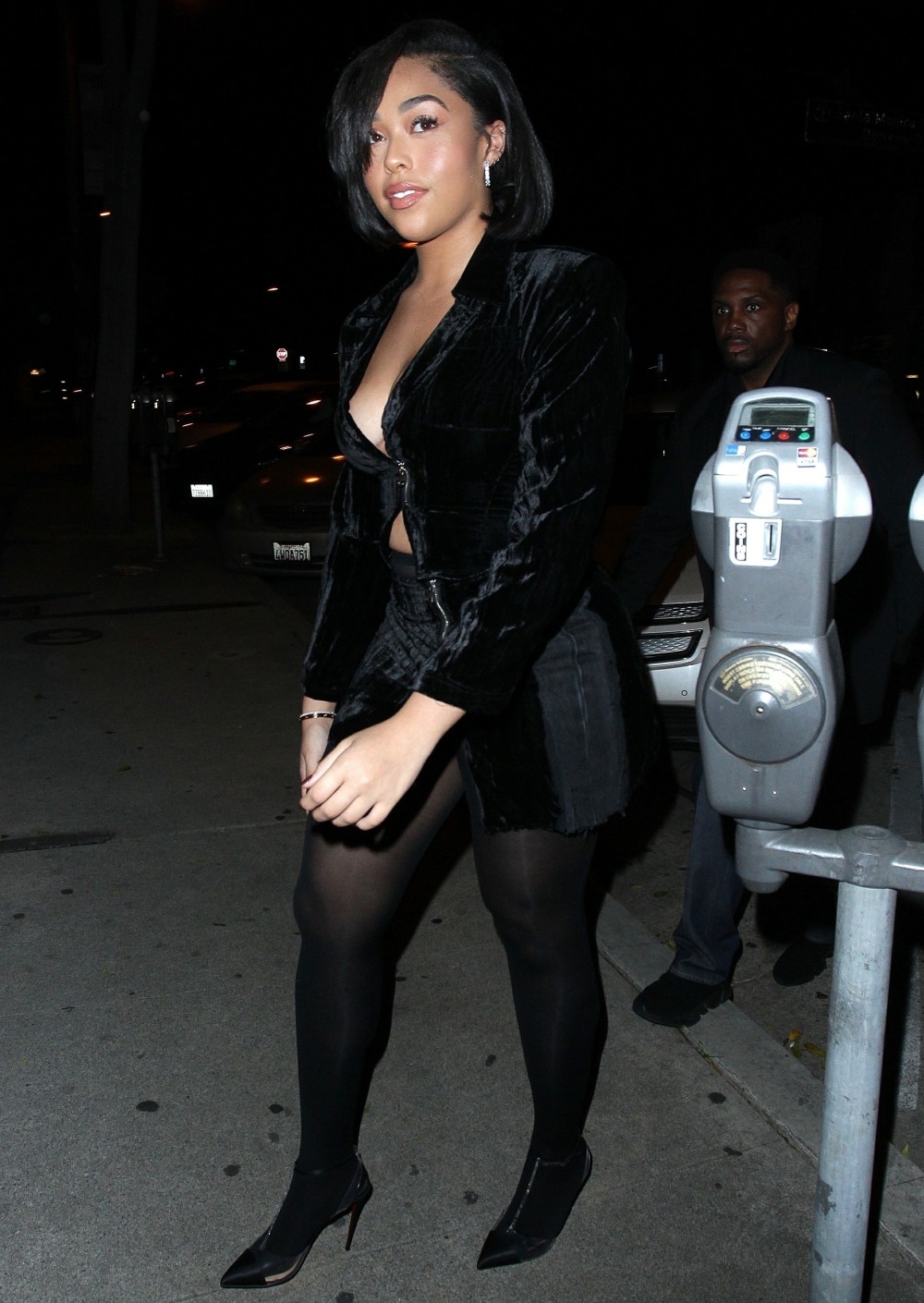 Photos courtesy of Backgrid.