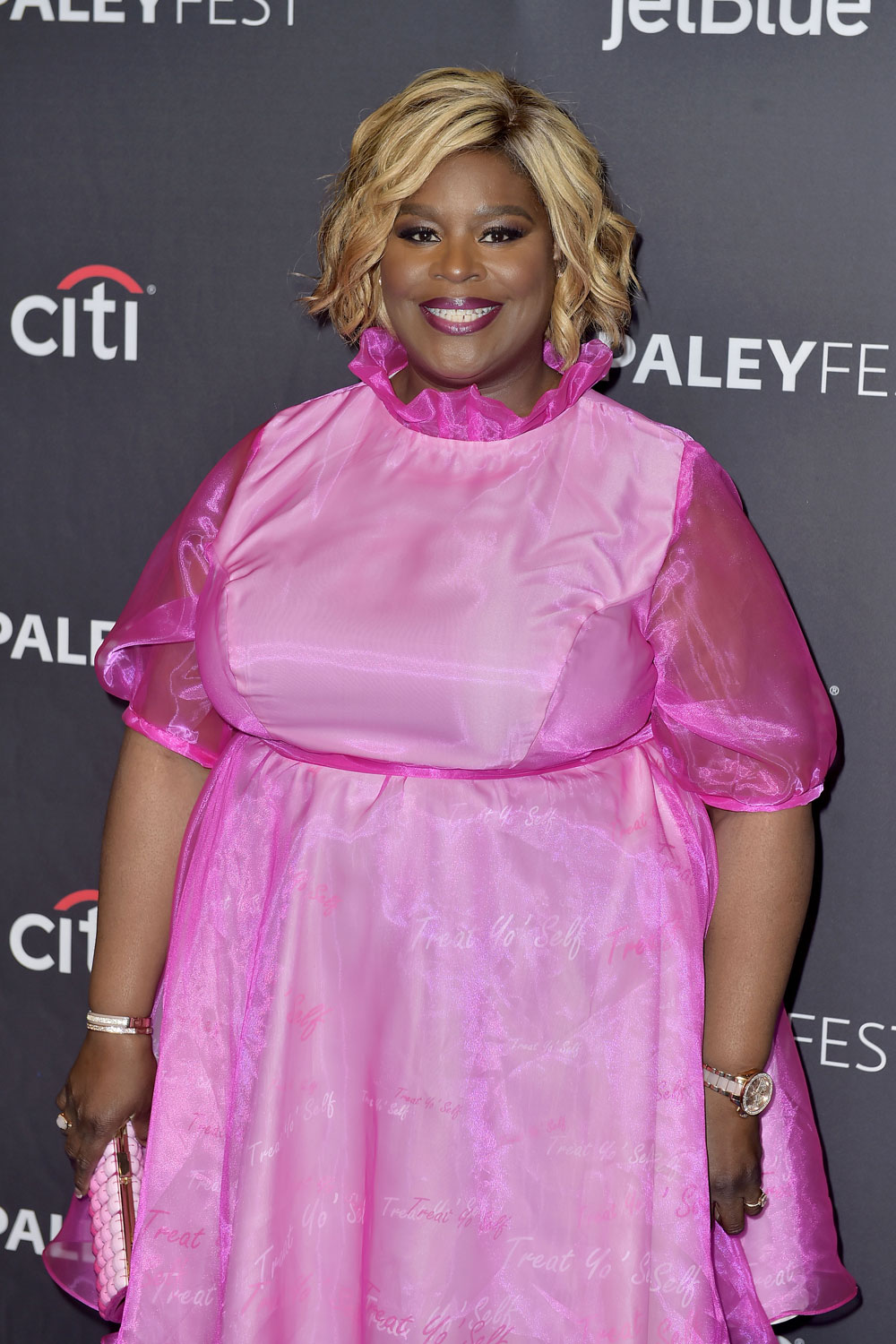 Retta is on Good Girls on NBC and I know her from Parks and Rec, which just had a reunion at Paleyfest almost ten years after it first aired. Those are the photos of Retta in the pink dress, which has the words "Treat Yo Self" on it in script! That's a reference to an episode in the fourth season where her character, Donna, and Aziz Ansari's character, Tom, have a yearly "Treat Yo Self" day where they get spa treatments and go shopping. (I've seen a lot of Parks and Rec but I hadn't seen that one and I watched it for this story! It was so cute.) She's 48, which I mention because she said she's "at an age" where everything makes her cry. I thought she was in her late 30s and am surprised. Retta was a guest on Jimmy Kimmel's show, where she also talked about meeting Rob Lowe for the first time when he started working with her on Parks and Rec. He was one of her childhood crushes and he told her that women tell him that a lot. She said she first appeared on television doing standup on the Jenny Jones show. I remember that show.
On her first day meeting her high school crush, Rob Lowe
Our [director of photography] loved me. I was on a show with some of the whitest people in the industry. So when you shoot together if you light her you can't see me [and vice versa] so he would light me special for all our scenes. The first day that Rob worked he [was] like 'Do you have your own lighting?' I was like 'Sure do.'

In high school I used to sketch cute boys in magazines. Rob was one of the cute boys I had sketched and he was on my wall. [I told him] and he looked at me like 'you're not the first.'

Her first time doing standup on TV was on Jenny Jones
My dad was like cool for a week at the barbershop because his daughter was on Jenny Jones. I was like 'Your barber watches Jenny Jones?'

On crying at everything
I'm at an age where I cry at everything. Hallmark commercials will take me out. When you cry yourself to sleep it's easy to bring it back up. When I had the first meeting with our creator and director I was like 'I got this.' The first day I had to shoot a crying scene it wasn't coming. I went and chugged a bottle of water. I was dehydrated and that was it.
[From Jimmy Kimmel Live]
I didn't realize that people of color needed to be lit differently on sets. There are surely so many things like that to which white people are oblivious. Yvette Nicole Brown tweeted recently that she almost always had to do her own hair and base makeup for shows because the hairstylists and makeup artists don't know how to do black hair and don't have the right shade of foundation for her.
As for crying at everything, I'm especially like that at this age but I've always been like that. I cry at sappy commercials, I cry when anyone cries on screen, and I most recently cried at this freaking tweet about a dog who loved tennis balls. That's wild that you can't cry as much if you're dehydrated. It makes sense, but it never would have occurred to me.
'Twas the best day of the year. https://t.co/bomQGWTuKK

— Retta (@unfoRETTAble) March 22, 2019
Here's the interview!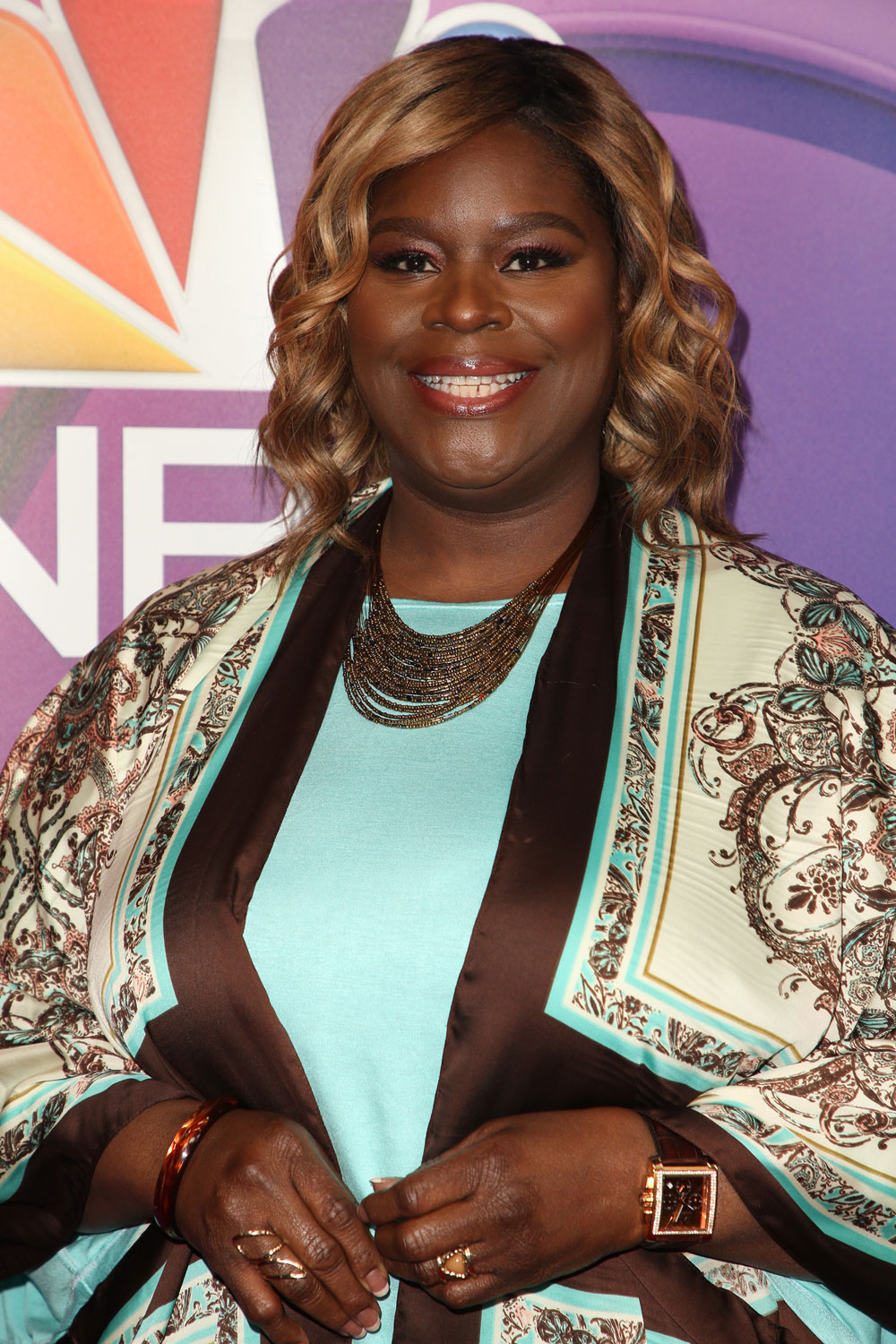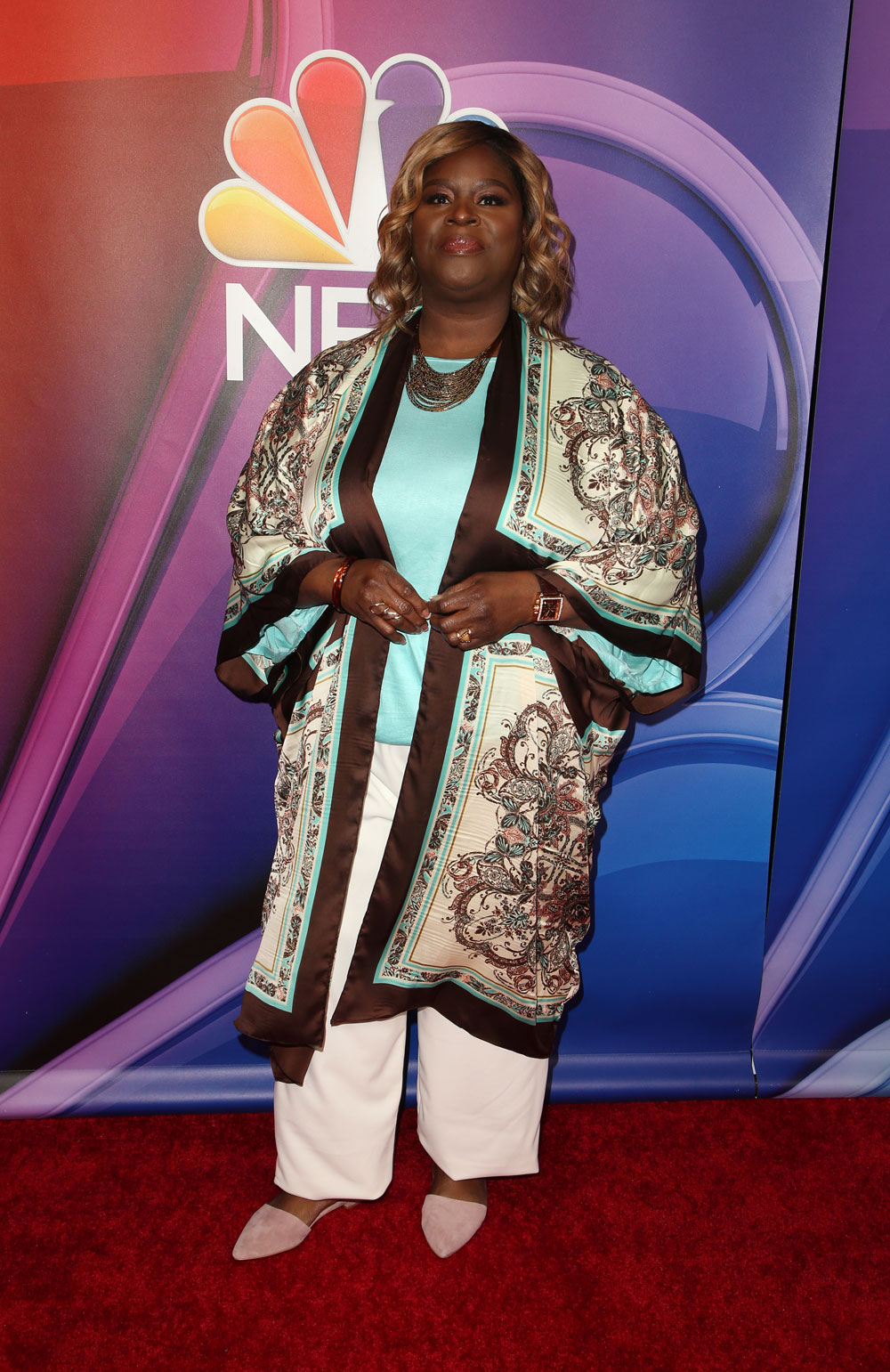 photos credit: WENN