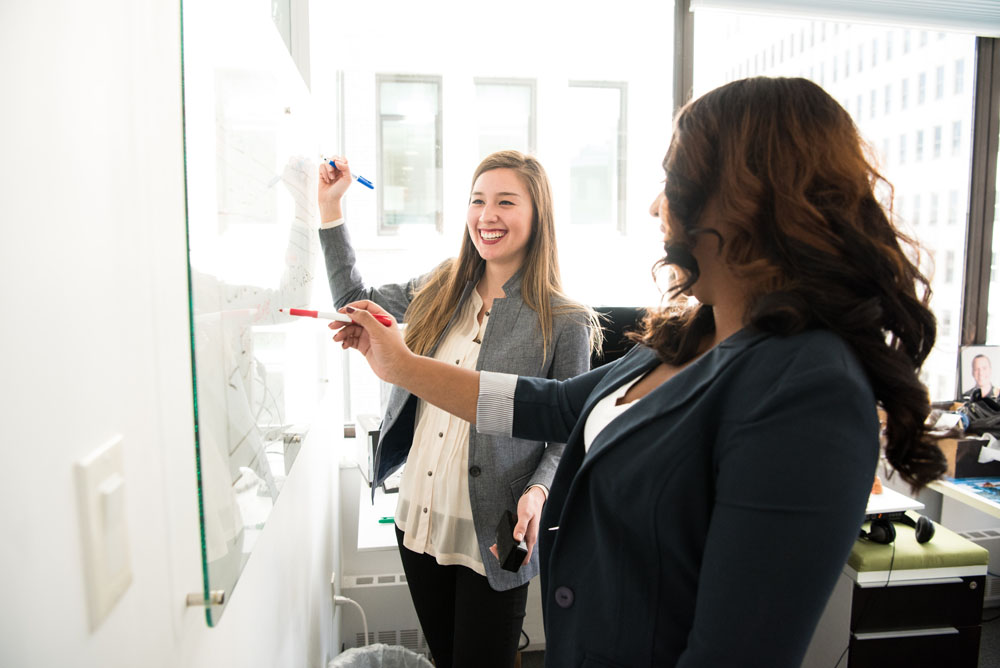 This post is a request from Ella, who sent a really nice email saying that she bought two of the Lark and Ro wrap dresses we recommended a while ago and loves them. She wrote that she hates shopping, has two toddlers at home and that she's looking for "Office-appropriate springtime tops/blouses that transition into weekend or happy-hour wear." This is actually not a simple request! It's harder to find decent highly-reviewed affordable clothing on Amazon when you're looking for something specific. It's not tough work though, I enjoy looking at clothing and reading reviews. Here are some of the best tops I found, all of which are affordably priced.
A tunic you can wear over leggings or with dress pants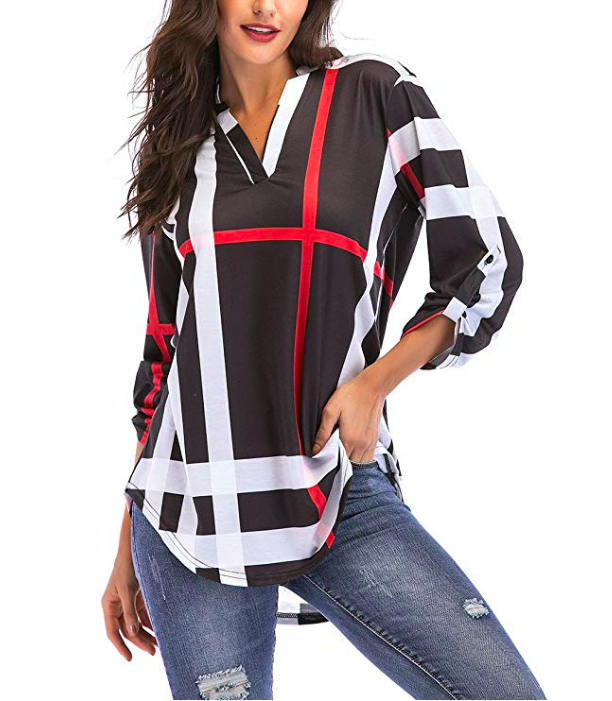 This wrinkle-free polyester tunic comes in 8 different striking patterns and in sizes small to xx-large. I especially like the black, red and white version above but there's also a traditional red and black plaid and a really pretty pink version with grey and red stripes. Women call it "super cute," say the material is "soft" and "not see through" and that it "has a flattering cut."
A 3/4 sleeve button down chiffon shirt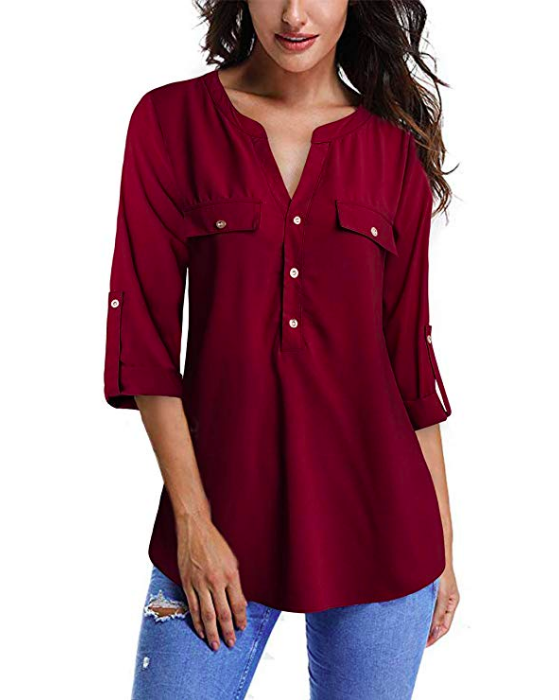 I own about three solid color shirts in styles similar to this, but nothing as dressy-looking and now I want this one. This button down chiffon shirt is available in sizes small to xx-large and in black, red, apricot and a beigey color that's called "light pink apricot." Reviewers write that it's "super soft and a good length," that it's "high quality fabric" and is "dressy enough for the office or an evening out with the girls."
A button down shirt that will make you look put together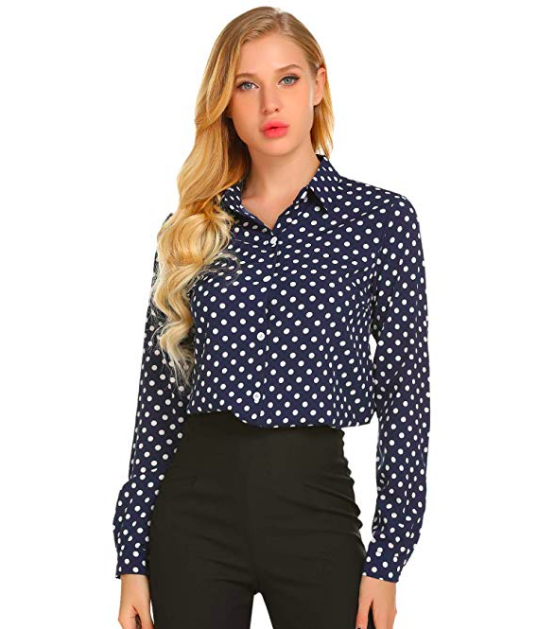 I have two polka dot button down shirts like this, one in black and one in navy. They look so cute tucked into jeans or over leggings. This one is long enough that you could wear it either way. It "can be worn casual or dressed up," and reviewers say they "got lots of compliments" that it "looks exactly as it did online" and is "true to size." There are four different color polka dot versions and it also comes in a bunch of solid colors.
A v-neck blouse with zipper pockets for interest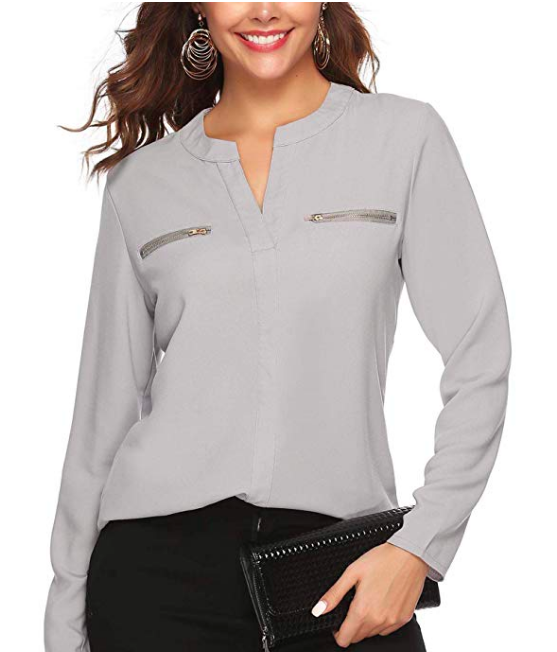 I love this zipper blouse and want it in gray. It also comes in black, white and button down versions in the same listing. This is my recommendation for Ella specifically because it's likely best for small-busted women like us. A woman with a larger bust says that it fits tight. Others really like it and say it's "cool and modern looking," that the zippers "make it more sophisticated" and that it can be dressy at work with a pencil skirt or worn with jeans for a night out.
An elegant chiffon shirt with a tie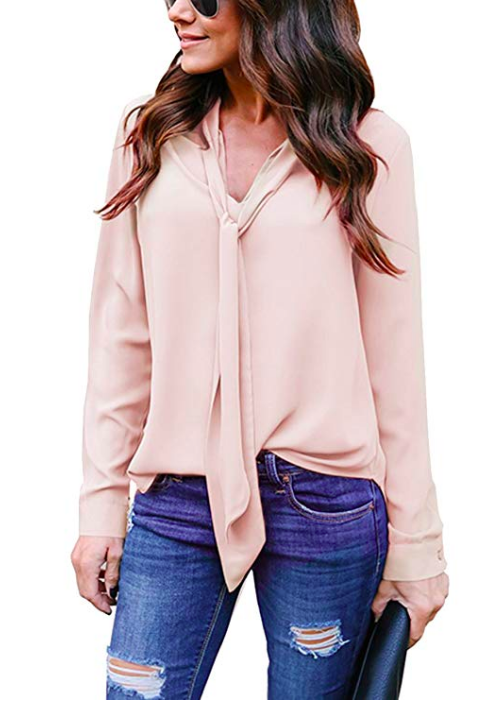 Like the shirt above, smaller women like this one but it doesn't seem to fit right in plus sizes. (There's another tie shirt that's plus-sized below.) Women call this "very unique and classy looking," say that it "drapes well," and is "so adorable." Some women say that the lighter colors are more see-through.
A loose long sleeve bow tie top you can wear to work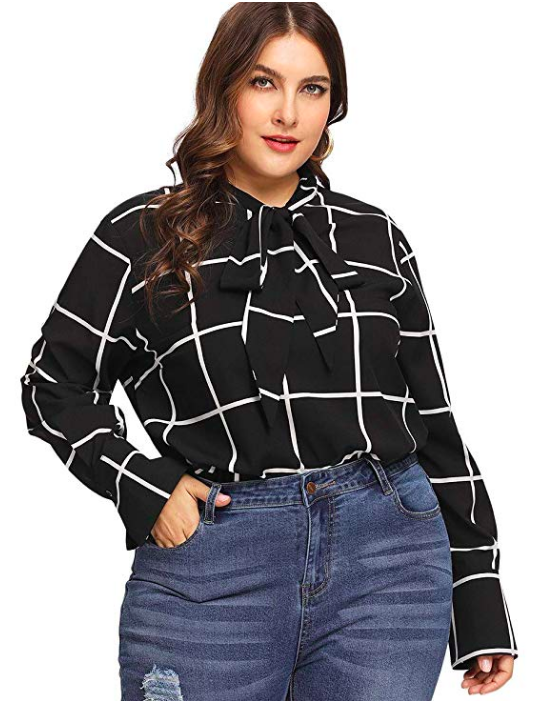 This plus-sized top comes in six different colors and prints in sizes 0x to 3x. The black and white check version above is my favorite. Reviewers write that they "got many compliments" on it, that it's "beautiful tucked in or not" and "hits right at the hips and is still flowy at the bottom."
A flowy chiffon blouse with feminine details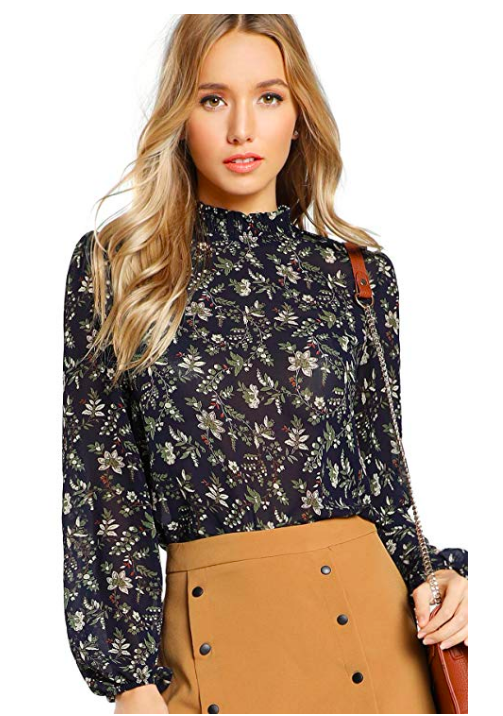 This blouse is not going to be everyone's style, but I love a floral graphic print and own a few blouses like this one. I also know it's very 80s, which I also like. This blouse has a 4.3 star rating and comes in six print options, some with slightly different styles. Women say that this cute top "goes well with just about anything," is "exactly as pictured" and that it's "great for any weather." It is said to be somewhat see through so you may want to wear a cami under it.
A 3/4 sleeve dress shirt that you'll want in several colors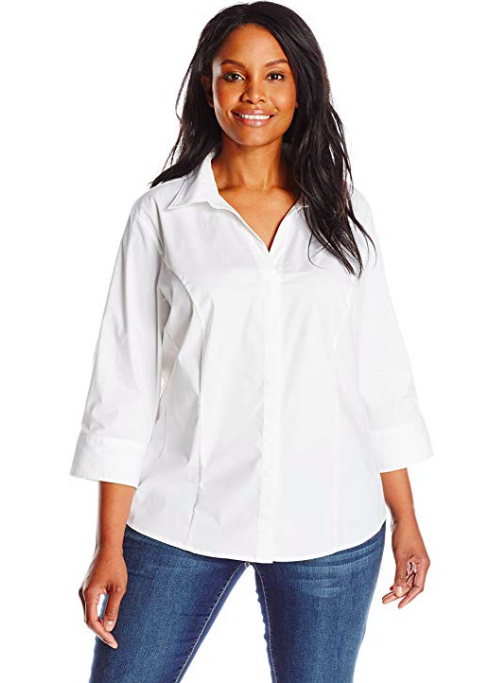 I owned so many 3/4 sleeve shirts when I had an office job as they go well with dress pants. This shirt comes in sizes 1x to 4x and six different solid colors. It's called "the perfect shirt," that is "comfortable & breathable" and "easily laundered." So many women write that they either want it in more colors or have already bought multiple colors. One reviewer says it doesn't need ironing if you take it out of the dryer right away. Here's a link to this same shirt in sizes small to xx-large.
Leg warmers that are fashionable and funky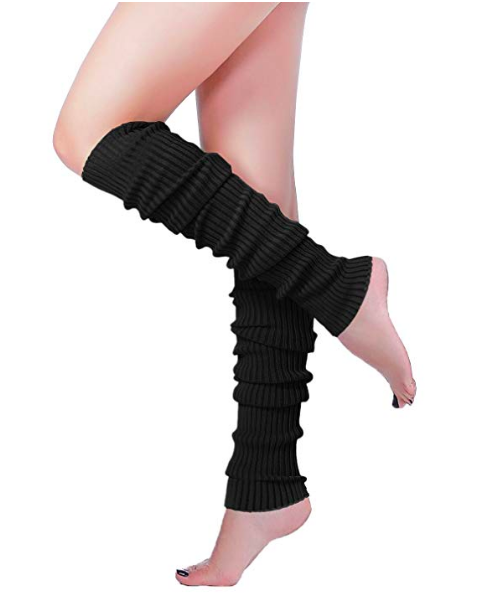 Speaking of 80s, I wanted to randomly throw some leg warmers in here because I wore some to Zumba yesterday and they felt so cozy. They kept my legs warm while wearing 3/4 leggings and looked cute too. I got mine at a discount outlet and I've worn them out over jeans on a cold night. These are the highest rated leg warmers I could find. They come in so many color and size options, some of which are very 80s and neon but others that you can wear day to day. Women say they're "warm," that "they stretch, stay up well" and aren't bulky.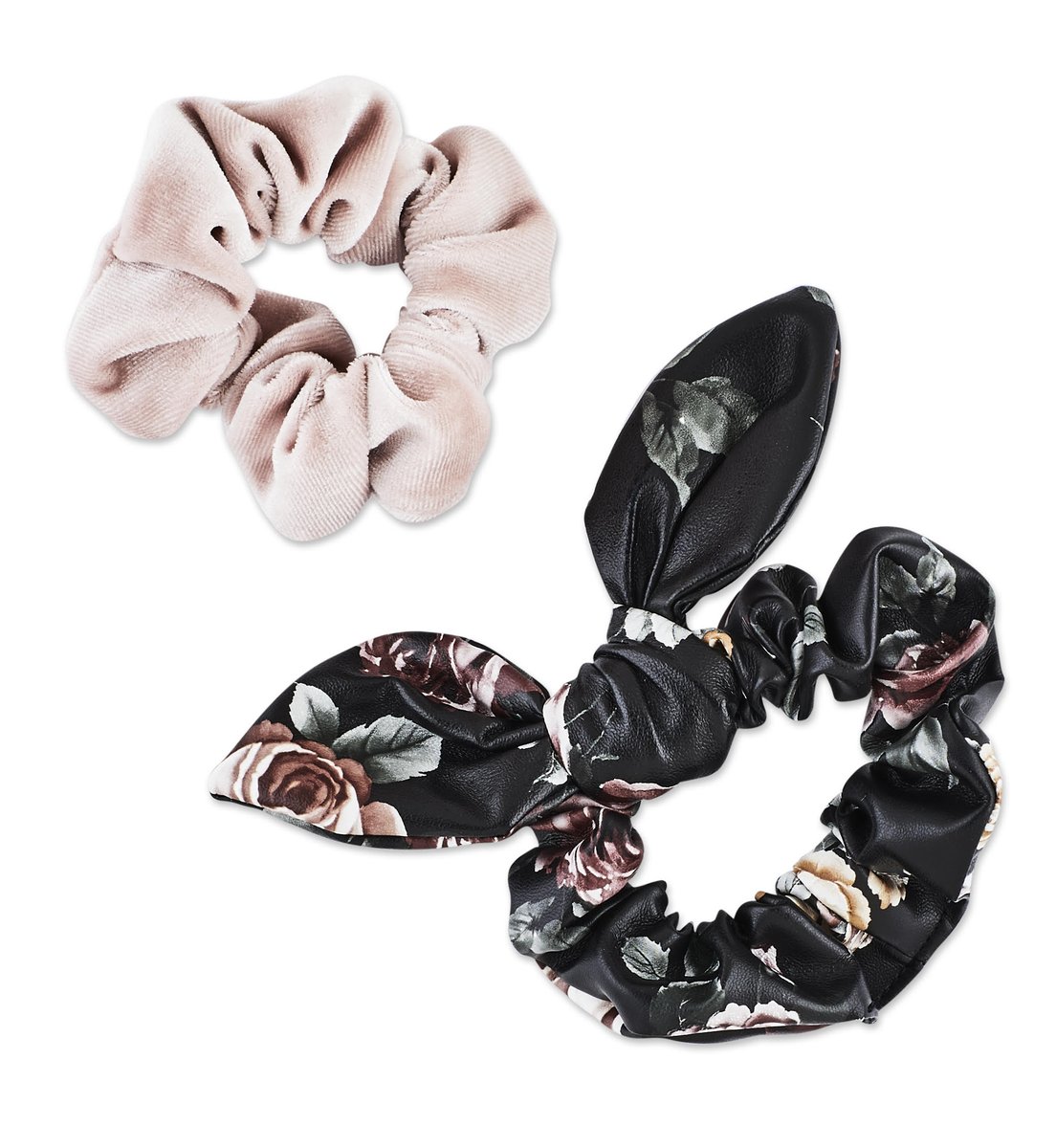 Oh and shout out to Scunci, which sent me a treasure trove of scrunchies! (On Twitter I called this the first thing I ever accepted free, but technically I let Nickelodeon send me a Spongebob DVD in 2009.) We asked Scunci if they could send us stuff after they sent us a press release. (Here's that Twitter thread.) I'm wearing the pink velvety scrunchie that's a copy of Jason Momoa's Oscar scrunchie (that's above) and I love it. It comes with an awesome black leatherette floral scrunchie that I've worn a few times too. That set of two scrunchies is only $6.99 at Target. (Scunci did not pay us but they sent me a ton of stuff I would have paid for. Also this section contains affiliate links, similar to the Amazon links.) These three scrunchies are also just $6.99. The whole Sincerely Jules line is worth checking out at Target. They have jeweled clips, barrettes and more.
Thanks for reading and commenting on our affiliate post!
Here's a straight size version of the last top recommended above.

Header photo is by Christina Morillo via Pexels