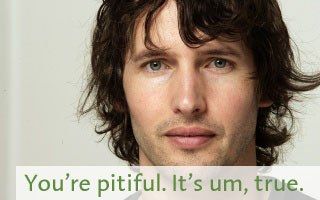 The NY Daily News reports that James Blunt is even more whiny and pitiable live than he comes off as in his simplistic music:
At Webster Hall on Tuesday night, Blunt sang song after song about squandered love without calling on the defenses of anger, humor or macho affect to shield him. On the contrary, his lyrics depict him as crying more often than the subject of a Barbara Walters interview…
Blunt's limited scope as a performer became more glaringly clear. Since his ballad-drenched repertoire is sluggish in pace and "miserable" in mood (to use his word), Blunt's band tried to make things more "fun" by overplaying the backbeat. That threw the material out of kilter and forced Blunt to shout, coarsening his main selling point: his delicate falsetto.
We reported earlier that the former lead singer of Blur compared Blunt's shallow songs to greeting cards.
Now that the news is out that Blunt can't perform live, he will hopefully fade into the background. I don't want to endure any more of his lame songs running through my head for days.