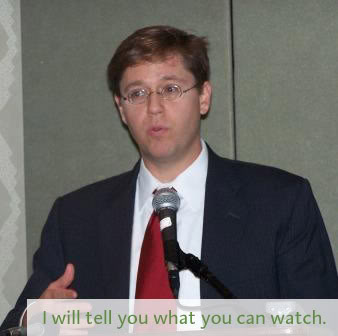 I live in Switzerland. If you stay up a little later here on Friday or Saturday night (and in Germany and probably Italy and France) you can watch full frontal nudity and sex scenes on regular free TV that aren't as explicit as regular porn, but are high in soft core value. You also don't have to sit through a lot of bad plot like you're subjected to on Cinemax.
That's why I find it asanine that the FCC is fining CBS a whopping $3.6 million for a scene in Without a Trace that attempted to show a teen orgy – with no nudity whatsoever:
The FCC hit 111 CBS affiliates with a $32,500 fine each for violating decency standards when they aired the Dec. 31, 2004, episode of "Without a Trace," which dealt with the disappearance and possible rape of a high school student.
The episode featured scenes of partially dressed teenagers engaged in both couples and group sex.
"While there is no nudity, the scene is highly sexually charged and explicit," the FCC said of the show. "Moreover, the material is particularly egregious because it focuses on sex among children."
So get this – the FCC is fining CBS the most they've ever fined a network based on an idea they have of morality, without specific violations.
I saw an episode of Law and Order about a kiddie porn ring that showed a child and adult being videotaped. Under these vague guidelines, that episode would have warranted a fine.
The FCC has a new head, Kevin Martin, and this is his first ruling. The sanctimonious prick spoke at the Jesse Helms center and admitted that the FCC is now trying to control television content. He's a religious freak and is trying to dictate what you can watch. Write the FCC and tell them that they have to have specific rules as to what is allowed on TV, and that they cannot dictate content. It's a scary precedent when they fine a show for a plot idea.