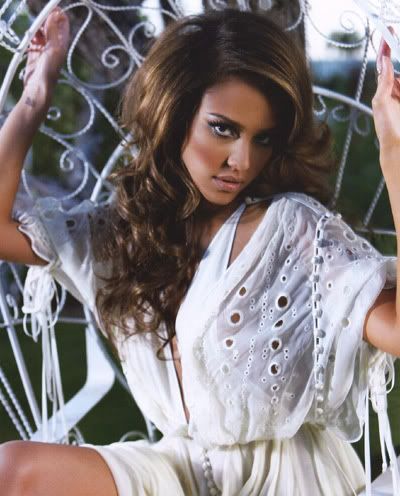 We reported yesterday that the rumor that Belinda Carlisle wants Jessica Alba to star in a movie about the Go-Gos is not true.
You've probably heard that Alba is still pissed that Playboy didn't pull the issue that features her on the cover, but dissapointly clothed inside. She hasn't taken legal action but may be considering it. Part of the reason she's mad is that she's supposed to be a born again Christian. I find this hard to believe:
Jessica, who is a born again Christian, claims the powers that are completely ignored her wishes not to appear on, let alone in the magazine.
There are tons of pictures of Alba out at parties and shopping. If she was a born again Christian, wouldn't we see some candids of her outside a church?
Jessica Alba appears in a retro spread in the Spring/Summer 2006 UK publication, FHM Collections. Pictures [via]
Four more after the jump.