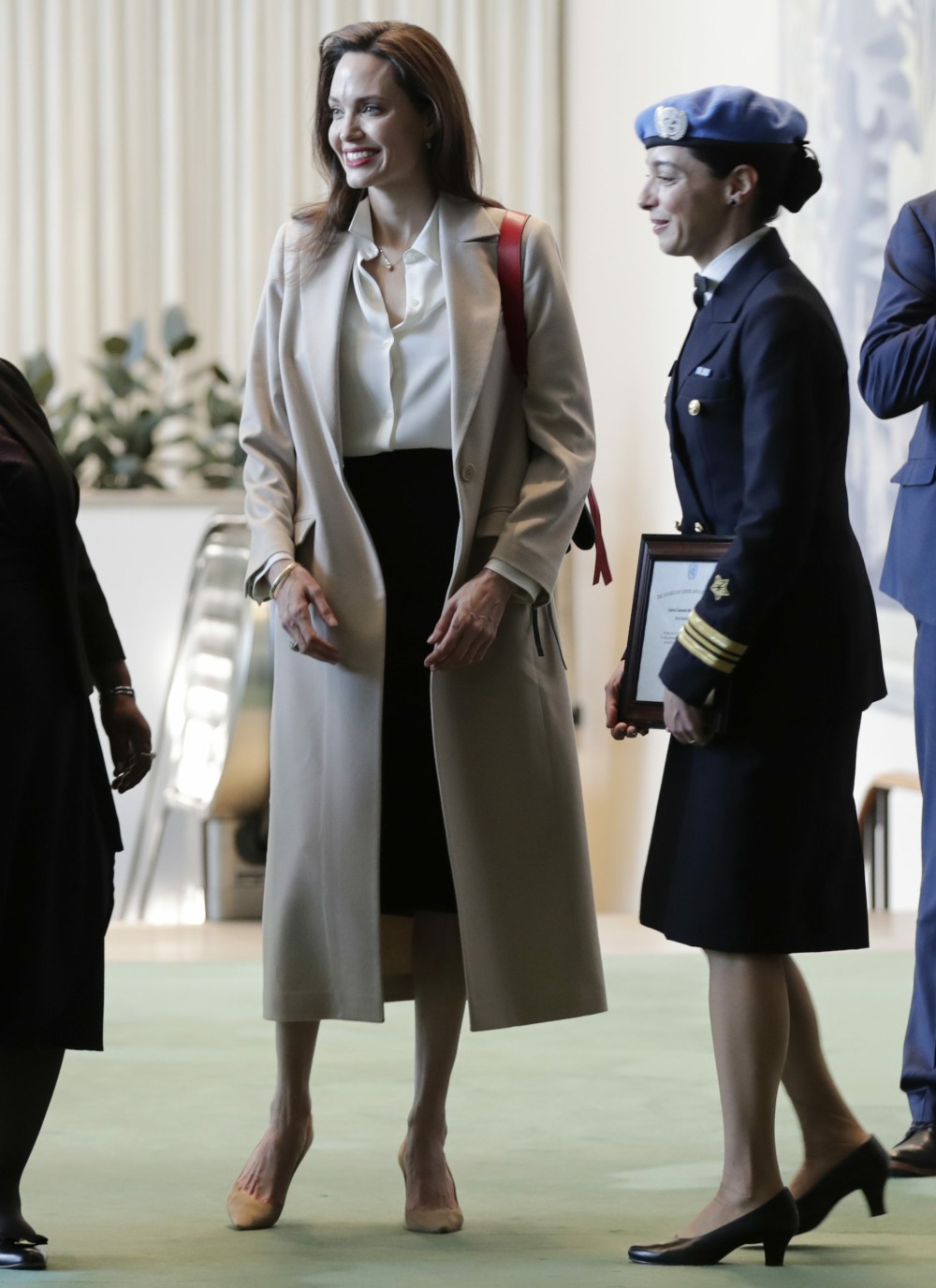 Angelina Jolie was at the United Nations on Friday. She spoke in the main General Assembly part of the building, or at least that's how it looks. She spoke in her position as Special Envoy to the United Nations High Commission on Refugees, but she's also taking on more work beyond UNHCR – she's been doing more to advocate for women in conflict, and she led the effort to write different NATO/UN peacekeeping guidelines and protocols for how to deal with victims of sexual assault and rape in conflict zones. The Washington Post says Angelina spent the day at the UN, not just showing up to give the "keynote address," but also taking high-level meetings with the UN Secretary-General, Germany's foreign minister and more.
In her speech, she addressed what she sees as the main issue: prioritizing the experiences of women in conflict, prioritizing women's rights (as human rights) and dealing with human rights abuses in a more comprehensive (and punitive) way. Her speech was part of an effort for the UN to create a "permanent, independent investigative body with a mandate to collect and assess evidence in cases involving alleged war crimes, crimes against humanity and other grave human rights violations." She also made a plea to increase the number of women within UN peacekeeping missions. Here's part of the text of her speech:
"Around the world there are countless examples of women rising, taking leadership, taking their destiny into their own hands, inspiring all of us. But women and girls are still the majority of the victims of war," Jolie explains. "Women are at the absolute epicenter of modern conflict, in the worst possible sense."

In her eyes, the only solution to this age-old problem is to put the people who are most afflicted "in charge of determining the solution." She continues, "Think of how much more we could achieve with women's equal participation in all aspects of society. Not at the expense of men, but alongside men, because we are all partners in this life."

"I recently met a male peacekeeper who had just returned from deployment as a gender adviser in the Central African Republic. And he told me when he started his career service in Afghanistan, he considered women's rights to be a soft issue, and not what war is fought for. But his experiences have made him understand that is exactly should be fought for and exactly what stabilizes a country. His ability to contribute to this goal became a source of pride for him. He had made that jump in his thinking, and while [he was] doing a great service to his country already, he had now added that understanding and that sense of partnership with the women he served."

"We fall, we fail, we lose our way, often when we're made to feel afraid, but in our moments of strength and clarity we know that all people are in fact equal. We know that while we can and should be proud of who we are individually, we are a part of a global world and we know that we are supposed to come together in defense of something greater than ourselves."
"He considered women's rights to be a soft issue, and not what war is fought for…" This sums up so much about modern warfare and how we think about modern warfare. The American military industrial complex are especially guilty of this, the idea that women's rights are secondary and not a priority, and that after the war is won("won"), we'll throw up some girls' schools and call it a day. What Angelina suggests is a lot harder, but truly, it's one of the few ways forward.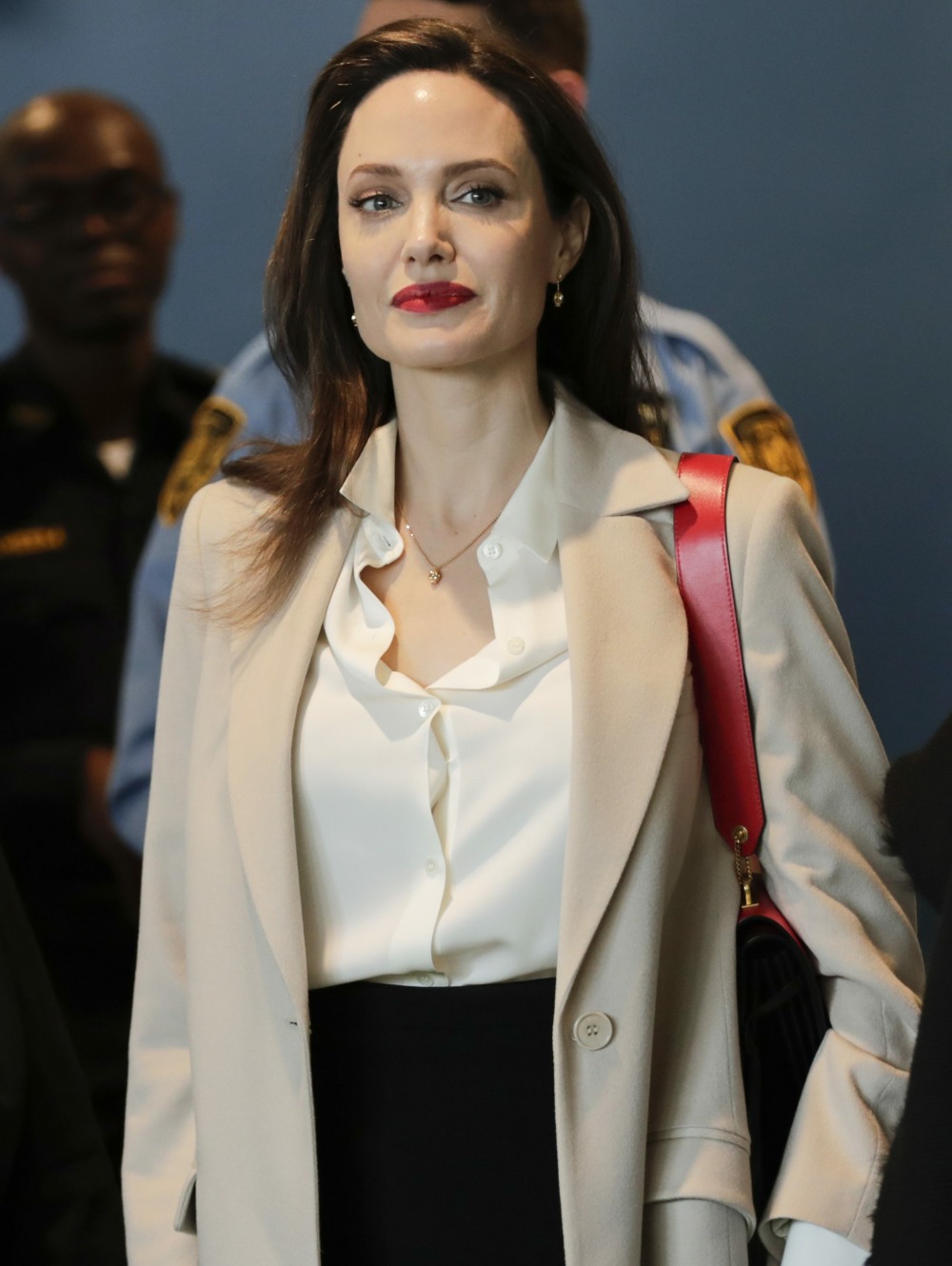 Oh, the UN put the video of her entire speech up. Yay.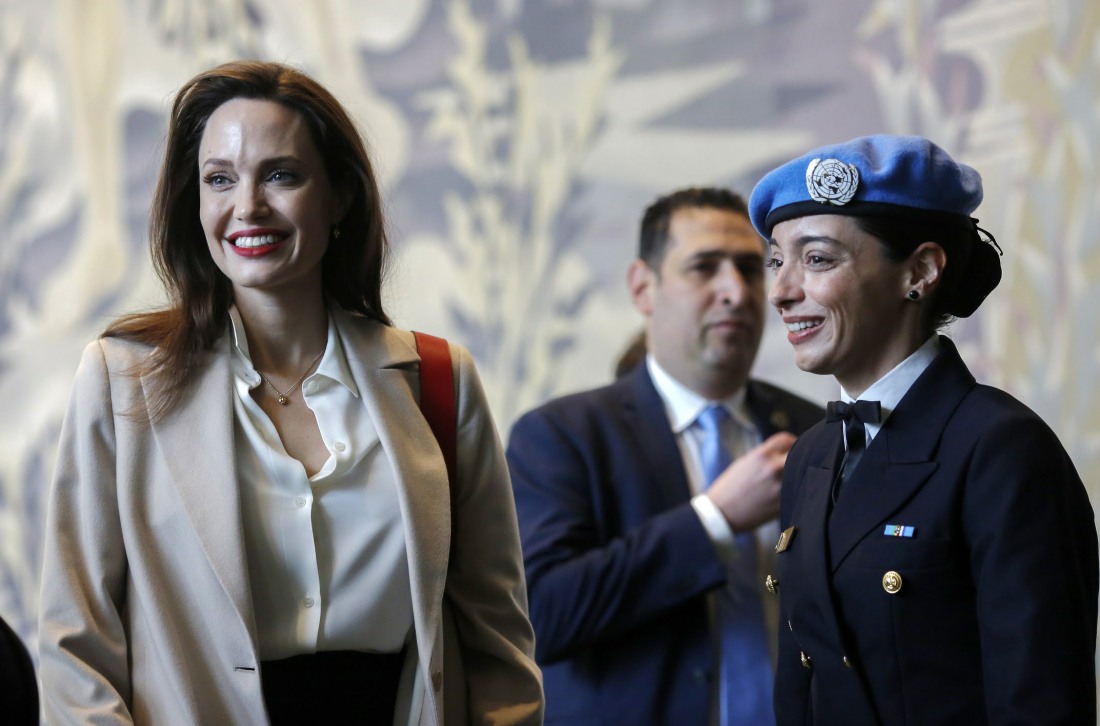 Photos courtesy of Avalon Red and Backgrid.