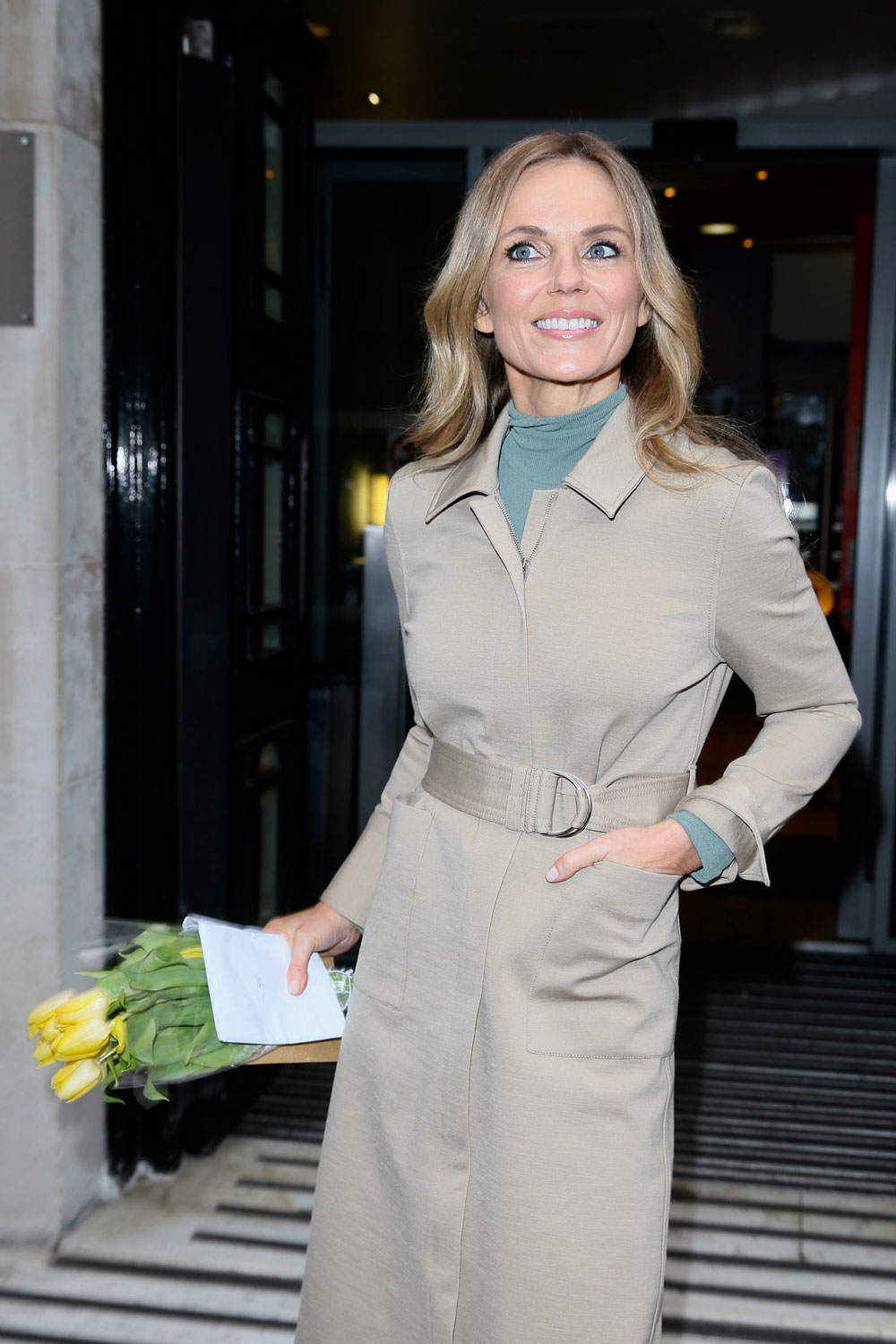 What would you do if a coworker told everyone that you'd hooked up with them and it wasn't true? If you ignored it might be interpreted that you're silently saying it's true. If you denied it then the story would get more traction though, and some would still believe it. That's the situation Geri Halliwell, Ginger Spice, must have found herself in after Mel B claimed in an interview that they hooked up once back in their Spice Girls days. Mel said this in an interview with Piers Morgan about a week ago. Sources close to Geri denied it off the record but then The Daily Mail ran an article over the weekend claiming that their affair was more than one night as Mel claimed and that it lasted about a year in the mid 90s. After all that Geri's rep issued a statement saying that it wasn't true and that Mel made up the story, essentially. Then Mel tried to claim she never said that, which is not the case. Geri calls it hurtful but her rep couches it in language like there are no hard feelings. The show must go on as The Spice Girls tour starts in less than a month.
In a statement to E! News, Geri's representative says, "It has been very disappointing to read about all these rumours again, especially on Mother's Day of all days… She would like you to know that what has been reported recently is simply not true and has been very hurtful to her family."

While Geri calls the statements "hurtful," she by no means holds any anger towards Mel B. "Moving forward, Geri can't wait to see the girls and all the fans on the tour, have an amazing time with everyone, and make some new memories," the rep continues.

Moreover, the rep says in a message directed towards her fans, "Geri is really grateful for your support and loyalty for so many years. She loves the Spice Girls: Emma, Melanie, Melanie and Victoria."

In an interview with Australian radio show 2Day 104.1, [Mel B] explained that she never "admitted" to having sexual relations with anyone. "All five of us [slept in a bed together], we were on tour, we had all of our own hotel rooms booked but we all ended up bunking in together. That's what girls do," she explained. "It wasn't like a big deal, we've known each other 20 plus years, it was just one thing that happened one night. I didn't go into detail about it, at all."
This is revisionist by Mel. On Piers' show she was very clear what she meant and it was not everyone bunking together. Still I get why she's trying to downplay it now that Geri is denying everything and calling it hurtful. Mel accomplished what she wanted, she got headlines ahead of the Spice Girls tour and now people are going to pay attention to how Geri and Mel interact. It is curious, though, that it took Geri a week to deny this. Maybe the Daily Mail story prompted her, or maybe she and Mel are in on this together and timed it all out. I'm not saying that's the case! Just that the timing is suspect.