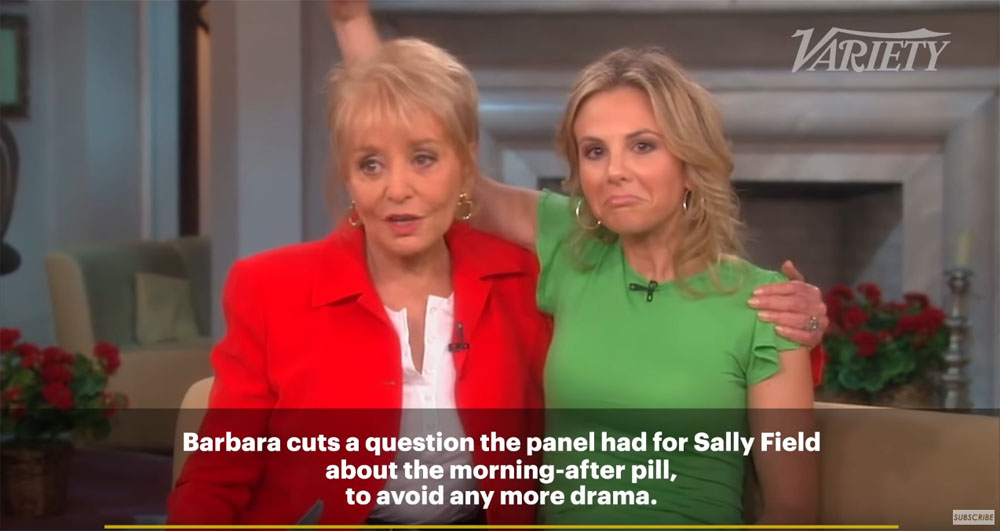 Conservative Elisabeth Hasselbeck was on The View for 10 years, from 2003 to 2013. Like so many other View panelists which Ramin Setoodeh covers in his new book Ladies Who Punch, Elisabeth clashed with grande dame Barbara Walters. In 2006 on the show Barbara brought up the fact that the morning after pill was under consideration to sold over the counter. (In 2013 Plan B was approved by the FDA to be sold over the counter.) Elisabeth made the ridiculous argument that using Plan B was the same as birthing a baby and leaving it out on the street because life begins at the moment of conception. You can see that entire exchange on YouTube and Variety posted a shorter segment, which I'm including below. I just rewatched it and Elisabeth did let the other women, including Joy Behar and Lisa Loeb, talk at first, but toward the end she got all loud and indignant. She brought up universal healthcare, which had nothing to do with the argument, and so Barbara told her to calm down. She really needed to be told that. After that exchange Elisabeth ripped up her cue cards on the show and initially refused to return to the set. She also tried to quit The View backstage. Someone gave Variety the audio (Setoodeh works for Variety), which I guess was captured on Hasselbeck's live mic. You can listen to that on YouTube below and Variety has a partial transcript:
on August 2, 2006, Hasselbeck was having an argument with Barbara Walters and Joy Behar on TV about a proposal from the FDA to allow the morning-after pill for over-the-counter consumption.

Hasselbeck, who argued taking the pill is "the same thing as birthing a baby and leaving it out in the street," wouldn't let the other co-hosts provide their opposing points of view.

Finally, Walters had to interrupt her. "Could you stop now?" Walters said. "We have to go on and we have to learn how to discuss these things in some sort of rational way."

As the show cut to a commercial, Hasselbeck was so furious, she tore up her notecards and bolted from the table.

"F— that!" Hassselbeck screamed in a narrow corridor behind the stage, according to an audio tape of the exchange. "I'm not going to sit there and get reprimanded on the air. It's not ok to sit there and get reprimanded on the air."

"Come into my office here," Behar said, trying to calm her down.

"What the f—!" Hasselbeck yelled back. "I don't even swear. She has me swearing. This woman is driving me nuts. I'm not going back. I can't do the show like this. She just reprimanded me, and she knew exactly what she was doing. Good-bye! I'm off. Write about that in the New York F—ING Post!"

After that, Hasselbeck raced down a stairwell and hid in her dressing room.

"Well, that's ridiculous," Walters said when she heard Hasselbeck had quit.

With only minutes left before the live program returned, the show's executive producer Bill Geddie had to convince her to come back.

"You have to go on because you're a pro, so come with me," Geddie pleaded, as they raced back to the set.
After that Elisabeth came back onstage and sat next to Barbara on the couch. Barbara put her arm around her and they hugged it out and said everything was fine. It looked a little awkward like Barbara was putting Elisabeth in her place. Elisabeth did need to be told that she needed to calm down because she was loud and talking over everyone. I'm not team Barbara by any means and it's clear she created a toxic work environment where it was her way or the highway. She could have handled it a little better but at the same time Elisabeth was being over emotional. Elisabeth lasted another seven years on The View, until 2013 when she was fired. Barbara was on the show until 2014.
Elisabeth wrote a whole response to this on Instagram. She invokes God a lot and I don't even understand all of it. You can go there if you'd like to read it.
Before the morning after pill was available over the counter you could approximate one with birth control pills. I learned about it from a magazine in the 90s and I had to do that after a condom accident when I was in my 20s. My life may have turned out much differently if I didn't have that information. I actually forgot about this, but I wrote about it on this site after Elisabeth shared her garbage opinion back in 2006.
Here's that video including the backstage audio. There are F bombs so it's unsafe for work or around young kids. You can see the full panel discussion here.

photos credit: Getty and YouTube screenshot