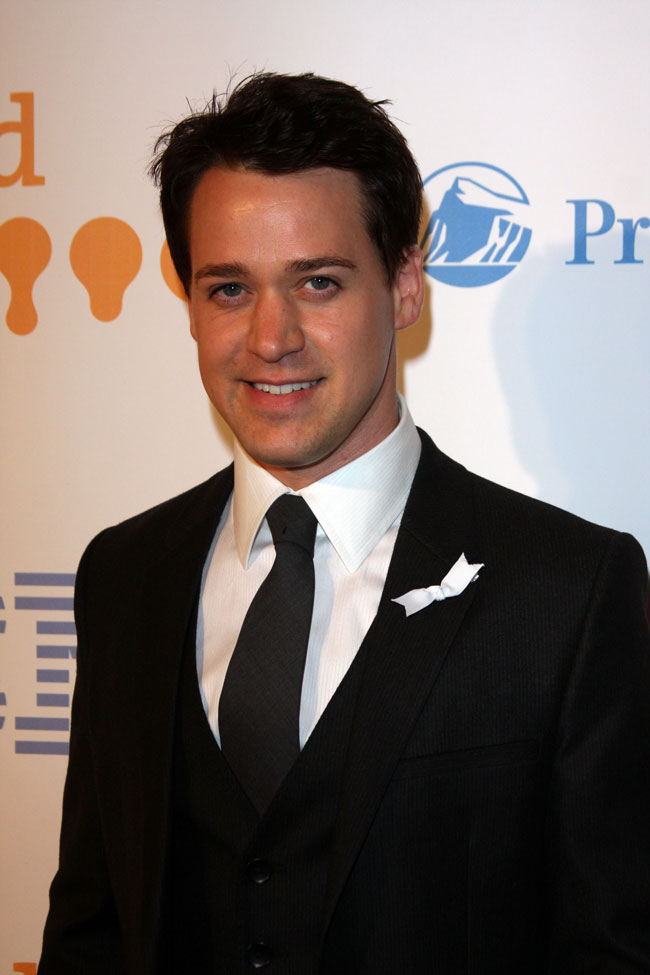 In May we reported on an interview in Entertainment Weekly with Grey's Anatomy creator Shonda Rhimes. Rhimes sounded haughty, in my opinion, and made several statements about how she has no regrets about the plotlines and never reads the press on her show. She also said she wouldn't have done anything differently because "That would mean I have to admit that we made some mistakes, and I'm not going to do that."
Spoiler that you probably know already is below
Now that it's known that T.R. Knight won't be returning to Grey's, he's explaining his decision to Entertainment Weekly. It was all about the fact that his character, George, was given hardly any screen time last season. Although Knight doesn't directly say this, he heavily hints that the reduced screen time for his character had everything to do with the fact that he came out of the closet following the much-talked about feud with Isaiah Washington. Knight tells EW that Rhimes didn't want him to come out as gay, although she denies that this is true at all. He's also miffed that it took Rhimes a full three months to issue any kind of statement about the anti-gay slur that Isaiah hurled at him on set, prompting a fight with their co-star Patrick Dempsey and Isaiah's eventual firing.
The openly gay star says that he made his decision to leave the hit ABC show after executive producer Shonda Rhimes drastically cut his screen time: He appeared for just 48 minutes in the first nine episodes of season five.

"There just comes a time when it's so clear that moving on is the best decision," Knight says in this week's issue of Entertainment Weekly, on newsstands tomorrow. The actor cites a "breakdown in communication" with Rhimes and says he asked to be let out of his $14 million contract three years early.

"My five-year experience proved to me that I could not trust any answer that was given [about his character, George]," states Knight, who says George evolved into someone he didn't understand or even respect (the character slept with his best friend, Izzie — played by Katherine Heigl — while he was married to Sara Ramirez's character, Callie). Knight also resented his noticeable lack of screen time. "It didn't seem like an ebb to me," he says. "No other series regular's character had ever disappeared like mine did this past season."

But things first started going sour on set for Knight after the infamous "Isaiahgate" incident, in which then-cast member Isaiah Washington referred to him with an anti-gay slur during a heated conversation with co-star Patrick Dempsey. It took creator Rhimes three months to publicly condemn Washington, which Knight calls "frustrating."

However, Knight says complications arose between him and Rhimes immediately after the incident, when he decided to respond to the sticky situation by outing himself. The actor says Rhimes was among those who wanted him to remain in the closet — though in the EW article, the creator herself denies this.

When Knight was asked to appear on season six of the show — in flashbacks — he flatly refused, opting to move forward with other projects. In September, he'll headline a stage production of "Parade" at L.A.'s Mark Taper Forum and in February will hit Broadway in the Stanley Tucci-directed revival of "Lend Me a Tenor."

It's a big decision to walk away from a hit show — and a huge paycheck — but Knight says he knew it was time to go.
"There are a lot of people who would like to be in my position," he says. "But in the end, I need to be fulfilled in my work — that's more important than the money."
[From NY Daily News]
So was Knight's lack of plot some kind of payback from Rhimes for coming out? Whatever the reason, there must have been some issues between Knight and the producers that prompted them to marginalize his character. It took over seven months after that incident with Isaiah Washington in October, 2006, in which he called Knight the slur "f" word and then choked and pushed Patrick Dempsey, for him to get fired. Someone must have been pulling for the guy. We heard about another on-set fight, between Dr. McDreamy Dempsey and Dr. McSteamy Eric Dane, in February, 2007. Add in all the crap that Katherine Heigl said about the show and it sounds like a tense, difficult set. (Granted it's hard to take anything she says seriously since she complains about basically everything.) With a creator that refuses to admit any mistakes or take feedback at all, it's no wonder.
Knight is shown on 3/28/09. Credit: RAM/Fame Pictures