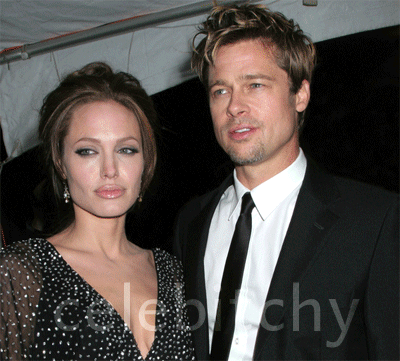 According to Star Magazine, which has now completely shifted gear from declaring Brad and Angelina on the edge of a breakup to touting the romance in their relationship, Brad and Angelina have cutesy nicknames for each other. Angelina calls Brad "Butters" after the wholesome character on Southpark, says Star. They include a photo of Brad with spiked hair and speculate that their similar hairstyles might be the reason.
Brad calls Angelina "Mo," but it's unknown why. It could be short for "mother," or it could be a reference to Moe from the Three Stooges. (Despite the fact that Angelina has smartly avoid the terrible mushroom bangs that were so popular last year.) Moe was the leader of the Three Stooges, so if the rumors about Angelina being bossy are correct that might be why Brad calls her that:
Is it the hair? Angelina's nickname for Brad is "Butters" – after the character on the series South Park. "George Clooney gave Brad that name," says a source. "I'm not sure it's flattering, because Butters is a dweeb. But he's sweet, and maybe that's why Angie likes it." Brad's pet name for Angie is "Mo," says the source. "No one has figured out what it means!"
[From Star Magazine, print edition, October 1, 2007]
Do you and your significant other have cutesy nicknames for each other? My husband and I don't. At least Butters and Mo are cute without being too sickly sweet like "flopsy" or "snookums."
And while we've been calling Angelina pregnant because she's appeared a little paunchy in a photo that came out over a week ago and has been wearing baggy clothes since, The Enquirer says she's still trying. They say that Angelina visited an Ob/GYN on September 14, but that she was just there to get advice about how to put on weight and be healthy before she tries for a fifth. I still think she's already pregnant and that it will be evident soon.