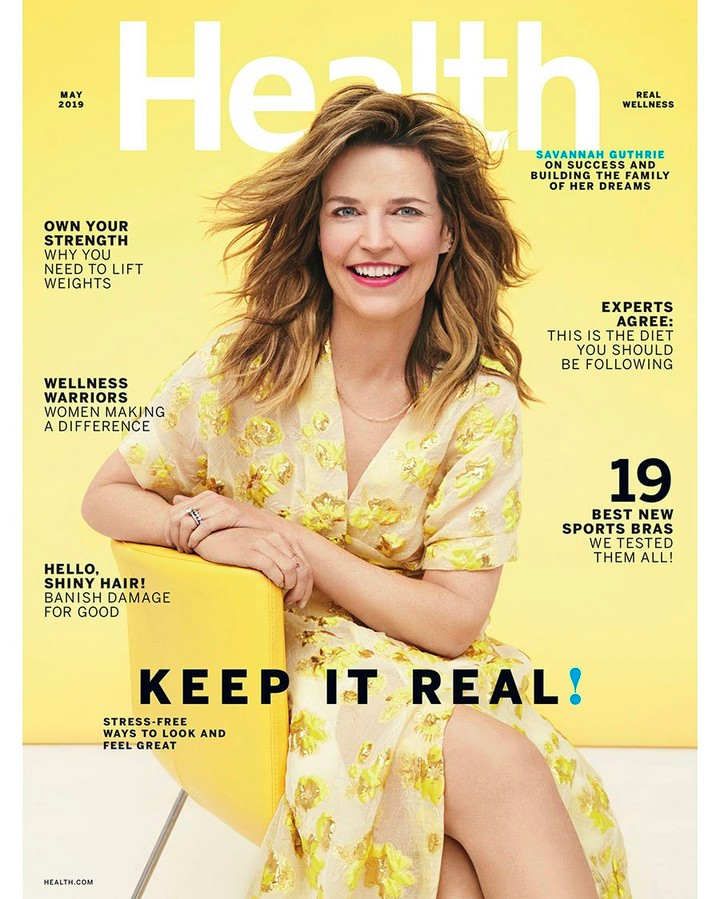 Savannah Guthrie, 47, is covering Health Magazine. You don't hear a lot about Savannah, but she seems super nice, friendly and like a good person, like her Today Show cohost Hoda Kotb. The Today Show has a winning combination with those two and they better not f-k it up. I didn't realize that Savannah has two little kids aged five, daughter Vale, and two, son Charley. She underwent multiple tries of IVF it was a tough process for her and her son was the last available egg. She really wanted kids with her husband of five years, Michael Feldman. It sounds like she's exhausted all the time, but she said she really wanted kids and tries to see them as a blessing. She also had some things to say about self esteem that kind of shocked me.
Given your crazy schedule, how do you make time for yourself?
Mom guilt is very real. And I'm the luckiest mom there is, because I get home most days midday. Which means I can pick up my little one from his Montessori day care, we can have lunch together, he goes down for a nap, I go down for a nap, we pick up my daughter from school, and we have the whole afternoon together. My husband's home early, so we eat dinner together. I put them to bed most nights. But I do feel guilty if I even go do an exercise class. So I actually try to schedule it while my daughter's in school and my son is napping. But that means a shorter nap for me…and when your job starts at 4 a.m., a nap feels pretty important.

Everyone's day would probably improve if we had nap time.
I feel so much better if I just take a nap. And then I have a big cup of coffee, which is also probably a no-no. This should be a column for Un-Health magazine: I have a big cup of coffee at like 2:00; then I feel great. It gets me through dinner and bedtime and all that stuff.

Do you feel anxious if you can't get in some form of physical exercise?
Not really! I'm not one of those people who loves to exercise. I used to love to run, but I don't anymore. I feel like my body can't hack it… I want to exercise because I know it's good for my mind and for my body. I'm not really berating myself into having some perfect figure because, frankly, I know it's unattainable for me.

For most women, it's an accomplishment to reach that sort of self-acceptance.
It's a lifelong struggle for me. I've never once felt good about how I looked on the outside. I think all of us women spend so much time not feeling like we measure up. And what a waste of energy. I'm not there yet, but that's my goal. A lot of us have that mental dialogue where we look in the mirror and we're like, "Ugh." And that's just not healthy. I really think about it with my daughter, because I just don't want to pass that on to her. It holds us back from joy. We should be happy and proud of our bodies, and proud to be 47 years old and still kickin'! That's great! Also, I never looked good in a bikini. So I'm not even sad or mourning some past glory. It never existed!
Sometimes I get down on myself over weight gain or things like that but I definitely have felt good about myself and thought "my hair looks nice," "I look great in this dress" and similar things. How can you go your whole life, especially when your job is on TV, and never feel good about your appearance? Is she just talking about her body and how she's never felt good about her shape? That's crazy to me and seems so sad too. Like even if you're not the size you want to be you can feel good about yourself and how you work it. I do agree with her about naps though. I wake up at 5am and couldn't get through the day without a nap.
If you've ever felt insecure about your body, @SavannahGuthrie has some important advice. https://t.co/QYZMgwCsUW

— Health (@goodhealth) April 10, 2019
Photos credit: Health and WENN