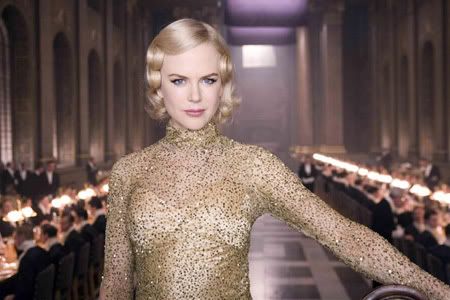 Nicole Kidman has kept her mouth shut about who she was engaged to between the demise of her marriage to Tom Cruise and her relationship with Keith Urban. The hot money seems to be on either film producer Steve Bing or rocker Lenny Kravitz, but it seems that we might never know.
When asked whether he was the mystery man, Kravitz replied: "I keep that to myself. I feel like that is private and it's between the two of us, so I just leave it there."
I so wish she'd kept her mouth shut about that engagement. Because of Nicole and Keith's connections to Australia and New Zealand, every time they fart the newspapers report on the smell. She is hardly ever revealing in interviews, and this seems like a calculated move to get us all speculating on who the mystery man is.
Nicole, in the same interview with Vanity Fair, revealed that she'd love to have a baby, and that Keith was coming around to the idea. Reports today say that she – rather sensibly – wants to be sure that Keith has kicked his drug habit.
Nicole and Keith have also put their Nashville home on the market and have bought a large block of land where they plan to build what Keith's rep describes as a farmhouse.
According to Urban's representative, Paul Freundlich, the loved-up pair are planning to build a farmhouse on their newly acquired block.

"They've found land within Nashville, and they're very excited about moving into their new place," Freundlich said.

The news came as country sensation Urban flew into Sydney this morning to be reunited with his wife at her lavish Darling Point pile.
I can't imagine that someone used to a 'lavish Darling Point pile' home would move into a farmhouse. The term farmhouse makes me think of a log cabin with only basic amenities. Their former Nashville home was a mansion now on the market for interested buyers. If you're interested, it should only set you back around $2.5 million.
Picture note by Celebitchy: Nicole Kidman is shown in the upcoming fantasy The Golden Compass, thanks to AllMoviePhoto. The film also stars Daniel Craig and is out in the US on 12/7/07.