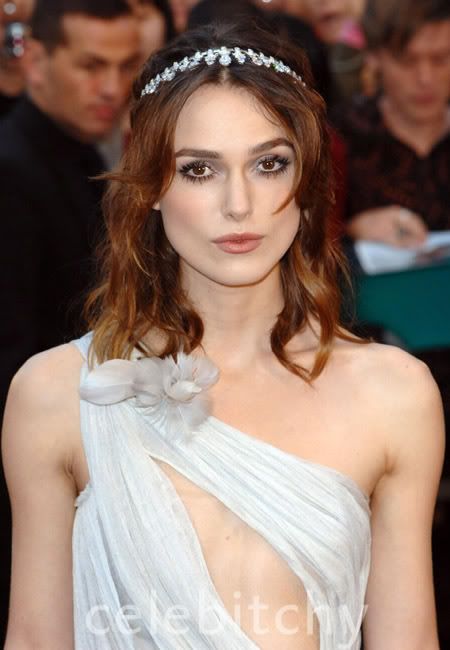 Keira Knightley should have the world at her feet, she's a successful actress, she's a model for Chanel, and she gets paid to kiss Johnny Depp and Orlando Bloom. Most of us would do it for free. Unfortunately, Keira seems to have lost the ability to look on the bright side, instead complaining about attending red carpet events.
"All these people were coming up to my face and screaming, 'SEVEN OUT OF TEN!' – referring to the way I look!" the actress, 22, tells Allure magazine for its October issue. "And you think, You rude f—–."

Yet despite being outfitted in a Vera Wang gown topped by a diamond-and-ruby Bulgari, Knightly declares, "I hate red-carpet events; I absolutely hate them. I don't like the fact that people write, 'Oh, you look like crap' in print. Or 'I don't like your arms!' "

In terms of self-assessment, Knightley says, "I'm not Wonder Woman. I have self-esteem problems. Everybody does. You know, skinny people are allowed to feel s— about themselves."
Keira, anywhere any woman goes she is going to be judged and commented on by others. Get over it. I don't hear you saying "I hate it when they give me a free dress, hair and make up for a red carpet event." At least when you turn up looking like crap to an event you haven't paid for your dress, or spent six hours trying to get your hair to look right, and searching desperately through the 35 shoeboxes in your tiny closet to find a pair without scuff marks.
Picture note by Celebitchy: Keira Knightley is shown on 9/4/07 at the UK premiere of Atonement. When you wear outfits like this, it's kind of unrealistic not to expect people to talk about you. Thanks to WENN for these photos.