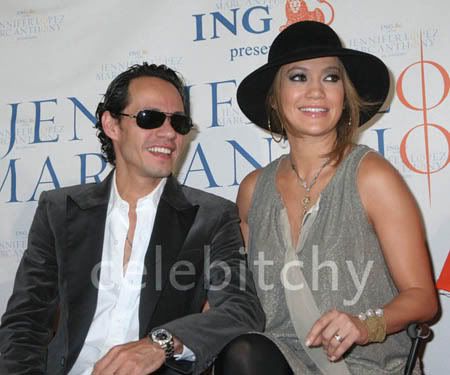 Jennifer Lopez and Marc Anthony made an appearance at a public school in the Bronx yesterday to help kick off their upcoming joint concert tour. Lopez had everyone speculating that despite her husband's rep saying she's not pregnant, she's just delaying an announcement until it's absolutely necessary. She wore a lose billowy gray short dress (not exactly a muumuu, but I took some license) and a black hat.
Her face also looked curiously puffy, which some say could be an indication of pregnancy hormones or weight gain. To me it looks like she had some minor work done recently and is trying to hide the swelling by wearing a hat.
Lopez grew up near the school she visited with Anthony, and she got a little choked up around the kids. Marc Anthony is from Spanish Harlem and noted that one of his old teachers is now the principal at the school:
But Lopez clearly was touched by the hundreds of fans who swarmed the sidewalks and the school's choir, which sang for the couple.

"We look at you and we see ourselves," Lopez said. "I can remember doing little songs at school and being onstage and dreaming of great things. And seeing all of you so full of beauty and life and energy, and knowing that – how far you can go – it still touches my heart."

Anthony recognized P.S. 36 Principal Nilda Rivera as a teacher of his when he was growing up in Spanish Harlem.

"She was a huge part of my youth," Anthony said.
[From NY Daily News]
The News notes that Anthony and Lopez will donate $1 from each concert ticket sold to the ING Run for Something Better Program, an exercise program for children that aims to help prevent and treat child obesity. The school Anthony and Lopez visited participates in the program.
If Lopez isn't pregnant she could be undergoing fertility treatments that are making her a bit bloated. Even if she's self conscious of that, she's probably loving the speculation. I doubt that it would make her face all swollen like that though.