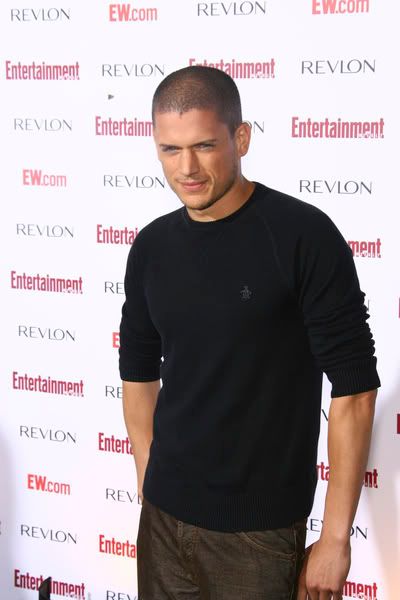 In the October edition of the German version of In Style, Wentworth Miller answers a journalist's question of whether he's gay and says he's not and looks forward to having a "girlfriend and a family." He hasn't met the right person yet because he's so busy working. Leave it to a German interviewer to ask a direct question:
The interviewer asks: "There are rumors that you prefer men."

Wentworth replies: "I'm not gay, but that rumor can't be killed. I'd like to have a girlfriend and a family. But I haven't met the right one yet. Until then I'm focusing on my job. I had to wait so long for this chance I savor every second on set even if it means 14 hours of shooting a day."

Earlier in the interview Wentworth says that he gets invited to parties and women slip him their numbers all the time, but he doesn't call them because he is too shy.
[Televisionista via ONTD]
I love how he also says that he doesn't call women, as if he's trying to cover his ass in case someone brings it up. As I mentioned in a post covering the news that Miller was photographed out with TR Knight's ex, an equally attractive actor named Luke MacFarlane, It really doesn't matter if Miller is gay or not and that's his business. If he does prefer men, he's probably realistically concerned that his career could suffer as a result. Not everyone is open-minded enough to accept an openly gay actor in a straight role.
For some reason I don't believe that Miller is actually shy. Maybe it's because he plays such a convincing self-assured character on Prison Break, but that just must mean he's a talented actor.
In Style also listed his top six favorite things in order, with Reese's peanut butter cups and Abercrombie and Fitch topping the list. Scrabble and The Simpsons also rate high:
1. Reese's chocolate
2. Abercrombie and Fitch
3. Scrabble
4. The Simpsons
5. Evian Water
6. Literature
Miller also credits Mariah Carey with helping to jump start his career. He appeared in the "We Belong Together: video, and is quoted as saying "The two days I spent working on her video did more for my career, gave me more exposure, than anything I'd done before Prison Break."
Miller also says he doesn't understand the fact that he's a sex symbol. He says he looks the same as he has for 10-15 years, and that he doesn't have a "brooding look," he's just squinting because his eyes are sensitive.
Miller is the sex no matter how much he denies it. I am constantly drooling over him on Prison Break, and that deep calm voice of his just kills me.
The third season of Prison Break premiered in the US on Fox on September 17th.
Wentworth Miller is shown at Entertainment Weekly's pre-Emmy party on 9/15/07. Thanks to PRPhotos for these pics.