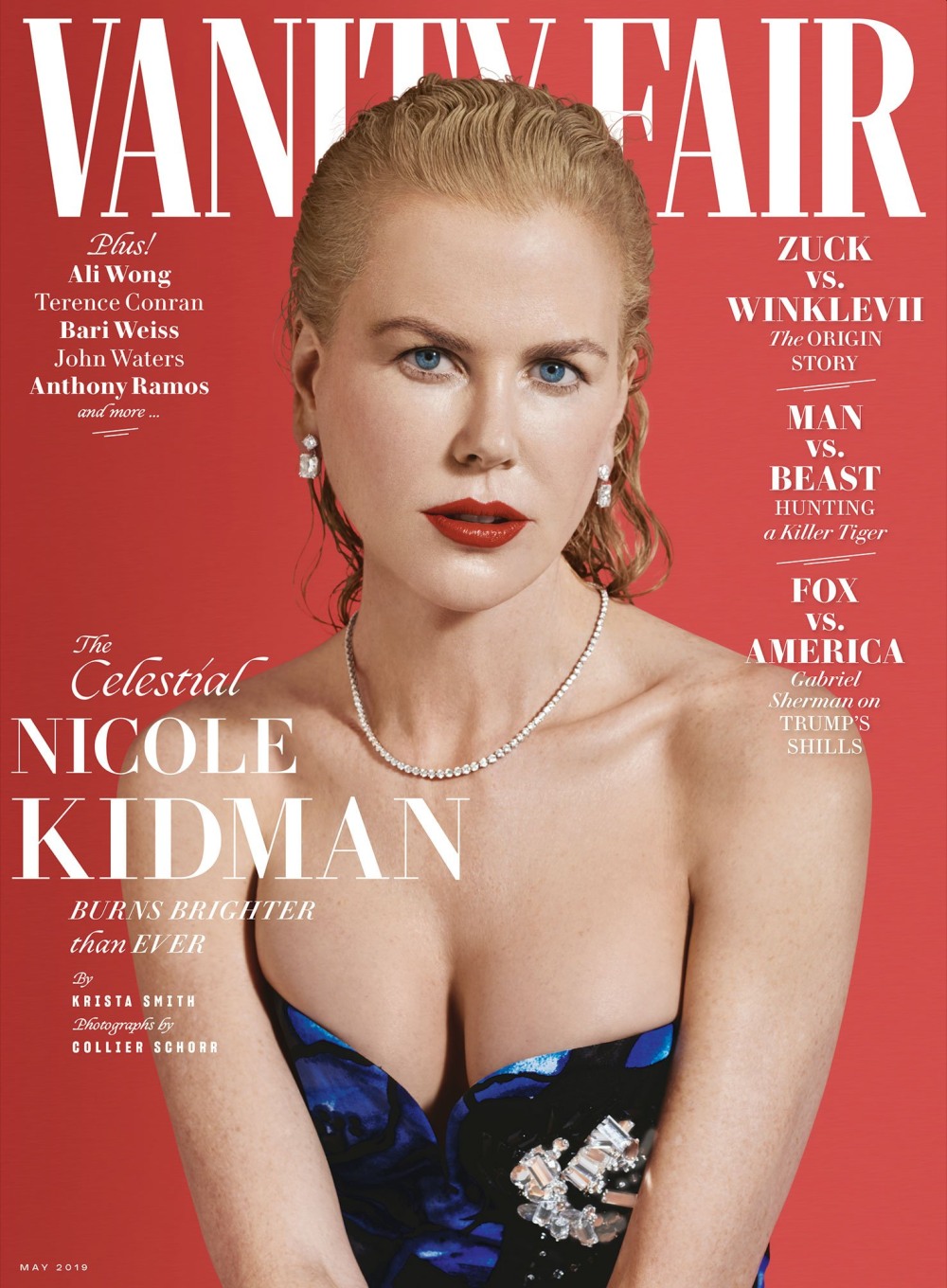 It's been a year since Radhika Jones took over the reins at Vanity Fair and even though I'm all about the sisterhood of lady journalists and lady editors, I f–king hate Jones' work as VF's editor in chief. She's turned Conde Nast's best and dishiest property into a wordy, fart-sniffing hipster mess. None of VF's covers make waves anymore, and while VF is "nicer" now, no one cares because the interviews are so tedious. So with that in mind, Nicole Kidman covers the latest issue of Vanity Fair. Kidman is promoting Big Little Lies 2. She goes to church. Her marriage is good. That's about the gist of this piece. Even when a tricky subject comes up – like her now-adult children with Tom Cruise – VF tucks it away and doesn't press any juicy angles. What's the point of VF becoming yet another publicist-run and publicist-sanctified fluff journalism magazine again? You can read the full Kidman interview here. Some highlights:
She likes weird art films: "I've done weird films and I've done things that are so obtuse, which I'm still committed to because I like performance art and not conforming to what everyone expects of you. I don't think in normal terms. Keith always says, 'You're so not mainstream.' "

She & Keith are a simple couple: "[It's] extremely simple with what we want from each other and what we want from a relationship. Just peas in a pod in that regard," says Kidman. She loves being a "tour wife" and says she can memorize his tour schedule and dates in one glance. "I love that Keith is a guitar player and a singer, but his passion is guitar and writing music. That's what I'm around every day."

Sunday & Faith are into music & filmmaking, but not because Nicole pushed: "You can't really get kids into anything, I've realized. You can push them a bit, but motivation is a really hard thing. I mean, nobody motivated me to be an actor; if anything they tried to deter me."

Sunday & Faith still have rules they need to follow: "They don't have a phone and I don't allow them to have an Instagram. I try to keep some sort of boundaries."

On Conner & Bella: "Bella lives just outside London. You know, she really feels more English. We lived there for Eyes Wide Shut, Mission Impossible, and The Portrait of a Lady. They both had English accents when they were little."

She's still working steadily at 51: "There isn't a shelf life like there used to be. That's why it's so important to keep changing. We live longer now, if we're fortunate. So there has to be a place to put all that creative energy."

She's on a group chat with all the Big Little Lies ladies: "Look at the Friends cast, they spent all that time together—they're different because there are no men in our equation. I mean, there are, but they're not on the group chat, let's put it that way." Wait. Nicole, Reese, Laura, Zoë, and Shailene have a group chat?! What about Meryl?! "Yes. And she's very funny."

She goes to church: She has a strong belief in God and isn't afraid to say it out loud. "A lot of my friends tease me." The Kidman-Urbans go to church as a family. "That's how we are raising our children. Keith has his own beliefs but he comes, too. I had a very Catholic grandmother, and I was raised praying, so that had massive impact. I wouldn't say it's absolutism, there's constant questioning—I'm a willful, feisty girl. For me it's very important that I don't have judgment. My dad would always say, 'Tolerance is the most important thing.'"
Nicole was always pretty Catholic – it was said, back in the day, that her desire to remain involved with Catholicism was one of the reasons why she rejected Scientology so much. There were years during the Kidman-Cruise marriage where she seemed to even pull Tom away from Scientology too. It would have been great to hear her talk about all of that, but I guess not. People really tease her for being religious? Good lord, she lives in Nashville! Who are those judgy heathens in Nashville??
Also: Sunday is 10 and Faith is 8. I agree that they're too young for phones and Instagram. But it's coming, sooner than Nicole realizes. Less than two years from now, Sunday will have a phone and an Instagram.
This is maybe the worst wig ever.
Cover and photos courtesy of Vanity Fair.