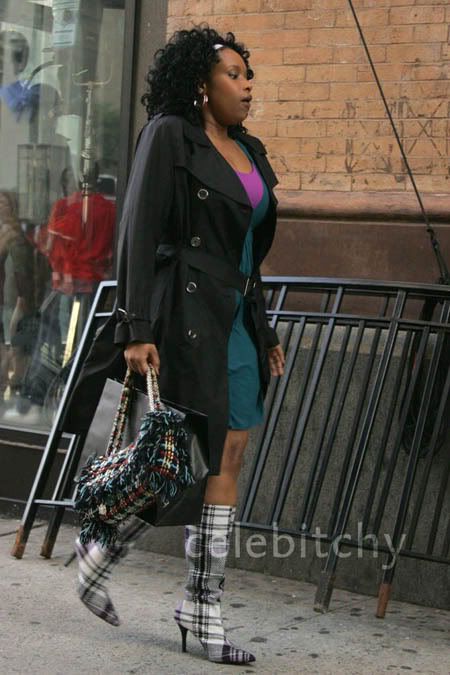 MediaTakeOut, a completely unreliable and often incorrect source, is reporting that Beyonce was the first actress considered for the role of Carrie Bradshaw's assistant in the upcoming Sex and the City Movie. Beyonce made so many demands, including only being willing to wear fur-laden outfits from her mother's poorly-designed House of Dereon label, that producers decided not to work with her.
According to our insider, Beyonce was all but assured the role. The source tells MediaTakeOut.com, "[Beyonce} read for the role and everyone loved her. She was perfect."

But once they began negotiating Beyonce's contract, the trouble began. Our source explained, "Beyonce's management was pushing [producers] to have her wardrobe consist solely of [House Of Dereon] outfits. We told [them] that we couldn't do that, but [they] just kept pressing us."

Then, our insider claims, Beyonce's team threatened to walk away from the deal. The insider told MediaTakeOut.com, "I think it was just some kind of negotiating strategy [to act like] they weren't interested, but it backfired. As soon as we started feeling that Beyonce was getting cold feet, we called in other actresses."

And that's when Jennifer Hudson came into the picture. Our insider tells, "We knew that Jennifer [Hudson] was interested so we had her read for the part. She was fantastic. She may not be as big a star as Beyonce but she has a strong following and she's a talented actress … and most importantly, she didn't have any crazy demands."
[From MediaTakeOut]
It could be true, especially considering how well known it is that Beyonce is a diva. Still, if Beyonce was about to have a feature role in the film, you think the news would have been out that she was in talks. There were no google results that indicate that there's a source for this story other than MediaTakeOut, so I doubt it's true.
Jennifer Hudson was photographed on set yesterday looking silly in a black trenchcoat, Burberry boots and a Chanel tweed flap purse. I thought that purse was super ugly, and the purse afficionados over at The Purse Page agree with me:
She's looking good as usual, save for…well, most of that outfit. I'm trying to divert my attention from the foul boots, but then I'm drawn to that purse. And that purse ain't pretty. Usually Chanel can be relied on to save the day in a disastrous moment, but that doesn't seem to apply to the line's new Tweed Flap Bag, which features a clearly disastrous combination of fringe and embroidered pearl piping. Fortunately this isn't real life – Jennifer doesn't need any more fashion faux pas after the python bolero incident at the Oscars, does she?
[From The Purse Page]
A lot of the fashion on the Sex and the City movie will involve risky pieces that don't necessarily work, and that's an integral part of the plot and Carrie's character. If MediaTakeOut is right about Beyonce getting passed over for insisting on using her own wardrobe choices, that means that producers wanted to make their own choices about which overpriced bad fashion to feature. Maybe House of Dereon stuff just isn't hideous enough.
Thanks to WENN for these pictures.