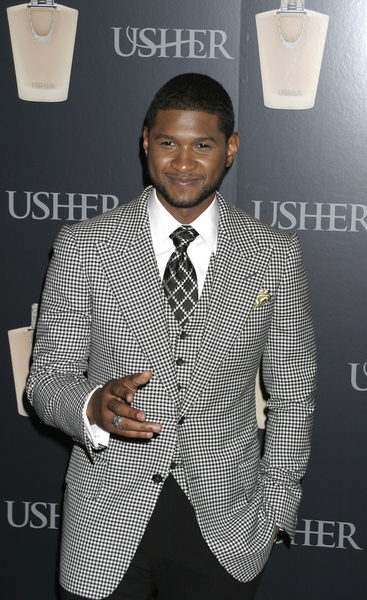 Usher's much-talked about wish for a son will come true – he told People magazine that he and new wife/possible man Tameka Foster are expecting a son. Earlier this month, Usher told Ellen Degeneres that he's hoping for a boy and said, ""I think every man wants a son. He's own little own doll. If it's a boy, I'm going to name him Usher. I'm hoping to name him that. I've been playing with a few names. I'm the fourth. Usher Raymond the fourth. I just want to pass the name on. Maybe I'll change the middle name." All right… I wasn't quite so aware that every man wanted his own little doll, but whatever. Apparently Usher will get just that. Usher Jr Jr Jr is going to have some serious roman numerals after his name.
"Newlyweds Usher and Tameka Foster are going to have a boy, he revealed to PEOPLE Tuesday.

"When asked what he is looking forward to most about being a new dad, Usher, 28, said his desires are pretty basic.

"'I just want my son to fully be coherent and to be healthy, first and foremost,' he told PEOPLE at the USHER for Men and USHER for Women fragrance launch party at Cipriani in Manhattan.

"'I've found that it is a step-by-step process. You can wish for a million and one things. But I hope that my son has the same energy I had as a child,' Usher said. 'Hopefully, he won't be as bad as me. I hope that he's just a healthy son.'
[From People]
Usher wants his baby to be fully coherent? Like he's hoping to have a discussion with the kid from the get go, or just that the kid's eyes move? I think it was just an odd choice of words, but it leaves me wondering what he's expecting from the kid nonetheless.
And for those of you wondering about wife Maneka Foster, and how she's going to push a kid out of her penis, here's some info on her pregnancy so far.
"'Mom-to-be, Foster, 37, told PEOPLE she's feeling "beautiful" but having odd cravings.

"'I eat ice all day,' she said. 'It's a weird thing. I love it. Now I'm thinking about ice. I want to find some ice.'

"Foster also admits that while she's aiming for a natural birth, it might not happen.

"'I don't want drugs,' she said. 'I'll try. I say that now. You call me about ten hours into labor. I'll be asking for everything. Vicodin and everything.'"
[From People]
Tameka Foster wants some Vicodin? Look at the shock on my face. Damn girl, I know you mean that as a joke, but with your crazy-ass history of dating drug dealers, chilling in jail, and threatening to kill you sister-in-law, popping a few Vicodin before you pop the kid out doesn't seem so far fetched.
Note by Jaybird: Here's Usher & Tameka at the launch for his new fragrance yesterday in New York. Images thanks to PR Photos.