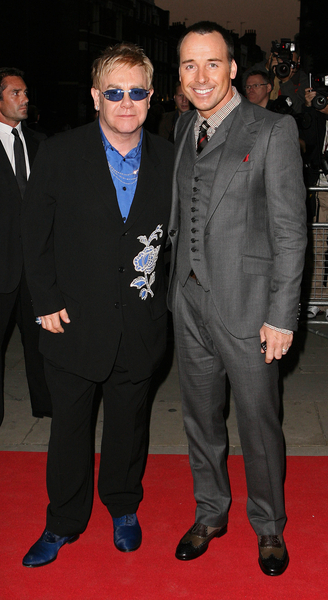 Sir Elton John owns the largest collection of 20th century photography in the world, and has his own gallery, the Sir Elton John Photography Collection. He loaned 150 of his photographs by Nan Goldin to the Baltic Centre for Contemporary Art in Gateshead, England, which appeared to be what started the controversy. Nan Goldin's images are very provocative and unusual and often elicit a very visceral response – however it hasn't ever lead to her being accused of creating – and Sir Elton being accused of owning – child pornography. One of the photographs John lent was titled "Klara and Edda Belly-Dancing," and depicts two young girls, one laying on the ground naked with her legs spread apart, the other standing over her belly dancing. The image doesn't really seem that provocative to me, but more the playing of children who aren't yet aware of the strict social morays that will come to govern their bodies. However an employee at the Baltic Centre complained that the images were pornographic, which has caused quite a stir for Elton and Goldberg.
"Police in Northumbria, in northeastern England, were called to the Baltic Centre for Contemporary Art in Gateshead after fielding a complaint from the gallery's management. 'We attended the Baltic Centre for Contemporary Art in Gateshead last Thursday at the invitation of the management, who were seeking advice about an item for an exhibition prior to it going on public display,' a police spokesperson told the Times of London. 'This item is being assessed, and Northumbria Police, in consultation with the Crown Prosecution Service is investigating the circumstances surrounding it.'

"In a statement on his official Website, the 60-year-old Rock and Roll Hall of Famer confirmed that he had purchased the picture in 1999 from the White Cube gallery in London. Titled 'Klara and Edda Belly-Dancing,' the image is one of 149 images comprising the 'Thanksgiving' installation of acclaimed American photographer Nan Goldin.

"'The photograph exists as part of the installation as a whole and has been widely published and exhibited throughout the world,' the singer said in defense of the artist. 'It can be found in the monograph of Ms. Goldin's works entitled "The Devil's Playground" and has been offered for sale at Sotheby's New York in 2002 and 2004 and has previously been exhibited in Houston, London, Madrid, New York, Portugal, Warsaw and Zurich without any objections of which we are aware.'"
[From E! News]
Elton John has an amazing photography collection that includes works by Richard Avedon, Man Ray, Ansel Adams, and Diane Arbus, my photographic hero. I don't find the image to be all that provocative, or even that special from an artistic point of view. I truly can't see what the problem is – though for the sake of not offending others, I've chosen not to put the image on the site but to link to it above. The gallery has chosen not to display this image, which I think is a shame. To let one person's perception of art affect everyone else's jeopardizes creativity. There is certainly a line, but I don't think this image is near it.
Picture Note by Jaybird: Here's Elton John and husband David Furnish at the GQ Magazine Men of the Year Awards on September 4th. Images thanks to PR Photos.