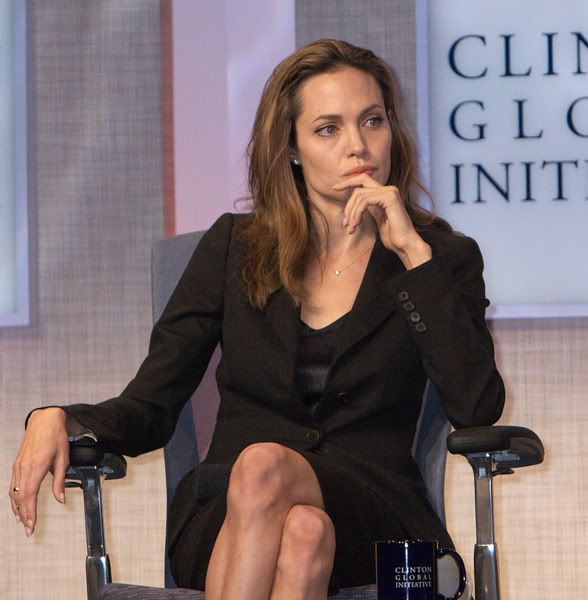 Despite all the events she attends for the sake of saving the world, Angelina Jolie just wasn't the right person to represent the serious St. John clothing brand and they have replaced her as their spokesperson. OK! Magazine quotes an insider as saying the conservative rich old ladies that usually buy their clothes weren't quite pleased with seeing Angelina wearing them. (At least that's how I interpreted it.)
Though reps for the fashion label say that no decision has been reached, OK! has exclusively learned that Angelina Jolie has been replaced as the face of St. John, for whom she'd been modeling since September 2005.

"Putting celebrities in campaigns is the biggest trend right now, everyone is doing it, but it didn't work for St. John with Angelina," a fashion industry insider explains to OK!. "The people that wear St. John just didn't relate to her."
[From OK! Magazine]
Angelina made some good points at the Clinton Global Initiative annual meeting in NY yesterday. She's trying to get funding for children's education through the UN High Commissioner for Refugees, which she represents. She said that the cost of just 8 hours of the war in Iraq could provide education for 150,000 children. She was unveiling a plan to educate a million refugee and at risk children through the UN:
Hollywood star Angelina Jolie called for the world to get its "priorities in order" Wednesday, saying that the amount of money spent in Iraq in just a few hours could educate thousands of children.

"To put things into perspective and maybe help to understand why we maybe need to adjust the way we're doing things in the world, the conflict in Iraq has displaced over four million people," Jolie told reporters in New York.

She said an appeal by UNICEF, the UN's fund for children, and the UN High Commissioner for Refugees to address the educational needs of many of those children was dwarfed by the cost of US military spending in Iraq.

"The entire appeal equals about eight hours of current spending in Iraq. So just a few hours would send 150,000 children to school," she said.

"Nothing wins more hearts and minds and nothing gives more freedom than education and nothing is a better deterrent for conflict than an educated child," she added, urging the world to get its "priorities in order."

Jolie, who as well as being an Oscar-winning actress is a UN goodwill ambassador, was unveiling an almost 150-million-dollar programme to help educate one million children in conflict, refugee and emergency situations.
Angelina probably doesn't give a shit if St. John is replacing her. She's got plenty of money and more important things to work on. Good for her for breaking the cost of the war down into cost vs. benefits, because it's much more reasonable to spend money on education and healthcare.
Meanwhile Brad Pitt is working on his own philanthropy. He pledged $5 million in matching contributions to the Make it Right project in New Orleans, which aims to build 150 affordable sustainable homes for residents displaced by flooding.
Update: St. John says that this report is not true, and that Angelina is still representing their line.
Angelina is shown at the Clinton Global Initiative in NY on Wednesday. Thanks to PRPhotos.