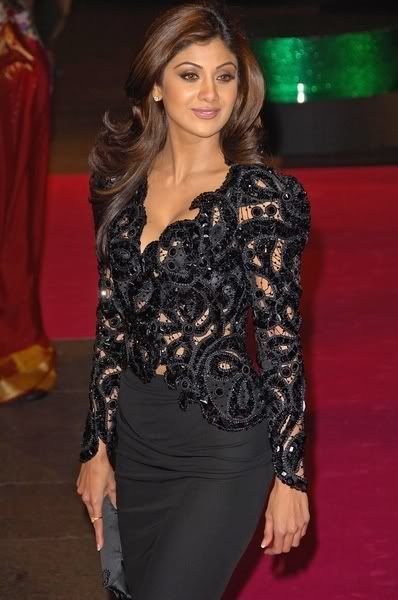 Shilpa Shetty wasn't arrested in India and questioned at the Mumbai airport five months after her controversial forced kisses from Richard Gere on stage at an HIV/AIDS awareness event. Shilpa's representative has said the reports of her being detained and questioned for that incident, deemed obscene by a court in India and punishable by a fine and up to three months in jail, were false.
They said the whole thing was misconstrued and that she just had to go into a side room to find her paperwork in order to let people in line get through. She wasn't arrested at all.
It sounds like spin to me, but it could be true:
Yesterday the Press Association reported that the acctress was in tears after being detained at Mumbai Airport by immigration officials on her way to the opening of the Miss Bollywood musical in Berlin.

At the time her Indian spokesman, Dale Bhagwagar, said: "She called me in the middle of the night and was in tears."

However now Shilpa's UK spokeswoman Teji Singh has denied those claims.

She said: "Every time Shilpa leaves the country she has to show her paperwork, because of the Richard Gere thing.

"There was absolutely no detention, no arrest whatsoever. She was rummaging through to get her paperwork and just stepped aside to a side room so she wouldn't block the queues.

"She wasn't crying. She was bunged up with the flu and she was only in there for eight to 15 minutes."
[From The Sun]
Yesterday JayBird reported that Richard Gere apologized for that kiss just recently, and that he had the support of the majority of the Indian legal community. Many lawyers and legal experts in India said the charge of obscenity was outrageous and was just done by a judge in Jaipur for publicity.
Shetty is the UK Big Brother contestant who won the contest after Jade Goody used racial epithets against her, causing a huge scandal. It seems there's a lot of scandals around Shetty, and they're only increasing her name recognition and career opportunities. She's not doing anything wrong, though, and hopefully she didn't get accosted at the airport.
Shilpa Shetty is shown on 2/5/07 at the UK premiere of Music and Lyrics, thanks to PRPhotos.