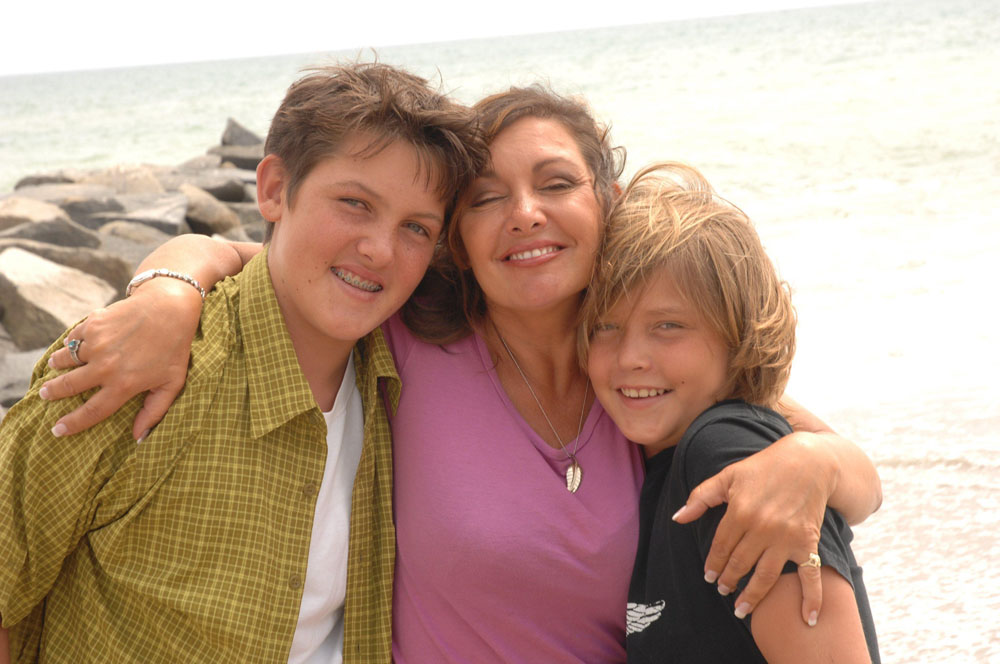 Did anyone know that Tobey Maguire had a fifteen-year-old brother? The kid's name is Weston, and he lives with their mom, Wendy Maguire. Wendy and Weston just got themselves a new reality show called "Growing Up Maguire", that will feature Wendy being a stage mom, and her efforts to push Weston into some kind of stardom. But from the sound of it, I don't think Weston is an actor, I think he's an athlete. Page Six describes him as a kid who "rides motocross, skateboards and snowboards." So who knows?
CB is positive that Tobey isn't going to like this one bit. She describes Tobey as "always surly-looking when the paparazzi are around and you can tell he likes his privacy." I agree. I think Tobey has some issues with his famously dysfunctional childhood and with fame in general. I don't really think Tobey has some massive chip on his shoulder or anything, I just think this whole idea of his younger brother and his mother getting a reality show to showcase Weston's start to stardom will most likely rub Tobey the wrong way:
WENDY Maguire, mother of "Spider-Man" Tobey Maguire, is about to become a reality TV star — along with Tobey's younger brother, Weston, 15 — in "Growing Up Maguire."

Bob DeBrino — who produced "Find Me Guilty," directed by Sidney Lumet and starring Vin Diesel — plans to show how Wendy, a single mother, sacrifices to shield her children from the downside of the entertainment industry.

Weston — who rides motocross, skateboards and snowboards — will provide plenty of action.
[From Page Six]
In a past interview, Tobey described his parents as "a couple of kids" and admitted that he learned to fend for himself at a young age. He told Parade: "I realized at a young age that I was responsible for myself. My feelings of love or security or happiness – they were all in my own hands. I had plenty of difficult, emotional and scary times as a kid, but I don't dwell on it."
Tobey is also famously tight-fisted with his money. Last year, his grandfather gave an interview talking about how Tobey sent him $100 gifts three or four times a year, and that's all. His grandpa wasn't mad about it, he just said it matter-of-factly. It makes me wonder if Tobey gives any financial support to his mother and his brother, or if he expects them to fend for themselves, like he had to. If they're hurting for money, that could be one reason they agreed to a reality show.
Here's Wendy, Weston, and brother JoPaul (oldest) at a portrait session at their home and at Will Rogers State Beach in Los Angeles in August 2006. Images thanks to WENN.com .