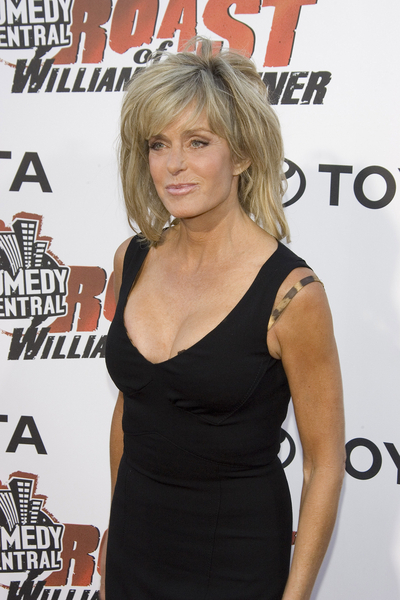 Farrah Fawcett's cancer has returned, but she's apparently stayed in pretty good health, everything considered. The actress is currently seeking alternative treatments in Germany, and is taping everything she's doing for a possible documentary. The producer of her reality show "Chasing Farrah," Craig Nevius, is currently with Fawcett overseas, and talked about the actress's plans.
"'She was declared 100 percent cancer free and then it came back,' he says. 'She was discouraged by the treatments she got here. The fact that it recurred after all that she went through was heartbreaking.' He adds: 'She has been in Germany. That's true. She's getting alternative treatments not allowed in the U.S.'

"Fawcett was originally diagnosed with anal cancer in September 2006. After undergoing chemotherapy and radiation treatments, she was declared cancer free by her doctors on Feb. 2, her 60th birthday. However, in May, doctors discovered that the cancer had returned. A malignant polyp, smaller than a pea, was found during a routine three-month checkup.

"The German magazine Bunte first reported that the actress is undergoing chemotherapy in the University Clinic in Frankfurt, combining the treatments with alternative healing methods in Bad Wiessee, in southern Germany. Contacted by PEOPLE, Ricarda Wessinghagen, a spokeswoman for the hospital, said: 'I can confirm that Farrah Fawcett was here and was treated here, but I have no more information.'

"Nevius declined to reveal the nature of the treatment in Germany, but did say, 'She's been documenting everything in a video diary' for 'what could be a very important documentary.'"
[From People]
I'm a big fan of alternative and complimentary medicine, though I think traditional medicine is still the best place to start. But in Fawcett's situation, she's already gone that route and wasn't satisfied. I have a lot of respect for being open to other ideas and other forms of treatment. Hopefully Farrah will have kind of positive experience, even if she does eventually decide to go a more traditional route.
Picture Note by Jaybird: Farrah's been laying kind of low lately, so there aren't a lot of recent pictures. Here she is at the "Rodney Dangerfield Immortalized on the One-Year Anniversary of His Passing" event. Header image at Central's Roast of William Shatner in August 2006. Images thanks to PR Photos.