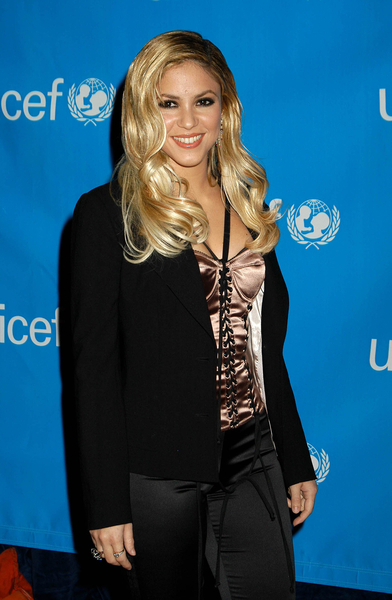 I've only been doing this "Good Celebrity" thing for a week or two now, and there were a few days I forgot about it and all, but Shakira is already being nominated for the "Good Celebrity" hall of fame. I freaking love her now. Why? Because she started charitable foundation, Latin America in Solidarity Action, that has donated $40 million to aid victims of a hurricane in Nicaragua and an earthquake in Peru. And she created the foundation with the amazing writer Gabriel Garcia Marquez.
"A charitable foundation set up by Colombian pop star Shakira has donated $40 million (£19.6 million) to help victims of natural disasters. The money will go towards repairing damage caused by an earthquake in Peru and a hurricane in Nicaragua.

"A further $5 million (£2.46 million) will be spent on health and education in four Latin American countries. The singer made the announcement at a New York summit on climate change organised by ex-President Bill Clinton.

"Shakira, who has sold more than 50 million albums worldwide, will also host a discussion on youth activism at the Clinton Global Initiative on Saturday. Her foundation, Latin America in Solidarity Action, was set up with fellow Colombian and Nobel Prize laureate Gabriel Garcia Marquez, in a bid to combat the deaths of children.

"Shakira also fronts a charity to help children who are victims of violence."
[From the BBC]
Um, what doesn't Shakira do that's not awesome? I can't think of anything. I used to be kind of so-so on her music, but now I've decided that everything she touches turns to gold, and thus her music is perfection too. Plus she's smart, spunky, and takes college courses in her spare time. And the other day, I was walking by this cliff, and there was a bus full of school children teetering precariously, about to fall off, and Shakira came along with her magic lasso of awesomeness, tied it around the bus, and whisked them off to safety. Then she delivered three babies and planted some trees in the just-demolished forest. This is all completely true; I saw it with my own, non-exaggerating eyes. Shakira = Wonder Woman.